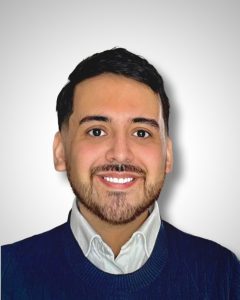 For Hispanic Heritage Month, IDEA is highlighting its Latinx staff members who continue to proudly uphold the cultures and traditions that make them who they are. 
Jose Luis Vasquez, Managing Director of Alumni Affairs at IDEA, recognizes and appreciates the sacrifices of his predecessors that afforded him the opportunities he has today.  
As we celebrate #HispanicHeritageMonth, Jose Luis shares reflections on his Mexican-American heritage, its impact on his daily work, and his commitment to upholding traditions as he supports IDEA's mission of College for ALL.  
What does Hispanic Heritage Month mean to you?  
To me, Hispanic Heritage Month is a moment of reflection, gratitude, and appreciation for my culture, upbringing, and values. It is a moment to pause and look back at the sacrifices made by those before me, so that I, too, may pursue my American Dream. I take great pride in embodying my Mexican-American heritage!   
How has your culture shaped the person you are today?  
My culture instilled in me the value of family, strong work ethic, and personal responsibility.  Perhaps, that is why my favorite core value is Team & Family. On the National College Team, many of us subscribe to the belief of caring personally (a lot!). It is this unapologetic pre-set condition, that as colleagues, team players, and managers we prioritize the individual, their efforts, contributions, and personal well-being.  That's both strategic and intentional, so that when we need to deliver "hard" feedback, it comes from a place of empathy, thus adding value, and making others feel seen. Consequentially, this ensures that if one of us wins, we all win.     
Does your family have any traditions that are especially important to you?  
Growing up, as my parents socialized our family to American traditions, we still managed to keep most of our Hispanic traditions. One of my favorites from my Mexican culture is: Día de Los Muertos (Day of the Dead) when we pay homage to family members and friends who have passed. For us, this is really a celebration of life. We celebrate them by creating and dedicating an altar with photos of the departed, their favorite foods, drinks, and mementos honoring their life. To me, this is important because it ensures that the legacy of individuals like my paternal and maternal grandparents live on forever, generation after generation, cementing their efforts, sacrifices, and contributions to our family lineage.    
Is there anything you wish more people understood about your background or the Hispanic community as a whole?  
The Hispanic community is not a culture of uniform thinkers. We are a progressive community filled with individual goals, dreams, and aspirations pursuing intergenerational upward economic, social, and influential mobility.  
In fact, according to a survey from BSP Research, Hispanics (a) are now accounting for the highest workforce contribution rate of 65.6% and (b) started more small businesses than any other population group over the last decade. Hispanics also account for (a) 18.5% of the total U.S. population, (b) Latino households earned more than $1.2 trillion, making their contribution in taxes at $308.5 billion. In total, the economic output (or GDP) of Latinos was at $2.7 trillion in 2019, up from $1.7 trillion in 2010. 
Source: 
https://www.unidosus.org/press-releases/americans-see-latinos-as-boost-to-economy/
https://salud-america.org/the-unsung-impact-of-latinos-on-the-u-s-economy/      
Have you ever experienced any discrimination, racism or otherwise because of your ethnicity?  
Often, I find myself in many spaces (e.g., conferences, board rooms, colleges, etc.) and I quickly assess that diversity across lines of difference is still not prevalent enough.  Thankfully, I am fortunate to stand on the shoulders of giants that have paved, mentored, and guided me throughout my career journey. Prior to my current role, I led IDEA's financial literacy & alumni funding department for three years. This entailed the work of relationship cultivation, prospective internal and external donor convincing, and funder stewardship.  
 The discrimination I experienced was having to justify my work. I represent a winning unit of work that is filled with data results from both Black & brown scholars and Black Indigenous People of Color (BIPOC). Because of this, I feel as though the data is sometimes questioned and pressure-tested deeper. I expect that. At times, there was a lack of understanding stemming from low-income and underprivileged students performing at such a high level. While those negative responses can be frustrating at times, I've grown accustomed to capitalizing on these moments to change preconceived mindsets and beliefs when possible. I continue to remain engaged in this work, advocating for our scholars & alumni. One day, this won't be the norm, I would hope.       
What message or words of encouragement, if any, would you provide to our Hispanic students and staff who might be feeling anxious or fearful after current national events?  
I grew into adulthood during a time in America when the president encouraged us to believe in hope. I also worked with that president's administration. Those experiences taught me that we ought to believe that it will get better, for all of us. Personally, I subscribe to the notion that: "to whom much is given, much is expected." Meaning, show up every day and do the work, push the envelope for those behind you, and yes, never give up on yourself, because our ancestors and their sacrifices got us here, so make it all count.      
Any other details/stories/inspiration you would like to share about yourself or your role that might be interesting for our audiences to hear about?  
Today, I am extremely fortunate to have a front row seat to IDEA's mission of College for ALL by leading our College Persistence, College Completion, and College to Career Attainment division.