By Emily Torres, IDEA San Benito 2021 Graduate
I'm a founding student at IDEA San Benito, which means I've attended my campus since kindergarten, when the school was founded in 2008. I would have never imagined that I wouldn't complete the last stage of my long IDEA journey on campus.
Over the past 13 years that I have attended IDEA, my family and I have never been worried about my safety. I have always felt comfortable in my school. This past senior year, I attended school in person a few times for exams and activities, and I felt very comfortable and safe due to the safety measures IDEA implemented.* Even though it was difficult because my classmates and I are really close—and we simply wanted to spend time together—we understood that these procedures were done for our safety and wellbeing.
The amazing teachers and staff members on my campus did their best to bring some form of normalcy to our year, and they made it their goal to proceed with a traditional IDEA senior year while maintaining safety guidelines. Although I wasn't able to physically experience my first day of senior year, I'm very grateful that I was given the privilege to experience important milestones like College Signing Day and prom. These events were possible because of my campus's extensive work to follow safety guidelines.
This is one of the many reasons I decided to receive the COVID-19 vaccine the instant it was offered for my age group. I wanted to contribute to a new form of normalcy in my life by doing my part in curbing the pandemic. In my case, I felt much more comfortable attending school and senior-year activities, including graduation, because I was not at a high risk of getting the virus or infecting others.
I wasn't scared of receiving the vaccine. I was probably more scared of the needle itself, but I received both of my doses at IDEA's Headquarters. IDEA's staff members on site made me feel very comfortable and relaxed. It is comforting knowing that IDEA cares about its students so much that they provided opportunities for students, families and staff to receive the vaccine. They made the process very smooth.
I'm thankful that safety guidelines were put in place, and maintained, so that I was able to graduate with my classmates and give my final farewell to my campus. Now, I will soon be attending The University of Texas at Dallas fully vaccinated and college-ready!
*The health and safety of our Team & Family remains a priority, and IDEA continues to look to the CDC, national, state and local health experts as a guide for safe in-person instruction. Click here for an overview of what to expect on IDEA campuses for the new school year.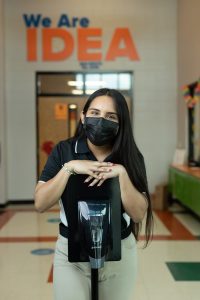 —
"Una Nueva Forma de Normalidad"
Por Emily Torres, Graduada de IDEA San Benito 2021
Soy estudiante fundadora de IDEA San Benito, lo que significa que he asistido a mi campus desde el jardín de niños, desde que se fundó la escuela en 2008. Jamás hubiera imaginado que no completaría la última etapa de mi largo viaje de IDEA en el campus.
Durante los últimos 13 años que he asistido a IDEA, mi familia y yo nunca nos hemos preocupado por mi seguridad. Siempre me he sentido cómoda en mi escuela. Este último año, asistí a la escuela un par de ocasiones para presentar exámenes y actividades en persona, me sentí muy cómoda y segura debido a las medidas de seguridad que IDEA implementó. IDEA San Benito ha sido constante con el distanciamiento social, la exigencia de cubrebocas y en la administración de control de temperatura. Sin embargo, fue difícil porque mis compañeros y yo somos muy cercanos unos de otros y simplemente queríamos pasar tiempo juntos, aunque entendíamos que estos procedimientos se hicieron por nuestra seguridad.
Los maestros y miembros del personal en mi campus fueron increíbles, hicieron todo lo posible para de alguna manera traer normalidad a nuestro ciclo escolar y su meta fue el proceder de manera tradicional con el último año de IDEA mientras mantenían las pautas de seguridad. Aunque no pude experimentar físicamente mi primer día de mi último año en IDEA, estoy agradecida que tuve el privilegio de experimentar momentos importantes, como el Día de Registro Universitario y el baile de graduación. Estos eventos fueron posibles gracias al extenso trabajo del personal mi campus que siguieron las pautas de seguridad necesarias.
Esta es una de las muchas razones por las que decidí ponerme la vacuna contra el COVID-19 en el momento en que se ofreció a mi grupo de edad. Quería contribuir a una nueva forma de normalidad en mi vida haciendo mi parte en la curva de la pandemia. En mi caso, me siento mucho más cómoda asistiendo a la escuela y a las actividades de último año, incluida mi graduación, porque no estaré en alto riesgo de contraer el virus o infectar a otros. No tenía miedo de recibir la vacuna. Probablemente tenía más miedo de la aguja en sí, pero recibí mi primera y segunda dosis en el corporativo de IDEA, los miembros del personal de IDEA me hicieron sentir muy cómoda y relajada. Es reconfortante saber que IDEA se preocupa tanto por sus estudiantes que brindaron oportunidades para que ellos, sus familias y el personal recibieran la vacuna. Hicieron que el proceso fuera muy sencillo.
Estoy agradecida de que las pautas de seguridad se pusieron en marcha, y se mantuvieron, y así, pudiera graduarme con mis compañeros de clase y dar el último adiós a mi campus. ¡Ahora, asistiré a la Universidad de Texas en Dallas vacunada y lista para la universidad!
*La salud y la seguridad de nuestro Equipo y Familia sigue siendo una prioridad, IDEA continúa buscando a los CDC, expertos en salud a nivel nacional, estatal y local como una guía para el regreso a una instrucción segura en persona. Haga clic aquí  para obtener una visión general de lo que puede esperar de los campus de IDEA para el nuevo año escolar.