Held during the third full week of October each year, National School Bus Safety Week serves as an important opportunity to highlight and address the importance of school bus safety. This year, National School Bus Safety Week is recognized October 17-21 and the theme is "1 Bus + 1 Driver = A Big Impact on Education."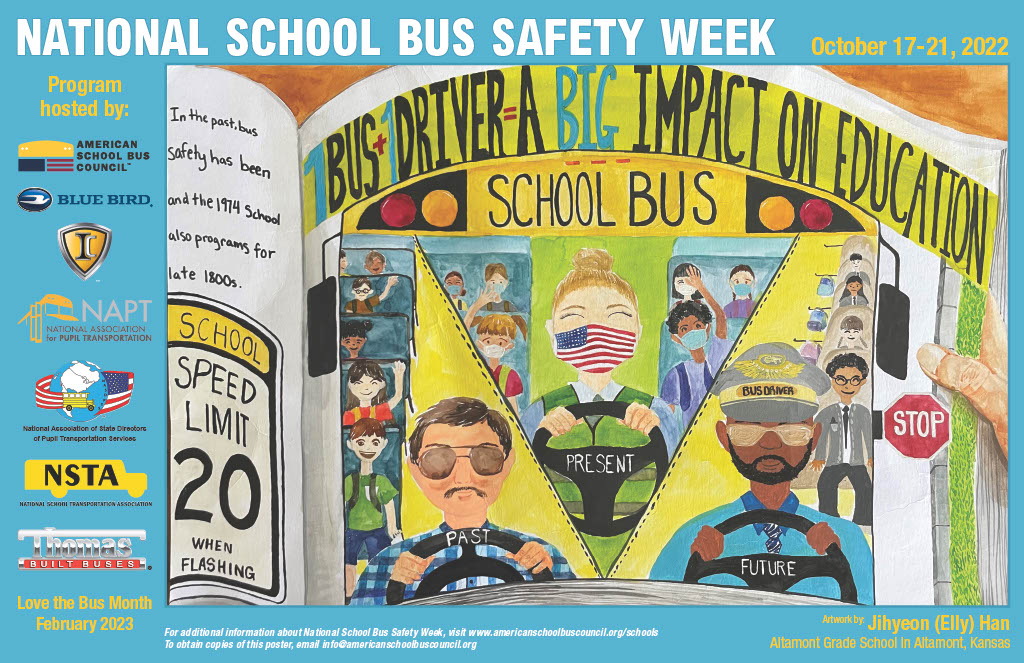 *2021-2022 National School Bus Safety Week Poster Contest Winner by Jihyeon (Elly) Han 
IDEA offers bus transportation in select regions including in the Rio Grande Valley, Southern Louisiana, Greater Houston, Greater Cincinnati, Tampa Bay and at IDEA Montopolis in Austin. Throughout this week, IDEA will highlight the hard work and commitment of our transportation teams and bus drivers and share important transportation safety tips for students, including bus riders, car riders, and walkers. 
IDEA's transportation team was instrumental in using school buses to provide curbside meals on wheels to IDEA students and families during the pandemic and continue to keep our students safe daily. IDEA bus drivers transport our students on approximately 469 routes each day including 383 regular routes, 28 Pre-K routes, and 58 special education routes transporting almost 24,000 riders. In total, IDEA's transportation department drives more than 2 million miles annually across Texas, Louisiana, Florida, and Ohio. 
Remember, school bus safety is for everyone. Below are tips from the Texas Department of Public Safety to help keep our scholars and staff safe on the bus. 
If you see a school bus: 
Give students extra room and don't assume they are paying attention to traffic. Students are frequently distracted by mobile devices or listening to electronic devices and may not be paying attention to their surroundings.

 

Don't block a crosswalk when stopped at a red light or stop sign.

 

Follow the directions of school crossing guards.

 

Watch for children on bicycles traveling to and from schools.

 

 Reduce speed when you spot a school bus and know children may unexpectedly step into the road without checking for oncoming traffic.

 

Be careful around railroad crossings. School buses are legally required to stop at them.

 

Flashing red lights and stop signs mean the bus

is stopped and children may be entering or exiting the bus.

 

Flashing yellow lights means the bus is about to make a stop and you should slow down, too.

 

 

Always obey speed limits and traffic laws in school zones.

 

Remember, texting while driving is illegal in Texas.

 

Passing a stopped school bus is illegal and can result in steep fines, depending on your state's laws.

 

You should always drive cautiously near school buses.

 
We are extremely thankful for the commitment and dedication of IDEA's transportation team members. You ensure our students travel to and from school safely on the road to and through college. 
For more information on National School Bus Safety Week, visit www.napt.org. Learn more about transportation at IDEA at https://ideapublicschools.org/parents/transportation/. Don't forget to like, comment, and follow our #NationalSchoolBusSafetyWeek posts on our social channels this week!