IDEA is thrilled to celebrate National Principals Month and spotlight principals in our network that lead their campuses with integrity, deliver results, and prioritize the Team & Family experience. 
National Principals Month is a collaboration between the American Federation of School Administrators (AFSA), the National Association of Elementary School Principals (NAESP), and the National Association of Secondary School Principals (NASSP) to recognize principals for their significant impact on the success and well-being of our nation's students 
We are showcasing some of our network's leadership by sharing a Q&A done with Nicholas Ditto, Founding Principal at IDEA Rise College Prep. He began his educational career as a 7th and 8th grade science teacher and then transitioned to high school where he taught chemistry, physics, and reading intervention.
During his summers, he worked for Teach For America where he trained new teachers and provided them with the knowledge and skills needed to become effective leaders in the classroom. In 2017, he started a new chapter with IDEA Public Schools as a Principal in Residence where he has helped run schools in the Rio Grande Valley and San Antonio. 
We caught up with Nicholas this month as he recently began his fourth year as a principal in our Tarrant County region. Read on to learn more about his journey, goals, and what he is passionate about.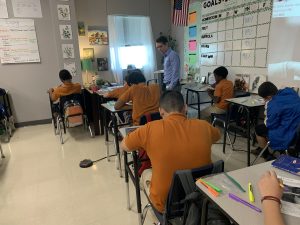 1. What does your education journey look like (school/professional history)?  
A: When I attended college, I planned on becoming a lawyer or working in business. I happened upon a Teach For America info session during my senior year that completely changed my professional career. After graduating, I became a middle school science teacher and earned my Masters in Secondary Science Education from Arizona State University. I wanted to strengthen my teaching skills, so I sought out a high-performing school that would help me grow professionally. This brought me to Chicago where I taught high school chemistry and physics. After a few years, I wanted to find a leadership program that would help me become a strong instructional leader and grow my impact beyond the students in my classroom. IDEA's Principal in Residence program drew me to the organization and brought me to Texas. Since joining IDEA, I've had the privilege of working as a school leader in three regions and becoming the founding principal of IDEA Rise College Prep. 
2. What made you want to become a principal?
A: I chose to become a principal because I wanted to provide teachers with the support I never had. It took me years of struggling in the classroom to become a strong teacher and I watched countless amazing educators walk away from the profession. I believe that as a principal, I can coach and develop my team to become strong teachers and as a result, I am hopeful the work will be more sustainable, and teachers will choose to stay in the profession for a longer period.
3. What was challenging about your first year as a principal that you had to overcome? 
 A: The biggest challenge I faced as a first-year principal was the beginning of the COVID-19 pandemic and having to quickly transition my school to remote learning. This was an unimaginably daunting task at the time but looking back I'm grateful for the experience because it showed me that anything is possible when you work with a great team!
4. What is your proudest moment as a principal?
A: My proudest moment as a principal was celebrating IDEA Rise College Prep earning an "A" as its first official state rating with my team! Everyone really gave 110% the last three years to make this happen, and I'm so appreciative of every team member who contributed to our reaching this goal!
5. What motivates you every day?
A: I am motivated by seeing the growth of my students and my team! It is amazing to see my teachers quickly improving in their craft and seeing the impact it has on student achievement! Many teachers join Rise College Prep feeling discouraged, stagnant, and looking for something different, so it is really inspiring for me to see the positive changes that occur when they are provided with quality coaching. Similarly, there is no better feeling in the world than being able to see my students grow in their academics and the change it spurs in their mindset. Suddenly, students who have said "I can't" start saying, "I can, if I work hard." This shift in thinking lets me know my students are on the path to and through college.
6. What parts of the IDEA model do you feel benefit the Tarrant County community?
A: I believe IDEA's focus on rigorous academics, self-discipline, and college preparation benefits the West Fort Worth Community. I've seen these components have a positive impact on our students, families, and the community and I believe they are what distinguish us from many of the surrounding schools.
Interested in joining IDEA's Team & Family? Be sure to learn more about the opportunities we have in Texas, Florida, Ohio, and Southern Louisiana here: careers.ideapublicschools.org/search/jobs