It's the most respected nationwide distinction for teachers and certainly not easily achieved: National Board Certification. Karen Prewitt, Pre-AP (Advanced Placement) Algebra teacher at IDEA Palmview College Preparatory, embarked on a journey to become Nationally Board-Certified in May of 2021. Though it seemed a daunting challenge, Karen knew she was not alone and that she had the skills, the experience—18 years in education—and the unwavering passion to see her dream become a reality.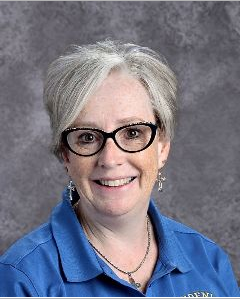 Karen was joined by a cohort of fellow IDEA educators across the organization, along with support from IDEA team members at the national level, who helped guide and support completing all four components of the National Board process: (1) content knowledge, (2) differentiation in instruction, (3) teaching practice and learning environment, and (4) effective and reflective practitioner. Each component required distinct documentation comprised of video recordings, teaching pedagogy assessment results, student work examples, evidence of collaboration, and more.
Karen admitted that compiling such a robust collection of materials for her National Board Teaching Certification (NBCT) was a rigorous process. Still, she credits IDEA for helping her every step of the way. "IDEA supported me with monthly check-ins on the process, including timelines to keep me on track to finish," said Karen. "My manager, Maria Charles, supported me with professional development days. The most important support I received was the feedback from Jennifer Porras [IDEA's NBCT consultant, mentor, and former IDEA Public Schools Master Teacher] to refine my commentaries to match what was needed according to the rubrics. As a veteran math teacher, I haven't written professional papers in the last 10 years, so I needed some honest feedback! Support from IDEA also included monetary assistance for my NBCT registration fee, and because I was a level 4 teacher on IDEA's Teacher Career Pathway (TCP) at that time, I used my TCP budget towards my NBCT certification."
Karen is proud to be the first IDEA teacher in her cohort of IDEA educators to achieve NBCT status (which, as a Texas teacher, also automatically places her in the Teacher Incentive Allotment). She looks forward to celebrating more of her coworkers joining her next year. In fact, the collaboration and the connections she has made at IDEA are part of her favorite components of being part of the Team & Family. "My joy at work comes from my colleagues," she said. "They truly are my second family, and we love working together to bring joy to each other through jokes and pranks, but most of all support when times get tough."
Reflecting on a pivotal and triumphant step in her accomplished career, Karen is happy she made the decision to move to the Rio Grande Valley seven years ago to join IDEA and be closer to her mother, Glenna. She loves spending time with her family and friends, and she loves the work she does making an impact on her second family of coworkers, and most importantly, her amazing students. "My absolute favorite part about working for IDEA is watching the seniors choose where they will go to college. IDEA's 'to and through college' commitment has allowed so many students to achieve goals that thousands of students outside of IDEA only can dream of doing," Karen said. "I am proud to work with three of my former students this year, and I know many more IDEA graduates return to teach because of the commitment to college IDEA has for 100% of its students."
Just as she did eighteen years ago, Karen will continue to impact the students she teaches every day, now as a National Board-Certified Teacher.