Kevin and Akeila Montalvo do mostly everything together as brother and sister. Now, they are taking it a step further by attending IDEA Rio Vista College Preparatory in El Paso together for the 2021-22 school year. Akeila is a founding student at her campus and is entering the 9th grade. With her brother joining her on campus next year as a 6th grader, she has plenty of advice to share about becoming a Raptor! Recently, the siblings sat down at home to discuss what it's like being an IDEA student. Here's how their conversation went. 
Kevin: What should I expect when I start 6th grade next year at IDEA Rio Vista?
Akeila: Be ready to read. There are a lot of great books that you will have to read. You will also make some really great friends and start thinking about where you want to go to college. It's a lot to do, but it's fun.
Kevin: Do they teach science in 6th grade?
Akeila: Yep! They do. You will love Ms. De Leon because she makes her science class super fun.
Kevin: What about the food? Is it good there?
Akeila: Yes, the food is super delicious with yummy fruits and vegetables. One of my favorites is cucumber with Tajín.
Kevin: Do the teachers give you extra help?
Akeila: Yep! The teachers help you as much as possible to get your grades up and work one-on-one with you.
Kevin: Is it easy to make friends?
Akeila: When I first started at IDEA, I was hoping to make new friends there because everybody was new at the school. When I got there, I met a lot of people, and we had a lot in common. Even some of my old friends from my old school joined IDEA, too. You'll be fine!
—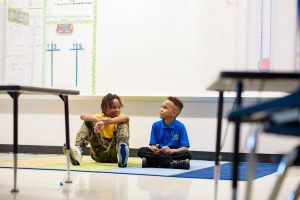 It's a family affair! Levi McAfee and Josiah Yancy are Houston-based brothers who will attend IDEA Hardy Academy next year. Josiah is entering 2nd grade as a returning student, and Levi is entering 4th grade as a new student. They are both excited to attend school in person and recently had a brotherly chat about preparing Levi for his big, IDEA school premiere. 
Levi: What makes IDEA Hardy fun?
Josiah: The teachers and the kids because they are so easy to make friends with.
Levi: What's the food like? What's really really good?
Josiah: It's delicious. I love the breakfast burritos. I definitely like the breakfast.
Levi: What should I bring in my backpack?
Josiah: A laptop, pencils, and books!
Levi: Do you have to read a lot?
Josiah: Sometimes, yeah!
Levi: What are the teachers like?
Josiah: They're very fun. Sometimes we do brain break and some time we get to do games
Levi: What else should I know?
Josiah: Talk big and loud so that the class can all hear you. Well, not too too loud. Just loud enough—like a level 3! That's it, brother!
---
Sugerencias entre hermanos: Consejos de corazón sobre como ser un nuevo estudiante en IDEA
Kevin y Akeila Montalvo hacen casi todo juntos como hermano y hermana. Ahora, están dando un paso más al asistir juntos a IDEA Rio Vista College Preparatory en El Paso para el año escolar 2021-22. Akeila es una estudiante fundadora en su campus y está ingresando al 9º grado. Con su hermano uniéndose a ella en el campus el próximo año como estudiante de 6º grado, ¡tiene muchos consejos para compartir sobre convertirse en un IDEA Raptor! Recientemente, los hermanos se sentaron en casa para discutir cómo es ser un estudiante de IDEA. Así fue su conversación.
Kevin: ¿Qué debo esperar del próximo año escolar, cuando comience el 6º grado en IDEA Rio Vista?
Akeila: Prepárate para leer. Hay muchísimos libros grandiosos que tendrás que leer. También harás buenas amistades y comenzarás a pensar en dónde quieres ir a la universidad. Hay mucho por hacer, pero es divertido.
Kevin: ¿Enseñan ciencias en 6º grado?
Akeila: ¡Sí! Lo hacen. Te encantará la Sra. De León porque hace que su clase de ciencias sea súper divertida.
Kevin: ¿Qué tal la comida? ¿Esta buena?
Akeila: Sí, la comida es súper deliciosa y hay riquísima fruta y verdura. Uno de mis favoritos es el pepino con Tajín.
Kevin: ¿Los maestros te dan ayuda extra?
Akeila: ¡Sí! Los maestros te ayudan tanto como les sea posible para que mejores tus calificaciones y trabajan uno a uno.
Kevin: ¿Es fácil hacer amigos?
Akeila: Cuando entre a IDEA, esperaba hacer nuevos amigos ahí porque todos eran nuevos en la escuela. Cuando llegué, conocí a mucha gente y teníamos mucho en común. Incluso algunos de mis amigos de mi antigua escuela también se unieron a IDEA. ¡Estarás bien!
—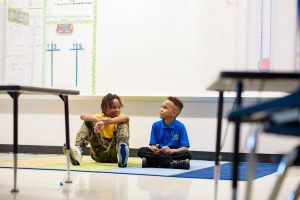 ¡Es un asunto de familia! Levi McAfee y Josiah Yancy son hermanos con sede en Houston que asistirán a IDEA Hardy Academy el próximo año. Josiah está regresando como estudiante a 2º grado, y Levi estará ingresando como estudiante de 4º grado. Ambos están emocionados de asistir a la escuela en persona y recientemente tuvieron una plática entre hermanos sobre la preparación de Levi para su gran inicio escolar.
Levi: ¿Qué hace que IDEA Hardy sea divertida?
Josiah: Los maestros y los niños porque es muy fácil hacer amigos.
Levi: ¿Cómo es la comida? ¿Qué es lo más bueno?
Josiah: Es deliciosa. Me encantan los burritos de desayuno. Definitivamente me gusta el desayuno.
Levi: ¿Qué debo llevar en mi mochila?
Josiah: Una computadora portátil, libros, lápices.
Levi: ¿Tienes que leer mucho?
Josiah: ¡A veces, sí!
Levi: ¿Cómo son los maestros?
Josiah: Son muy divertidos. A veces hacemos brain break (descanso mental) y en ocasiones hacemos juegos.
Levi: ¿Qué más debo saber?
Josías: Habla fuerte y en voz alta para que la clase pueda escucharte. Bueno, no demasiado alto. Lo suficientemente fuerte, ¡como un nivel 3! ¡Eso es todo, hermano!