September is Suicide Prevention Month, an opportunity for our communities to have deeper conversations about mental health and to learn about the warning signs and resources available for suicide prevention. 
At IDEA Public Schools, we believe mental health is equally important as physical health. By prioritizing physical and emotional safety of our students, we have established a Suicide Prevention Program to ensure we are equipped to meet the needs of our students on all fronts – preventatively and responsively. Through the implementation of universal prevention measures such as school-wide screenings, raising awareness, and involving families, together we can all prevent suicide.  
IDEA San Juan is one of the 1,600 schools in the United States that participate in the Hope Squad suicide prevention program to maintain a safe and supportive campus community. Hope squad is a peer-to-peer suicide prevention program. Hope Squad members are nominated by their classmates as trustworthy peers and trained by advisors. The program reduces youth suicide through education, training, and peer intervention.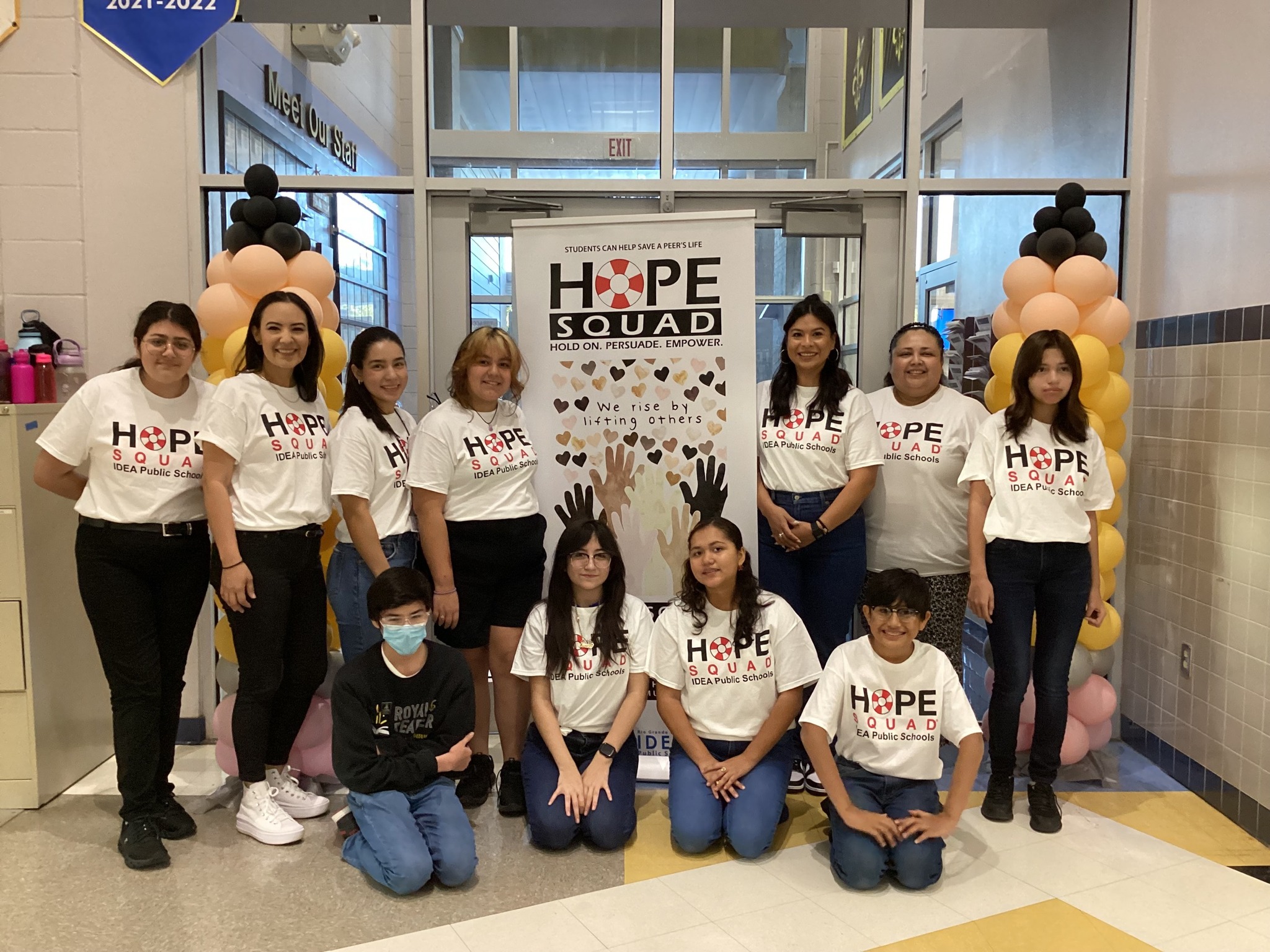 Mental Health Conversations & Support  
Talking is the first step to preventing suicide. Even when we may sense someone is struggling, you can learn the warning signs, know the risk factors, and start an open conversation with someone you love. Visit the American Foundation for Suicide Prevention website for resources to start and continue the conversation around mental health.  
You can speak with several people to ask for support:    
Your child's doctor   

 

Mental health hotlines and text lines   

 

Your local mobile crisis unit

 

Dial 911 for immediate emergencies

 

Dial 988 for suicide and crisis lifeline

 
Your school counselor or social worker




  

 
Every campus has an academic counselor and social worker onsite who is available to support you in finding resources to help with your child's mental health and social emotional well-being. Contact them if you have any questions or need support in meeting your child's mental health needs.    
You can also contact national and state helplines if you need help navigating resources to support your child.     
(988) Suicide Prevention Lifeline: 1-800-273-8255  
OK2TALK Teen Helpline: 1-800-273-TALK   
Substance Abuse and Mental Health Services Administration: 1-800-662-HELP (4357)   
Crisis Text Line – Text SIGNS to 741741 for 24/7, anonymous and free crisis counseling  
National Crisis Resources For Parents 
Additional Resources