The 2023-24 school year is already in full swing! As the leaves are starting to change colors and the temperatures are slowly beginning to drop, the chances of our scholars missing school because of sicknesses are rising. Cold and flu season will be here before we know it. It is important to know what these different viruses can look like, what steps for prevention can be taken, and what resources are out there. 
"I Feel Sick"
Many of the symptoms for influenza (flu) and the common cold are very similar. While the flu is generally worse than a cold, both unfortunately require time away from the classroom. When you start to feel sick, are your symptoms abrupt or gradual? Do you have a fever and/or body aches? Here is how you can potentially tell the difference between the two. Tests for these are also available at your local pharmacy or urgent care.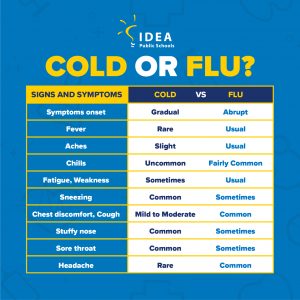 *Content source: Cold VS Flu, Centers for Disease Control and Prevention, National Center for Immunization and Respiratory Diseases (NCIRD)

COVID-19 is Still With Us
This time of the year brings several challenges when it comes to the health and wellness of our Team and Family. Viruses are out there spreading left and right, and amoungst them is SARS-Co-V-2 (COVID- 19). Its symptoms are almost identical to the ones of the common cold, the flu, and even seasonal allergies. So how can you tell if you have COVID-19?  
Look for these symptoms: 
Loss of taste or smell

 

Dry cough

 

Shortness of breath

 

Fatigue

 

Fever
If you, or any member in your household show any symptoms, go to your nearest testing site and get tested for COVID-19. Four free at-home tests per household are currently available now at COVID.gov. 
Here's What You Can Do
Whether you are a family member, teacher, staff member, or student, it takes ALL of us to keep our IDEA communities safe. According to the CDC, September and October are generally good times to get vaccinated against the flu. Remember to keep up to date with your COVID-19 booster shots—get both at the same time! 
It's the little things that can have the greatest impact. Washing your hands, covering your sneezes and coughs, and staying home when you feel sick can prevent our communities from getting sick. Keeping up with your health and wellness, especially during this time of year, will keep you in the classroom and on the right track. Do your part. 
More resources for our IDEA families and communities: