Shelby Henderson, a ninth grade scholar at IDEA Burke, created an artwork titled "No Matter Race Everyone is Equal" that was selected from record number of submissions to be used as the visual representation of the City of San Antonio's 36th Annual Martin Luther King Jr. March and Celebration by the City of San Antonio's Dr. Martin Luther King Jr. Commission in the eighth annual citywide art contest.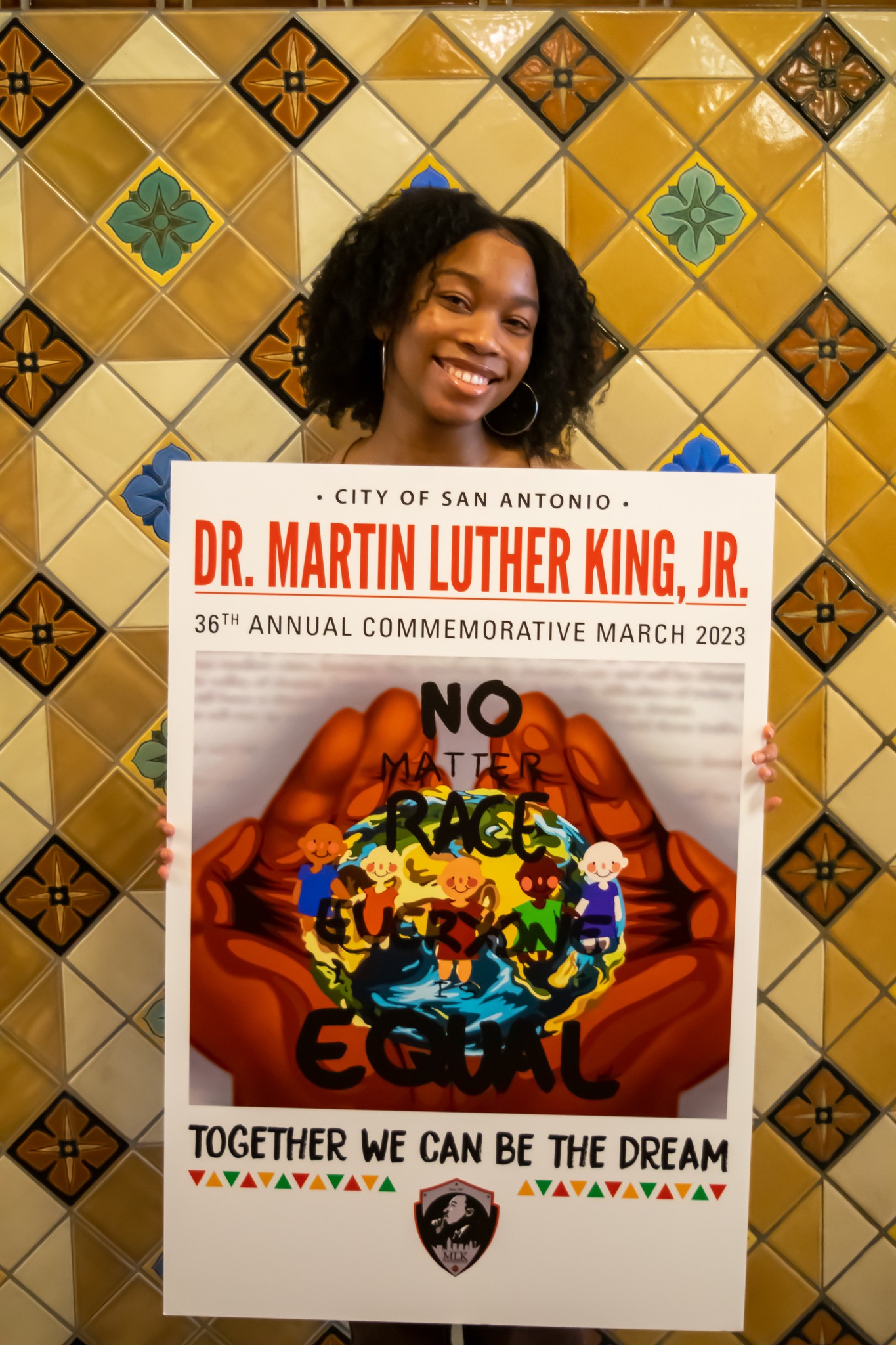 Jacinda Jackson, art teacher at IDEA Burke couldn't be prouder. Ms. Jackson is a graduate of the University of Texas at San Antonio with a major in Fine Arts. She believes students in the community are surrounded by a rich culture and history through art daily. 
We had a Q&A with Ms. Jackson and her student Shelby Henderson, to discuss what scholars can learn about themselves through art and why it is important to have access to art education.  
How can scholars learn about their history or heritage through art?  
Just taking a stroll down on St. Mary's street, scholars will see murals that reference ethnic ancestry, social justice, and educational aspirations.  These murals borrow ideas from late artists, like Frida Kahlo, Diego Rivera, and more.  Thankfully, we also live in an age of immediate access to information online, so scholars can easily look online and learn more about the artists from their own heritage and beyond.  As an educator, my goal is to introduce a mix of historically famous and successful local artists to give scholars more opportunities to connect their world to art.  
Why is it important for IDEA scholars to have access to art education?  
Art informs scholars on how to create something pleasing to the eye.  Learning about art not only allows scholars a creative outlet, but it often aligns with concepts they're learning in their core classes like writing, critical thinking, geometry, history, and more. Beyond learning technical skills, art education also involves rich history from all over the world.  Art is such an integral part of humanity; it's a vital puzzle piece in education that contributes to the whole of a person's character. 
What can students learn from submitting their art to events like San Antonio's MLK Citywide Art contest?  
Students learn how to advocate for themselves by putting their best work forward.  They gain ownership of their work and often develop public speaking experience and communication skills as they talk about the "why" behind their artwork.  They also get the fun opportunity to be praised and rewarded for their creativity! 
What is your favorite part about teaching art at IDEA Public Schools? 
My absolute favorite part is seeing the lightbulb turn on in my students' minds.  When they understand the technique and develop their own ideas, it is incredibly rewarding.  I love, also, seeing students coach each other.  Often, they can explain concepts simpler to each other better than I can.  It makes the hard days worthwhile.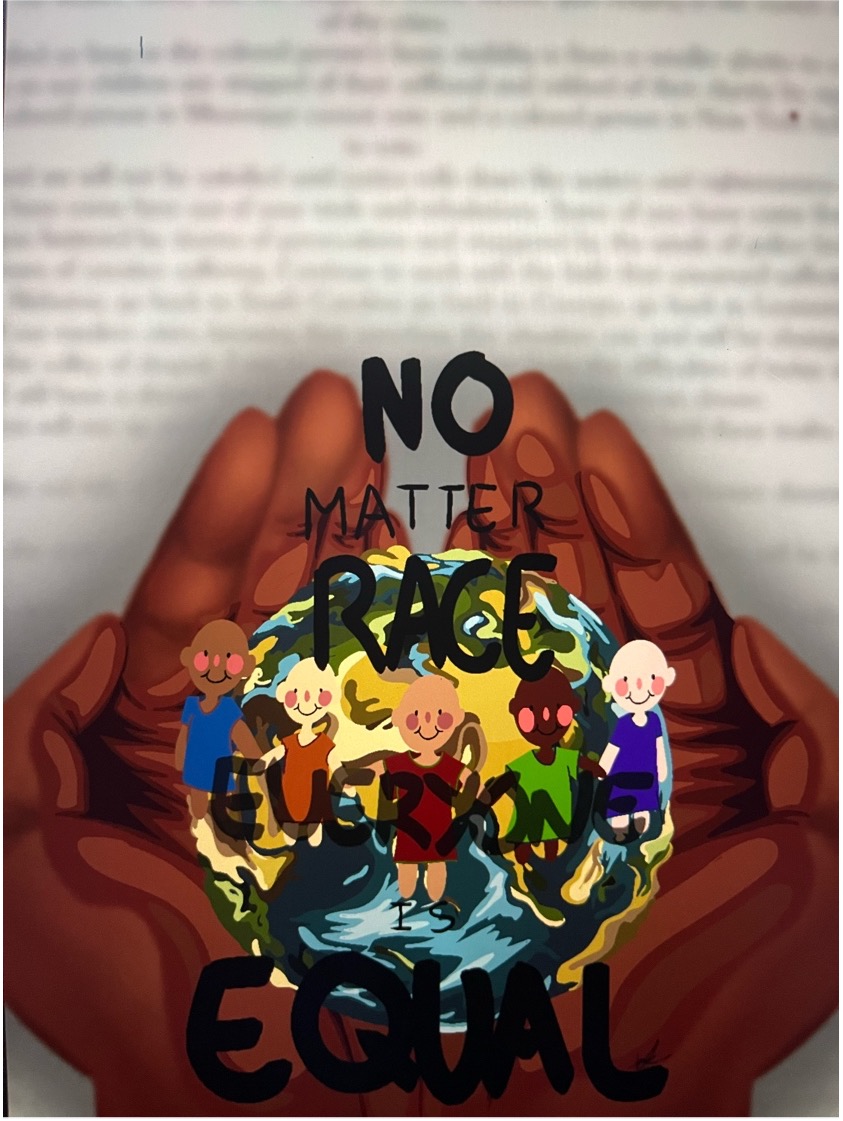 Ms. Jackson encouraged Shelby to enter this year's Martin Luther King Jr. Citywide art contest in San Antonio. After learning her art would be representing San Antonio in the annual Martin Luther King Jr. March and Celebration with the piece "No Matter Race Everyone Is Equal" (pictured above). We talked to Shelby about her art and what it means to represent her community.  
What is your favorite style of art to create? Can you share some photos of your work?  
My favorite styles of art are realistic, semi realistic, and painting portraits – all digitally.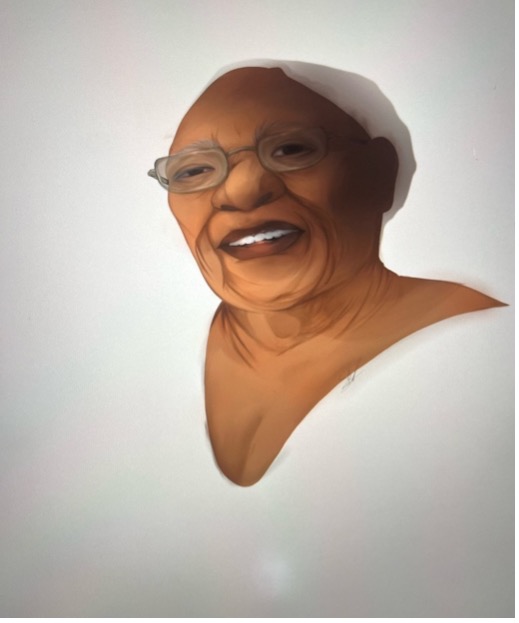 How did you feel when you learned your art was selected as the winner of the MLK Citywide Art Contest?  
I was extremely surprised that I won, but I was very happy that the message of 'Everyone is Equal No Matter Race' can be expressed and represented throughout San Antonio and Uvalde. 
What is your favorite part about being a scholar at IDEA Public Schools?  
The opportunities, and the academic curriculum that they have taught me. 
Hear more from IDEA Team & Family Jacinda Jackson and Shelby Henderson on Great Day SA: