In Brittany Mcquarter-Leflore's 7th grade American history class at IDEA Bridge College Preparatory, students debunk myths, research untrodden narratives, and see themselves as a connected part of a greater story of our country.  
"In my American history class, we go deeper," said Brittany Mcquarter-Leflore, social studies teacher at IDEA Bridge. "The majority of our scholars come from an African American or Spanish-speaking backgrounds, and I teach my students: you have a hand in history. Do you think people of color were just in the background? What do you think they were doing?"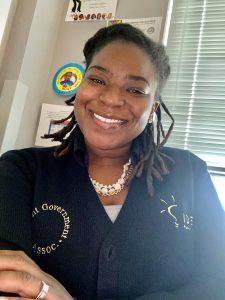 Brittany Mcquarter-Leflore, IDEA Bridge Social Studies Teacher
Ms. Mcquarter-Leflore emphasizes the hidden figures—often women and people of color— who shaped American History. During Black History Month, the lead teacher and grade-team leader directs an extra-credit initiative with her students. A "historian of the week," a revolving title given to different students in class, will research different individuals who have made an impact, big or small, on society.
Post research, these student historians write and present findings to the class. Examples of reports have been on Jackie Robinson, Dorothy Vaughan, 2 Chainz, and many other individuals. Ms. Mcquarter-Leflore has an important rule for this initiative: "If my students chose to report on athletes or entertainers, I say 'that's fine, but I also want to know how they have helped their community.'" 
Brittany Mcquarter-Leflore is doing her part to help students in the Southern Louisiana community, and she very much values the impact IDEA is having on the children and families she serves. "At IDEA, we own our growth and teach accountability. Students and staff work together to live the core values we preach."
Brittany is a founding member of IDEA Bridge. She takes pride in the school's growth as well as her own individual development as a teacher and leader. She began her work at IDEA as a 2nd grade math co-teacher, but through the relationships of her principals and instructional coaches, and the focus on teacher development, she quickly worked her way up to become a math lead teacher. Soon after, she switched teaching contents, and now, she is a grade-team leader who collaborates with her fellow coworkers and helps them thrive and grow. In fact, Brittany is currently obtaining her master's degree in educational leadership from Louisiana State University. "If it were not for my IDEA Team & Family, I would not have pushed myself to go back and get my master's in education," said Brittany. 
Reflecting on her professional success, and the impact it has on the students she teaches, Brittany is proud to be a role model. Growing up, Brittany's high school choir teacher was a huge influence on her work ethic and drive. Now, Brittany is thrilled to give back to that tradition of positive influence in schools. This is especially true, Brittany noted, when children of color are seeing other people of color, people who look like them, hold positions like teachers, doctors, presidents and vice-presidents. History, of course, is part of the equation, too.   
"Black history is U.S. history," said Brittany. "Many times, we forget that. I want scholars to understand and see all the ways that Black people have helped this great nation thrive. […] I tell my scholars all the time: if you never know where you have been, you do not know where you are going. If you do not know where this nation has been as far as the government and how the government has changed from then to now, you'll never know how to be the change in the future."  
On the topic of making positive change in the future, Brittany coined a motivational slogan she likes to use with her students, advice to take to heart during this important month in these historic times: Don't Dream your Life, Live your Dreams.