As far as I'm concerned, the year began in March 2020. We had already started planning the Austin region Master Teacher Dinner when Crischelle Navalta Barnes (Director of Teacher Laureates Programs) told us we'd have to go virtual. We were so bummed about it, but I figured the quarantine would last only two or three weeks—not the rest of the semester!
I teacher 8th grade language arts and math, but technically I'm a special ed teacher, providing intervention for the bottom 20% of students, some with 504 plans. Last spring, my students were getting excited about taking the STAAR exams. They had made so much progress and were well-prepared.
And then COVID-19 happened.
I had no idea how to teach virtually. This was my fifth year at IDEA, though I'd been teaching for 13 years, so I knew the subject matter, but I needed to see my kids—to look into their eyes to see any disconnects or breakdowns. I wanted to stop at their desks and look at their work to identify who was getting it and who wasn't. Instruction requires individual attention, because not every kid learns the same way.
This virtual thing was totally out of my wheelhouse. I was accustomed to a very hands-on approach; not with my back being to my students, unable to turn around to see their faces as I wrote on the board. To make matters even worse, not all students had reliable internet service. Sometimes their lines would drop, and they couldn't hear or see me. Some students had no in-home visual technology capability at all. Can you imagine trying to learn math with just a cell phone?
Sometimes I'd get no responses because they hadn't unmuted their connections. "Come off mute!" is a sentence that I've now said more times than I can count. Frustrated, I'd ask myself, "Why am I doing this?" I felt so ineffective, and burnout was just a step or two away.
Couple this with the fact that my own children, students at other schools, were also learning from home. Not only was I responsible for teaching my IDEA students, I had my own children at home to monitor as well. Unfortunately, I was not successful at doing both at the same time, and my daughter took advantage of that. Half her day was to be physically in class and the other half virtual. I'd get calls from her school that she'd been absent virtually. How is this possible when she's in a room adjacent to mine?! Ugh. #MomFail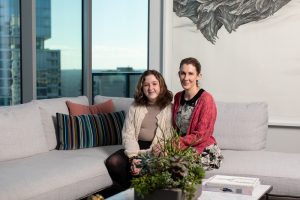 Eventually, we sent our daughter back to school in person so that she could have the instructional attention she so desperately needed. A tough decision? Yes. The best decision for my family? Also, yes.
For my other "kids" at IDEA, I also had to go above and beyond. I don't usually teach summer school, but I wanted to make sure my students wouldn't lose the momentum they'd gained after the new teaching format and months without reinforcement. I got parental approval to allow their children to take four weeks of instruction. I felt compelled to do it.
Summer passed and the new school year began. Still virtual. But the Fall of 2020 was more successful than Spring 2020 because of tools like Pear Deck that allow teacher-created presentations to display on students' screens. You can see, in real time, what each student is doing–even more efficiently than stopping at desks in the classroom. It improved my ability to see what's going on in students' minds.
I really love what I do. It's purposeful. I'm so motivated to see students grow. The new online tools are innovative and have made me a better teacher, especially in subjects I've taught 10 million times. But effective communication is key. It's easy to communicate with students when they're right in front of you, but you have to foster and build strong relationships with children who struggle academically, may not have access to the Internet or any parental guidance during the day.
To all teachers, especially the new and non-tenured ones, know that perfect cannot be the enemy of good. Be kinder to yourself and your students. Show empathy to everyone, particularly your students' parents. Foster hope. Show compassion and strength. And celebrate even the small pluses and successes, even when it's something as simple as just showing up when the opportunity to sleep all day is a pandemic possibility.
We are stronger than we realize. I ran my first marathon in February. I wasn't sure I could, but I finished and realized that, though taxing, I came out stronger, just as our students will.
I'm lucky to work for an amazing principal and with incredible teachers who are talented and caring. You don't find that in all education establishments.
—
Patricia South is an 8th grade special education teacher at IDEA Rundberg College Preparatory who is in her 13th year of teaching. She is a Distinguished Master Teacher, Teacher Laureate alumna, and holds a master's degree in education from the University of Texas. Patricia is passionate in her work to close achievement gaps for students behind grade level, and she is committed to educational excellence and attainment for everyone who enters her classroom. Patricia is inspired daily by her students, fellow teachers, and administrators. In her free time, Patricia loves long distance running, climbing mountains, and spending time with her partner and their three children.