IDEA Southern Louisiana encompasses three campuses in Baton Rouge and one campus in New Orleans, totaling approximately 3,000 students between our academy and college prep campuses in Kindergarten through 8th grade. Great news! IDEA Southern Louisiana will also be expanding its campuses to include 9th grade at IDEA Bridge College Prep and IDEA Innovation College Prep in the 2021-22 school year.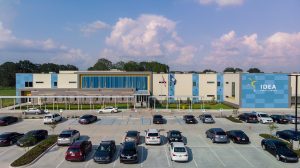 We're looking to fill an array of positions in Southern Louisiana for the 2021-22 school year to support our growing student population and continue our 14-year record of sending 100% of our seniors to college. With such amazing opportunities, you're likely ready to apply. Before you do, here are six things you should know about the career journey with IDEA Public Schools.
1. You will receive feedback and coaching. It may feel overwhelming at first, especially if it's new to you, but you will experience more rapid growth and increase your positive impact on students. Being open to receiving, implementing and sharing feedback with others is key to our culture, and it's something we will look for throughout the application process.    
 2. We are goal and data driven. Being able to articulate and share your plan and path to reaching a goal is a great way to share what you have accomplished professionally and academically, as well as how you did it. At IDEA, we are anchored in our goals and the data that provides us with evidence of progress and direction to focus our efforts.     
3. Working at IDEA could be the hardest job you'll ever love. We know what we do is hard work, but it is worth it. We know there are any number of things cascaded to staff members every day, and we want all our Team & Family to find their work–life rhythm.                                      
4. For teaching positions, apply for positions that are within your certification area. If you are not certified, apply for positions that align with your content knowledge, experiences or strengths.   
*We are looking for content experts. Someone who is experienced with LEAP testing or state testing. Bilingual in English and Spanish. Looking to gain at least 2-3 years of experience with IDEA and can grow with the organization. 
High-Priority Roles We Are Looking to Fill 
9th Grade Geometry – IDEA Bridge College Prep 
9th Grade Algebra /Geometry – IDEA Innovation College Prep 
9th Grade Pre-AP Biology – IDEA Innovation College Prep 
9th Grade Spanish I/II – IDEA Innovation College Prep                                             
5. Consider your options. If you are applying for a position that a recruiter may have said is highly competitive, consider applying for an additional position that aligns to your background and skills. For example, many candidates apply for teaching and leadership team positions.
6. Know your strengths. When in doubt about selecting positions to apply for, prioritize your passion along with skills and content knowledge. Remember—IDEA values the quality of your application. All applications will be reviewed, and if we feel you may be a better fit for another position, we will consider you for that as well.
Now that you know more about the journey that awaits, it's time to apply! Join our Team & Family in Southern Louisiana by submitting an application here. You can also take a virtual tour anytime for IDEA Oscar Dunn in New Orleans or IDEA Innovation in Baton Rouge.
Have questions? Please email careers@ideapublicschools.org, and a team member will happily assist you further.
*Cover Photo from 2019