For families at IDEA, no event represents every family's hopes and dreams more than College Signing Day! From tearful thank you speeches to the roar of the crowd as each student joyfully proclaims where he or she will attend college, College Signing Day (CSD) is the culmination of the years of hard work and dedication of our students, families, teachers and staff to fulfill our mission as an organization and our collective commitment to college for all.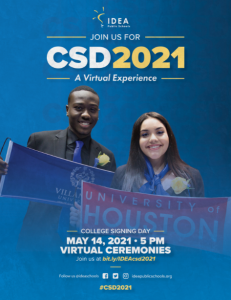 Though we cannot be together in person to celebrate this year, the joy and excitement for the Class of 2021 still echoes loudly across the entire organization and through the communities we serve. On Friday, May 14, over 1,400 IDEA seniors celebrate their commitment to college at our College Signing Day virtual event. Each of the 19 campuses with graduating seniors will host their own online ceremony. Ceremonies will launch simultaneously on Friday, May 14, at 5 p.m. CST.  For a list of participating campuses and more ceremony details, including unique web links per school, visit bit.ly/IDEAcsd2021!  
College Signing Day is one of our most treasured traditions and marks a momentous occasion in each scholar's academic journey. We are proud to celebrate our students' long-standing commitment to receiving a postsecondary education throughout the coming weeks as each scholar, one by one, reveals where they will attend college this fall. 
We take great pride in honoring the academic milestones and educational success of each of our students. In addition to upholding our legacy of 100% college acceptance for the 15th year in a row, this has been a banner year of record-setting achievements for the Class of 2021, including: 
1

,

40

7

seniors on college track 

 

12,742 applications submitted

 

7,484

 acceptances

 

2

,

068 acceptances to selective and highly selective colleges

 

14 Ivy League acceptances

 

$83M in grants and scholarships

 

1,078 graduates are the first in their family to attend

college

 
Students from this year's graduating class have been accepted to Brown University, Columbia University, University of Pennsylvania, Georgetown University, New York University, American University, United States Military Academy West Point, Naval Academy Preparatory School, University of Notre Dame, University of Chicago, Tufts University, University of Texas at Austin, University of Texas Rio Grande Valley, and more. 
We would like to congratulate each member of the graduating class on this momentous occasion and invite our entire Team & Family and the surrounding communities to help celebrate the collective success of the IDEA Class of 2021! We can't wait to see you all virtually on May 14. Congratulations!