It is the rich heritage of the native Hawaiians that has shaped Bonnie Kanani Arroyo, Pre-K teacher at IDEA Mesa Hills Academy, into the person she is today. 
Growing up, Bonnie's mother ensured she was surrounded by the aloha spirit. When visiting the islands, she was able to witness the beauty, kindness and warmth of others living the aloha way daily – an experience that has always remained with her and guided her life. 
"It is important to me to mirror their compassion and peacefulness," Bonnie said. "Living through the spirit of aloha, I have learned to love, remain peaceful and to have respect for my surroundings. My heritage plays a big part in the love and respect I have for the land we live on, for others and for myself."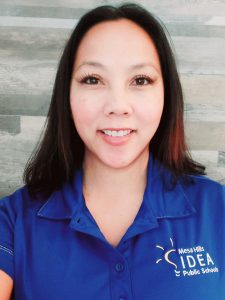 Bonnie Kanani Arroyo, Pre-K Teacher at IDEA Mesa Hills Academy
Bonnie's parents raised her to focus on love, peace and compassion in all things, and it is these values that have allowed her to always keep in mind the responsibility we have for others and our environment.  The combination of these values and her love for working with children drove Bonnie's passion for teaching. She explained that the blend of cultures and values in being of mixed heritage contributed to her journey into education. She has always been passionate about the advocacy and responsibility we have to our future generations. 
"Wanting to work with children has always been a dream of mine," said Bonnie. "As a life-long learner, I feel teachers have the amazing opportunity to not only teach the future generations of our community but to also learn every day with them." 
Bonnie's favorite aspect of her role at IDEA is working and growing with her students. Seeing their faces light up when they have mastered new skills warms her heart each and every time. Being a part of each student's journey to and through college brings immense joy to her life. Laughter is a priceless jewel in her classroom – blanketing all it touches with a brightness that consistently reminds her to enjoy the little moments.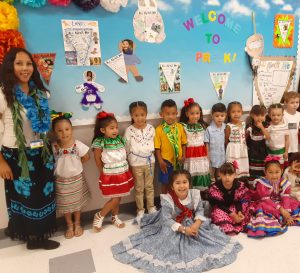 *Photo Taken Prior to COVID-19
"In a society that seems to always be driving full speed ahead, my students have taught me to learn to slow things down and reflect on my environment," Bonnie said. "Our youngest Wolverines still observe the purity of their surroundings, and it's refreshing to step back and try to view the world as they do. They are full of wonder, amazement and curiosity that drives me." 
Asian American & Pacific Islander (AAPI) Heritage Month provides a new opportunity for this curiosity to thrive. The IDEA Pre-K classroom is always full of hands-on and movement-related learning experiences, but Bonnie is taking the extra step this month to share the diverse heritage of AAPI communities with her students. Her Pre-K students will be listening to books about AAPI individuals followed by a craft, such as cherry tree painting or lei making. They will also use music to learn new dances and songs inspired by AAPI cultures. In Bonnie's eyes, the more exposure young students have to unfamiliar experiences, the more likely they are to promote diversity, value equity and respect inclusion.
"Educators have the important responsibility of teaching our students about diversity, equity and inclusion," Bonnie said. "These lessons broaden their horizons and teach them how to understand, love and respect themselves and their community and extend that to others." 
For Bonnie, AAPI Heritage Month is an additional opportunity for others to learn about the rich heritage and history of Asian American & Pacific Islander cultures. It's also a time for voices that are usually unspoken or silenced to be heard.  
"Please know that we stand with you," Bonnie said. "If you are feeling hurt, anxious, fearful or even angry, please confide in others. Keeping silent or bottling your feelings is never a good thing. We are here to support you and always ready to listen." 
In Bonnie's family, an important tradition is to always greet one another with a big hug. To Bonnie, this tradition reflects one of the great values of the AAPI community: the ability to welcome others, regardless of who they are or where they came from, as family. Even if someone is not a part of the original family tree, mutual love and respect for each other gives root to new family trees, making us all Ohana. Bonnie cheerfully shared: "Lilo said it best: Ohana means family, and family means nobody gets left behind or forgotten."
*Blog Cover Photo Taken Prior to COVID-19