Voices of IDEA  provides an opportunity to highlight and amplify diverse voices among IDEA's Team & Family. From students, to staff, family and partners, Voices of IDEA profiles the impact, experience and perspectives of individuals who shape our mission and support scholars on the road to and through college.  
In this Voices of IDEA feature, we're excited to get in the holiday spirit of giving and celebrate the contributions of our Team & Family through the voice and perspective of Alexis Lopez, a graduating senior at IDEA Alamo.  In this feature, Alexis shares her inspiration to be of service to her community, her college aspirations and future plans to be a changemaker!  Through IDEA's rigor and support on the road to and through college, students like Alexis Lopez are offered many opportunities to participate in community service not only during the holidays but all year long.  
"My interest is to be part of the improvement in my community." – Alexis Lopez
It's the season of giving, and Alexis Lopez, a graduating senior at IDEA Alamo, is committed to making a difference in her school and community.
During the Thanksgiving holiday, Alexis, National Honor Society chapter president, helped lead a food drive for families in need. In partnership with her classmates, she orchestrated the community service project; from spreading the word and challenging other grade levels to get on board, to collecting donations and assembling the baskets of food in hopes of making a family's holiday special. Alexis led and inspired her peers to collectively get involved and donate their time to feed 15 families for Thanksgiving.  
"We all worked together to do this, and I say 'we' because it was 100 percent teamwork," she said. "I have to speak of all of my peers because they helped out a lot."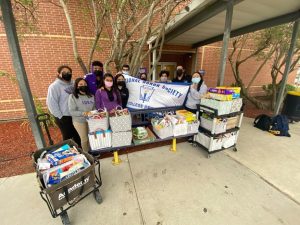 Growing up Hispanic in a low-income community, it's been a long road from Alexis' hometown to  preparing for admissions interviews at Harvard and Stanford. In spite of the circumstances or challenges she may have faced on her journey, Alexis' family always instilled in her the ideals of teamwork and being of service to others. All of her pursuits of success tie back to her desire to give back to her foundation–the community and village that has given so much to her over the years.  
"It's important to give back to the people that are here, helping us build relationships and network with other people," she explains. "The people that have always had our backs, pushing us, and doing everything they can for us." 
Alexis is determined to be part of the improvement in her community, and she believes that the intentional focus on service, character development and Team & Family at IDEA has opened her eyes to opportunities to get involved in and give back to the community. 
Alexis remains committed to making a difference in any capacity she can in college and beyond. 
"I plan to become a veterinarian and come back to the (Rio Grande) Valley to speak to other people about my journey and open clinics in my community," Alexis said.
Whether she's planting trees in her neighborhood, volunteering at a local veterinary clinic, or  pursuing a degree in Biomedical Science, Alexis is driven by her desire to pay it forward to the community that has supported her all of her life and helped her get this far.