It's that time of year!  Soon, scholars will set foot on an IDEA campus again for the first day of the 2021-22 school year! Returning IDEA families, we hope you are excited to continue along the road to and through college. New IDEA families, welcome to our Team & Family!  We are so excited to partner with you to ensure your child is successful in college and in life.  
This year, IDEA Public Schools will educate over 77,000 students in grades Pre-K through 12 across 137 schools in nine regions and three states, including our newest regions, IDEA Tampa Bay and IDEA Permian Basin's IDEA Yukon in Odessa, Texas. 
As you prepare for the new school year in your region, here are eight important tips and reminders:  
1. Return to In-Person Learning: IDEA Public Schools will participate in 100% in-person instruction for the 2021-22 school year across all regions and states. Due to current state laws, we cannot legally offer a virtual learning option for this school year. If state legislation changes to allow for a virtual option, we will reassess our policies and share updates with families. 
However, we do agree with public health authorities, organizations of educators, and medical professionals that it is safe and essential for students to return to classrooms. We believe schools can safely balance the risk of COVID-19 against the far greater threat to students' academic and social-emotional well-being and can operate fully in person.   
We will continue to prioritize the safety of our students, staff, and families and are committed to providing a safe, rigorous, and fun in-person learning environment where students thrive and succeed. You can learn more about our 2021-22 district health and safety protocols here and the importance of in-person learning and our continued commitment to safety here.  
*Updated state and regional health and safety protocols for the 2021-22 school year will also be communicated the week of July 26. 
2. Academic Acceleration: We want to make sure that we bring our students back into the in-person learning environment engaged in on-grade-level work from the first day of school. While students are learning new, exciting content, we will also be addressing any learning gaps from the prior year. 
Teachers will have supplemental resources to support the rigorous curriculum you expect to see in all IDEA classrooms, using students' technology devices to provide individual support and practice for all students. Teachers and staff will be making grade-level content a top priority – diagnosing and addressing unfinished learning and providing students with individualized attention that increases development and engagement. 
 3. Remember Your First Day of School: Please see the regional first day of school schedule below. You can also access your 2021-22 academic calendar here.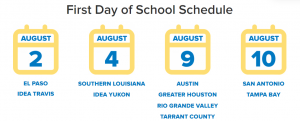 4. Be Prepared: Ensure you scholar has their school supplies, uniforms, immunizations and important forms completed before the first day of school. You can access this important back-to-school information and resources on our Back-To-School website.   
Uniform and school supply information can be found here. If you do not see your campus school supply list on the website, please contact your campus directly for an updated list.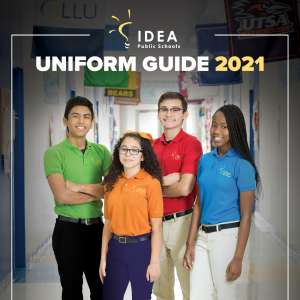 Returning IDEA Families: To complete your annual forms, please visit your STREAM portal before your first day of school. You can also find the quick and easy steps to complete this process at ideapublicschools.org/reregistration.  
 5. Immunizations: All families must submit updated health records, including up-to-date immunization records, during the registration process every year. All students must be immunized or hold a current, official exemption from the state. According to state law, returning student records need to be updated by the first day of school or they cannot attend school. There is a 30-day grace period, aligned with state requirements for students, that is a provisional enrollment period for students new to the district. 
COVID-19 vaccinations are not mandatory for the 2021-22 school year. However, we highly recommend getting your child (ages 12+) vaccinated to protect them from contracting or spreading the COVID-19 virus.    
For more information about our IDEA's immunization requirements, please visit our Health services webpage at ideapublicschools.org/health-services. 
 6. Get Your Printable: We want to see your scholar's amazing first day of school pictures! On our Back-To-School website, you will find printables you can use for your child's first day of school pictures. Be sure to tag IDEA Public Schools when posting your pictures on social media and use the hashtags #IDEABack2School and #IDEAProud. We may feature your scholar on our social media channels!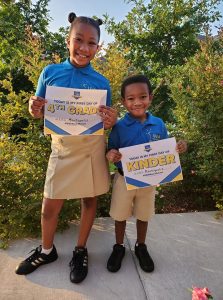 7. Self-Screen at Home Before School: All families and staff will be asked to follow IDEA's health screening guidelines to self-screen for COVID-19 symptoms at home before arriving on campus or at the bus stop each day. This safety measure will help keep others in our community healthy and safe. If your child is experiencing any COVID-19 symptoms, please do not send them to school. 
 Review our COVID-19 Self-Screening Guide for IDEA Students and Staff on our Back-To-School website here. 
8. Drop-Off/Pick-Up Protocols: Classes begin at 7:30 a.m. The instructional day ends at 3:45 p.m. As the first week of school usually produces heavier drop-off traffic, we recommend arriving at least 30 minutes before class begins so that scholars have time to find their classroom before the morning bell. We also recommend allowing extra time to pick up your child once the school day ends. 
For safety purposes, all IDEA families are asked to drop off their scholars in the drop-off line in front of the school inside the school gates. Directional signage and IDEA staff will be in place to guide this process.  
While wait times are longer temporarily during the first week of school, we ask for increased patience, grace, and cooperation from families while adjusting to the routine. Safety is our top priority. 
*Some campus schedules may vary. We encourage you to contact your campus to confirm drop-off and breakfast times.