It is often said that teaching is part art and part science, and Cristina Correa has dedicated the last 15 years of her career to perfecting her craft while inspiring a new generation of students to challenge conventions and become innovators.
EDUCATION HAS ALWAYS PLAYED AN IMPORTANT ROLE IN HER JOURNEY, even before realizing her calling. The Weslaco native was born and raised in the Rio Grande Valley in a family that both valued and expected a college education. "My paternal grandparents both went to college. After serving in World War II, my grandfather came back and graduated from San Perlita High School in Willacy County. After graduation, my great-grandpa told him he had a choice: stay and work on the ranch like his family had been doing for generations or use his G.I. bill to go to college," says Correa. "So, he got on the train, went to college and become one of the first Hispanic men to graduate from A&M College of Texas (now Texas A&M University), where he earned both his bachelor's and master's degrees. My grandmother already had her own career at the Cameron County courthouse by the time she and my grandpa met and married. She was a model of self-sufficiency and independence for my sisters and me."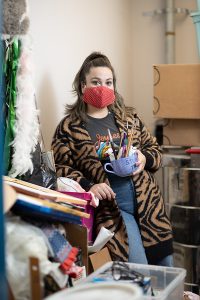 Correa's parents went to college as well. Her mother comes from a family of migrant workers and was the first in her family to go to college. After earning her bachelor's from Texas Woman's University and master's from the University of Texas Pan American while pregnant with Cristina, she became a school principal and administrator who championed while her father attended the University of Houston and the University of Texas School of Law. "The dynamic at home, wasn't 'Are you going to college?' It was 'Where are you going to college and what are you going to study?', she says. "In a few years when my son Jackson graduates from IDEA San Juan, he will be a fourthgeneration college graduate."
Correa remembers the first time someone asked her if she would be interested in becoming a teacher. "I cringe at the thought of a conversation I had with my mom once when I was in college," she says with a smile. "She asked me if I would ever consider teaching and I commented that it was so easy. I remember the look on my mother's face. I didn't realize then what I understand now, and that's teaching takes a lot of skill and hard work."
It was not just Correa's perception of teaching that made her hesitant. She had also grown up seeing how hard her mother worked as a principal, rising at 5:30 a.m. and sometimes returning home in the late evening. The experience was enough to rule out a career in education, but her life would soon take a fortuitous turn.
After graduating from Texas Women's University, Correa had given birth to a baby boy and moved back to the Rio Grande Valley to consider what her next move would be. "There was an opening for an art teacher at Weslaco East High School and they called to ask if I would be interested," she says. "My son was just four days old and I took him with me to the interview and I got the job." "I remember thinking 'I hope I can do this. I don't think I am qualified. I don't know anything about teaching,' but I looked at my son and knew I had to get a job for my newborn son," she continues.
Though she only expected to remain a teacher while she got back on her feet, Correa found she enjoyed working students. Soon, one year turned into three.
A new IDEA school was opening in San Juan, Texas and a friend recommended Correa for an art position. As part of her interview, she was asked to teach a kindergarten class in front of ten administrators. Correa was offered the position and has been in the role for the last twelve years. "What makes IDEA different is they take the time to invest in their faculty and staff," she says. "There is coaching, professional development, and they ask if you want to move up. But I have always known I don't want to move up. I want to stay in the classroom and working for a district that celebrates that and encourages teachers to stay and be the best they can be is rare." "I credit IDEA for keeping me in education," she adds. "They believe in strengthening the quality of their teachers and giving them autonomy. I love that you can be a leader at IDEA and not have to leave the classroom to move into administration. They find so many ways to empower teachers."
Though some may place less importance on classes in the fine arts, Correa believes art is an important part of a child's education because it creates a safe space for students express themselves. "Art is another way for students to express their voice and share a part of themselves that they might not be comfortable expressing out loud and that's important," she says. "Especially now when we are navigating such a strange time with heightened emotions. It's important to provide children with an outlet to be able to share a piece of themselves."
Correa didn't realize just how important art would become for her students in 2020 when COVID-19 began to spread from across the world into our local communities. "We brought everything home for the first few weeks. Then we were told to get more supplies because it would be long-term. When I walked back into my empty art room, I started crying," she says. "Classrooms are supposed to be a safe space for both students and teachers. Some of us spend more time there than we do at home. The idea of not being in our classroom was really hard."
To add to the challenge, teachers were tasked with developing content for virtual instruction in roughly one week. "As teachers, we had to let go of the structure we knew," she says. "We had to be flexible and remain open to alternatives to get students to succeed. It's our job as teachers to close any gaps. At IDEA, we have the autonomy to decide how we close the connectivity and learning gaps and ensure students are not left behind."
While art is a difficult subject to teach virtually, Correa embraced the challenge and looked for ways to innovate lessons while giving students room to express their emotions during the pandemic. "I get reality checks from my students on a regular basis," she says with a laugh. "During virtual instruction, I was calling students who hadn't done as well in their assignments just to connect. One of the students told me it wasn't that she didn't want to do the work, it was that she was creating art to heal and find joy."
The candid response made Correa rethink her lesson plans and find creative and inexpensive ways for students to express themselves.
She assigned her students a series of prompts designed to train their innovation skills by having to improvise their art supplies from what they had at home. Some of the materials used included Kool-Aid, makeup, and the dust from snacks like hot Cheetos.
Since then, Correa also authored and collaborated on articles and presentations about effective remote learning strategies. "When I was a new teacher, I remember someone telling me you have to be strict with students or they won't take you seriously," she says. "I missed out on a lot of potential relationships with students because of that. Fifteen years later, I think it's possible to have very great professional relationships with students if you set really strong boundaries, but also to get to know who they are as human beings and as individuals."
Correa's work as both a teacher and advocate has led her to become more involved on a larger scale. She is a founding fellow of the Texas Public Charter Schools Association's (TPCSA) Teacher Advocacy Leadership Institute program, which gives educators across the state an opportunity to collaborate with policy and advocacy experts and elected officials to become advocates for students and their families.
In 2020, she was awarded the prestigious TPCSA's Teacher of the Year Award for her work as an advocate for parents, students, and charter schools. "Especially during a school year that has presented so many challenges, Cristina Correa has exemplified the best that teachers have to offer, minimizing stress for students and parents and maximizing quality of learning," said TPCSA CEO Starlee Coleman said in a news release. "She is also a fearless advocate for her families and for students statewide who need and deserve great educational opportunities."
Of the honor, Correa remains humble and continues to focus on her main motivation—her students. "If no one advocates for our students, how are we going to make change for them? How are we going to transform our communities into what we want them to be? How are we going to transform our schools into these dynamic learning environments that our students deserve?" she muses. "My students are why I do what I do. I want to see each one of them succeed."