I have always been able to mentally compartmentalize my emotions and experiences in life. I can separate work from personal struggles; I can easily keep my head in the game and push everything else aside. To me, that is the mentality of a true athlete: focus, work hard, and stay the course. However, this ability was put to the test this school year.
I AM GOING TO SAY WHAT WE WE'RE ALL THINKING:
2020 was rough. It was a trying year for all of us both personally and professionally, but what kept me going were my family and my students.
The first of last year's curveballs struck on January 26. I was shopping at Lowe's and found out that Kobe Bryant died in a helicopter crash. I rarely show my feelings publicly, especially not in the aisles of a hardware store, but I couldn't hold it in. Tears streamed down my face as I read the news on my phone.
As a former professional basketball player, avid Kobe Bryant fan, and a father, the news shook me. Little did I know what the rest of the year had in store.
Our entire world changed in a matter of weeks. Cities on lockdown, families separated, school went virtual—it was a strange and trying time. When I was told to work from home, I immediately thought of our students. Some were in good, loving environments while others were not. I wanted to do something to help during a time when so many of us felt helpless. So, I began to think about ways to boost their morale and success from home.
As a coach and teacher, my students are always my motivation. I want them to be strong, healthy, happy and successful. I want them to go to college and have every opportunity available to them. This is why we become teachers. This is our act of love and service to our communities.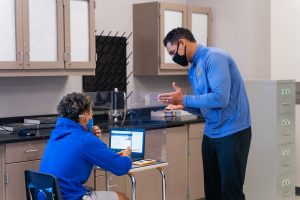 I knew our students needed some motivation and routine during virtual instruction, so I came up with drills and activities for them to do at home. I even went to visit several students in person because their parents said they needed extra help.
What I thought would be a few weeks of online learning turned into months. I spent my summer trying to get ahead of the game by planning how I could support our students, especially with our first class of seniors getting ready for their final year of high school. In August, just before the new school year, I and two other teachers masked up and drove to the homes of 68 students just to show them we cared and would be there for them no matter what.
The school year began, and everything was okay. Then another shockwave hit our campus.
My student, a young man whom I have mentored since the 6th grade, lost his life last fall. It really rocked me to my core. I never expected to lose a scholar. I did not sleep for days. I was behind in my work, and my students noticed.
I was behind and I was tired, but what pushed me forward was remembering my why. My purpose was to help my students. I had to be strong for them. They were depending on me.
I thoroughly believe in IDEA's core value of "No Excuses", but this year, it just hits a little different. From quarantines, tragedies, and everything else in between, 2020 challenged me and I know I'm not the only one.
For the teachers and others who are looking for answers on how to handle it all, I recommend finding a way to decompress. My decompression time happens in the morning, at the gym. I do it before my kids wake up, and I can have time to myself. I also have a wife who is my best friend. She understands the passion I have for my work and is a listening ear whenever I need someone to talk to. Similarly, find what works for you.
I love my job, I really do. IDEA has changed my life in so many ways. I think IDEA has taught me ways of organizing and prioritizing that is really beneficial, but all of us teachers and staff have to know when to turn it all off and prioritize other parts of life like family and things that make us happy outside of work. And when we get back to work mode, just remember IDEA's mission and why we stepped into this work. We are more than teachers at IDEA. We are mentors, coaches, and even part-time parents to kids who aren't our own. They need us and they deserve to have our best efforts.
—
Jermain Brown is the founding Athletic Director and PE Coach of IDEA Monterrey Park. He is a third year Master Teacher, coaches basketball, volleyball, track, cross country, soccer, baseball and mentors more than 60 students. He is also a former international professional basketball player who found his purpose when he was hired at IDEA. Brown is a devoted husband and father of two children. He enjoys talking sports, reading, and playing golf.