Real Talk: COVID-19 has changed education forever. 
We get it. As a parent or guardian, you are juggling so many priorities at once. You might be thinking:  
Should I send my student back to school in person?  
Who is able supervise my student's virtual learning? 
Is virtual learning or in–person learning the best option for my student? 
If I send my student to school in person, will they be safe? 
IDEA Public Schools deeply values safety. And now, we know safety is more important than ever, and it's driving your education decisions.  
All IDEA schools currently offer in-person or virtual learning options. On Tuesday, January 19, El Paso was the final region to begin to phase back in to in-person instruction, beginning with college prep students. We know there is need and demand for in-person instruction and educational services across our communities. However, we want our families to have the choice to determine the learning option that is best for their child, as local and state health ordinances allow. 
All IDEA schools have implemented and constantly work to strengthen COVID-19 prevention, mitigation and response procedures and policies daily to ensure your scholar remains healthy while in our care. Together, we are all learning how to live, work, navigate new routines and policies, and keep each other safe during a pandemic. 
Our decisions, policies, protocols, and physical improvement and resources (i.e., ventilation, disinfection of spaces, signage, adequate PPE and supplies, etc.) are consistent with the Centers for Disease Control and Prevention's (CDC) recommendations for operating schools during COVID-19. We have made every reasonable accommodation to abide by CDC protocols around health, safety, and reopening of schools.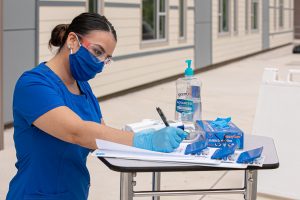 Outline of Health & Safety Protocols 
Before students enter the building, they will: 
F

ollow 6-foot markers to maintain social distancing and avoid crowding

.

 

Wear a mask during 

the day, only removed during specific instruction blocks, OR at all times, only removed during meals and Direct Instruction blocks.

 

Have their temperature checked by IDEA staff wearing a mask. 

 

Be asked to clean their hands before entering the building at a hand hygiene station. 

 

Walk to their classroom wearing a mask provided by IDEA or brought from home.

 
While in the classroom, students will: 
Wear a mask and have an assigned seat with a state-of-the-art plexiglass guard for safety.

 In fact: We believe IDEA will be among few school districts with this protective gear due to the incredibly high demand! 

 

Enjoy their classroom lessons and meals 

while

 rotating

. 

 

Be taught by passionate educators who will be wearing masks and leading the class through safety protocols.

 

Have multiple hand hygiene breaks built into their day.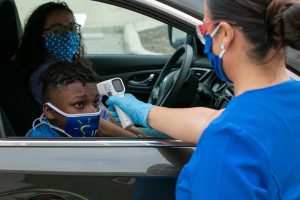 As a district, we have also implemented policies to limit exposure across classrooms. To reduce the potential spread of COVID-19, IDEA schools will be closed campuses until further notice. A closed campus limits visits to essential visitors only and limits the number of visitors allowed on campus at one time. 
S

tudent

s

 

rema

in in

/

travel in cohorts

 at all tim

es

 to minimize exposure

.

 

Parents and family members are asked to 

follow new campus visitor guidelines:

 

Visitors will be limited to a specific number of essential individuals per day.

 

Essential visits are scheduled in advance (to all extent possible), and all visitors practice social distancing while on 

campus.

 

All visitors arrive to campus with the required Personal Protective Equipment (PPE) — a mask that covers their nose and mouth.

 

All visitors are temperature 

checked an

d 

asked screening questions

 

before leaving the front office lobby area to enter campus hallways.

 

Deliveries from parents will be limited to items necessary for student health needs. 

 

Parents are also not 

allowed to

 come to campus to eat lunch with their child

,

as children will be eating in classrooms while social distancing.

 

 

Parent meetings will take place virtually until further notice. Exceptions are at the sole discretion of the principal.

 
We continue to consult with physicians and public health experts to update our protocols regularly based on the latest scientific findings and to ensure that the implementation of these safety protocols also maximize instructional strategy. 
While we seek to keep the learning experience as typical as possible, we are balancing the need for increased safety measures. Our schools are also staffed with health services staff who have been thoroughly trained to protect each and every IDEA student. 
Contact Tracing Procedures 
When we are notified of a positive case on campus, we have a team of staff who respond. Contact tracing immediately begins to identify where the individual was in the building, with whom they had close contact (less than six feet for 15 minutes) and when they were last on campus.  
We take the most cautious steps in quarantining staff and students who may have potentially been exposed to a case to prevent any risk of further spread. We do not make decisions on school closures, who to quarantine, which protocols and measures to implement, or what else to do regarding a positive case independently. Once a decision is made, communication is cascaded to staff, students, and families and the case is reported to the proper authorities. 
Our campus leadership team and regional Health Services and Human Resources teams collaborate on every case to ensure we're making the safest decision for each campus. The Health Services department is in regular contact with the local health departments in every region and continuously monitors the CDC and state websites for any COVID-19 updates. 
IDEA Offers COVID-19 Testing for Staff at All Campuses 
IDEA now offers Rapid COVID-19 testing for staff members at all campuses! IDEA has trained over 230 staff members to conduct tests and administered over 6,000 tests throughout the district. This is just another measure in place to mitigate cases and ensure our campuses are as safe and as healthy as possible. 
Staff members can test twice per month and each school determines what days and times testing will be offered. Students are only allowed to receive testing at the campus if they are attending in-person learning and are experiencing symptoms. Testing access is based on supply availability and campus schedule.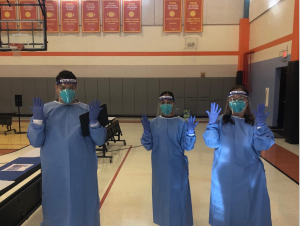 Our Mission Continues 
While continuing education in person during this global pandemic is not easy or business as usual, we are committed to providing a healthy and safe environment for scholars to learn in every day. As a district, we quickly adapted to the new needs of our families and pivoted to an educational structure that remains rooted in scholar success. 
When we first made the pivot to virtual instruction, IDEA as a district was able to make contact with 99% percent of our students to get learning back on track! Throughout the past year, teachers went above and beyond to maintain a culture of valuable learning and engagement virtually while students and families got creative and remained focused on flexible, fun learning, even from home.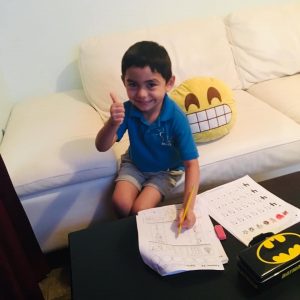 Our mission is to get scholars to and through college. Pandemic or not, that will never change. However, we know the needs and priorities of families have. We remain committed to safety, transparency and agility in our response to COVID-19, and we invite families to learn more about our approach and the options available in their region. Learn more at ideapublicschools.org/back2school2020/health-and-safety-information or contact an enrollment coordinator today at ideapublicschools.org/enrollment-coordinators.