"Native people are not just a historic people. We are very much present." – Krystle Peinado, IDEA Mesa Hills teacher
Native American woman and Special Education RISE teacher Krystle Peinado's roots can be traced to Kansas. She is a descendent and enrolled member of the federally recognized Iowa Tribe of Kansas and Nebraska; and her ancestors have lived and preserved their sprawling 12,000-acre reservation in Kansas for generations. 
Although she grew up just a stone's throw away from her tribe's reservation, she didn't always feel a strong connection to her heritage. "My grandmother is an Ioway woman, and as a kid, showed me old photos of my family in traditional regalia," she said. "It was more of a fun trivia fact about myself versus who I identified as."  
Peinado's profound interest and self-discovery of her heritage didn't occur until she enrolled at Haskell Indian Nations University, a tribal university in Lawrence, Kansas founded for students from federally recognized Native tribes across America. As an enrolled tribe member, Peinado attended for free, and the scholastic and heritage-based knowledge she gained was priceless. 
"I finally had a chance to meet people from dozens of tribes from all over the country," she expressed. "It was one of the best experiences of my life, learning from Native professors and in turn finding out more about myself. I was able to do my own research about my tribe and my culture. It was truly a cultural reset."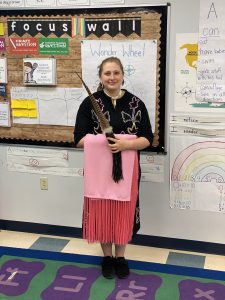 *Photo from 2019
With rejuvenated cultural pride, Peinado graduated from Haskell with a bachelor's degree in elementary education (K-6). She then attended the University of Kansas and earned her master's degree in special education. Following that, she taught kindergarten and first grade until her family recently decided to venture to El Paso, Texas to be closer to her husband's family.  
She is now a lead teacher in the RISE program, grades Pre-K – 2 at IDEA Mesa Hills. She began working for IDEA in the summer and has taught virtually since the start of the year. "I work with students with severe disabilities such as Down syndrome, autism, and those with traumatic brain injuries," she said. "It has been an adjustment working virtually, but the students and the staff make it all worth it." 
Each November, IDEA celebrates Native American Heritage Month. Learning this was a pleasant surprise for Peinado. "I was excited to hear that IDEA celebrates Native American Month and Indigenous Peoples' Day. It warms my heart as a Native woman." 
This year, she plans to share some of her Native culture with her students even though the experience will be virtual. "I usually let my students touch some of my feathers and beadwork, and I wear my regalia to class. So, I'll have to adjust my normal presentation since it's all online."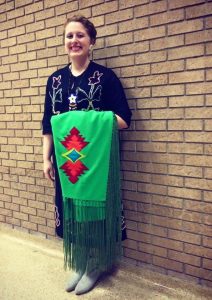 She also wants to help dispel myths about Native people. "We tend to be looked at as people of the past, but we are very present in this contemporary world. We are also incredibly diverse. There are hundreds of tribes, some that are federally recognized and some who are not. There are white, Black and Asian natives, and so many more. We all look very different and have different ways of life, but we are present and making contributions to contemporary society." 
She hopes that people will take a moment to learn about Native land this month. "You can actually search by zip code to check what tribal land you may live on," she noted. "It's really cool, and I think everyone should take a moment to do a bit of research on it." She also hopes that people consider buying gifts for the holiday season from Native artists and tribes. "My tribe owns and operates Ioway Bee Farm. You can buy gifts for the holidays while supporting Native people."  
Peinado is as active as she can be with her tribe even though she lives in Texas. She is learning her traditional language, Báxoje, and is teaching her son the language and history as well. She also recently applied to a Ph.D. program and hopes to earn a degree in educational psychology so that she can give back more to Indigenous people. 
"My eyes are on the prize!" she exclaimed. "I want to be one of the small margins of Native women who earn a doctorate degree because I want to show what's possible."