"A little progress each day adds up to big results."  
This cold winter weather may make you want to stay bundled up inside, but there are so many great opportunities to stay active! Check out these awesome tips on how to stay motivated and committed to your workouts this year from Joshua Morales, Physical Education Teacher at IDEA Monterrey Park College Prep, and William Nicholas Sanders (AKA: Nick), 6th grader at IDEA Monterrey Park College Prep.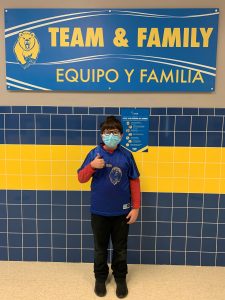 Nick said he knows 2020 was a crazy year! A lot of things changed for him inside and outside of school. With all the changes going on, he found himself moving a lot less.  
"I joined our flag football team at school this year to help me stay active. I was a little nervous because I never really played sports before, but I really enjoyed it," Nick said. "I met new friends and got better at catching the football. Joining team sports at your campus is one way to help students stay active." 
*
Each campus has an approved safety-action plan endorsed for their sports. IDEA athletes 
wear their masks at all times
. Coaches conduct temperature checks and health screenings, 
enforce the 
sanitizing hands before
, 
during and after practice/games
 and
 disinfect equipment
 frequently.
1) Make exercise fun. Find sports or activities that you enjoy, then change up your routine every now and then to keep it fresh. If you're not enjoying your workouts right now, try something different. You can really surprise yourself! 
Join free virtual yoga classes. Take an online hip-hop dancing class. Check out a health club (safely, of course) or take a jog at your local park. Discover your favorite type of movement. Remember, exercise doesn't have to be boring, and you're more likely to stick with a fitness program if you're having fun. 
*Nick's Tip: Create a daily walking routine around your neighborhood with your family. 
2) Make physical activity part of your daily routine. If it's hard to find time for exercise, don't fall back on excuses. Schedule workouts as you would any other important task.  
You can slip in physical activity easily throughout the day! Take the stairs instead of the elevator. Walk your dog the moment you get home. Pedal a stationary bike or do strength training exercises while you watch TV at night.  
*Nick's Tip: Perform a physical activity you like during commercial breaks when watching TV.  
Research has found that sitting for long periods of time may negatively affect your health, even if you otherwise get the recommended amount of weekly activity. If you sit for several hours a day at work, aim to take regular breaks during the day to move, such as walking up and down the hall to get the blood flowing or standing during every other class. 
3) Join forces with family & friends. You're not in this alone. Invite others to join you (socially distancing applied and while wearing masks) when you exercise. Work out with your brother or sister. Play a game of family tag. Organize a weekend morning hike. There are so many fun ways to be active and stay safe! 
*Nick's Tip: Ask your parents to park further away when you go places, so you can get more steps in. 
4) Reward yourself. After each exercise session, take a few minutes to savor the good feelings that exercise gives you. This type of internal reward can help you make a long-term commitment to regular exercise. External rewards can help too. When you reach a bigger goal, treat yourself to a new pair of walking shoes or new headphones to enjoy while you exercise. 
5) Be flexible. If you're too busy to work out or simply don't feel up to it, take a day or two off. Be gentle with yourself if you need a break. The important thing is to get back on track as soon as you can. Now that you've regained your enthusiasm, get moving! Set your goals, make it fun and pat yourself on the back from time to time. Remember, physical activity is for life! 
Great job, Team & Family! Now let's get up and get moving – reading this blog does NOT count as exercise. You got this!