We get it. Choosing a middle school for your pre-teen can be a tough and lengthy process. Compared to the elementary school years, both the social scene and the academics can be more complicated and intimidating. You are likely feeling a lot of pressure to find a school environment that will be rigorous and attentive while also nurturing and healthy. 
Before you worry too much – here are some topics to consider as you decide which middle school is right for your student. 
Rigorous Academics 
Unsurprisingly, academic success in middle school is a major indicator of reaching college readiness in high school. A study from the University of Chicago Consortium on School Research found that only those students who leave eighth grade with GPAs of at least 3.0 have a moderate chance of earning a 3.0 GPA in high school—the threshold for being considered college-bound. 
At IDEA, we truly believe in college for all. For 14 years and counting, 100% of IDEA college preparatory students have been accepted to college. IDEA sets high expectations for every scholar and goes the extra mile to make sure every scholar realizes their own potential. Personalized learning, critical thinking skills, mastery of core subjects and continued support through college is IDEA's recipe for success. In 2019, IDEA Public Schools middle school students out-performed state passing performance on all STAAR tests in 6th, 7th and 8th grade.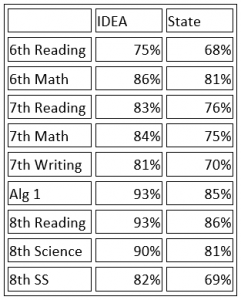 Social, Emotional and Physical Safety 
The awkwardness of the middle school years may be exacerbated by the disproportionately high rates of bullying and pervasively low self-esteem that occur in those intermediary years. Your middle school should have a knowledgeable staff and dedicated programs that prioritize developing the whole child in a safe and secure campus. Consider what kind of unique support your child may need, and then make sure you know whether or not he or she will be getting it. 
The physical safety of our students and staff is our top priority at IDEA Public Schools. We are committed to ensuring our students are learning and growing in a safe environment each and every day. Additionally, we care deeply about your child's mental and emotional health. We have academic counselors and student engagement teams at IDEA who can also provide support to our students if/when they have concerns about their personal safety and well-being.  In some schools, we also provide proactive social skill-building programs, emotion identification and regulation sessions, and healthy relationship workshops that help make the school a safe space socially and emotionally so students can achieve their highest potential academically. 
All IDEA schools have also implemented and constantly work to strengthen COVID-19 prevention, mitigation and response procedures and policies daily to ensure your scholar remains healthy while in our care. Together, we are all learning how to live, work, navigate new routines and policies, and keep each other safe during a pandemic. You can read more about our extensive health and safety procedures and adaptive learning approach related to COVID-19 here. 
Students as Individuals 
The middle school years are a time of great personal evolution for kids. Just as puberty accelerates physical changes at its own pace, kids mature cognitively at their own pace. It's more important than ever that students feel "seen" by the adults in their lives and don't get lost in the shuffle. Things like student-teacher ratio, extracurricular opportunities and overall campus size are important factors to consider for your student. 
IDEA treats everyone like family. IDEA's students, teachers, staff and parents work together to reach their highest potential every day. Our small learning groups allow our teachers to truly know each of their students, and they are also available beyond the school day for after-hours homework help and to meet with families. IDEA also recognizes that a well-rounded student must also be successful beyond the classroom. We focus on character-building and developing the whole child, including providing a myriad of opportunities for our students to participate in extracurricular activities and athletics. 
IDEA prides itself on being a top choice for families looking for a school that will help children blossom into tomorrow's leader, critical thinker, and change-maker by focusing on the whole child. IDEA provides scholars with the support, guidance, and instruction they need to ensure each scholar reaches their goals. Together with the support of parents and teachers, IDEA middle school scholars have the resources they need to succeed and prepare for high school and college. 
Whether IDEA is the right school for your student or not, we hope these tips can help you better consider the options that are the right fit for your student. For additional assistance finding a middle school in your area, visit greatschools.org. 
Ready to join IDEA today? Learn more about our 6th grade program here! Start your application today at ideapublicschools.org/apply!