With the Thanksgiving holiday just around the corner, it's time to relax, spend time with family and friends, and…continue learning!
Did you know that IDEA's Accelerated Reader & iLearning Hotspot software will be available during Thanksgiving Break, November 25 through November 29?
Our research shows that 95% of students who read enough words will pass STAAR.  The table below shows what "enough" is for each grade level: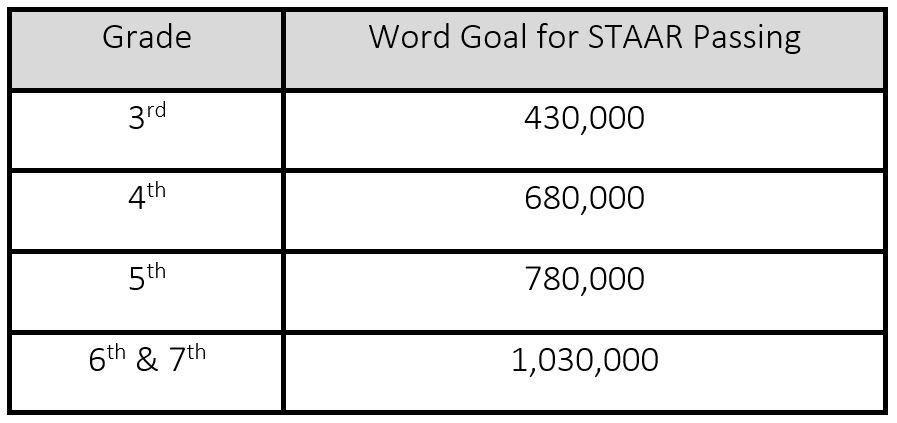 To keep your child reading over Thanksgiving break, be sure they read at least 30 – 60 minutes a day. In addition, set goals for the number of words your child should read by the end of break and do something special when he/she reaches it.
Team & Family, here are four reasons your child should log on and keep the learning going while snuggled up at home, or on a fun trip to the local library.
Reason 1: Come Back to School Sharp & Ready
If your child dedicates just an hour a day working on math skills and testing on a book or two, he or she will return to school on December 2 ahead of the game and ready to learn.  Helpful tip—develop a routine, start the morning with a good breakfast and make that next hour a dedicated "Math & Reading Time."
Reason 2: Continue the Journey to Royal Reader and Math Genius Status
Need we say more?  Every IDEA scholar is on a mission to become a Royal Reader and a Math Genius.  Work hard now, so you can celebrate later.
Reason 3: It's the Perfect Downtime Activity
Go for a walk in the crisp fall air.  Kick the soccer ball around. Attend a Thanksgiving gathering.  But when there's a little downtime, have your child read a few chapters or log on to the computer for some math fun.  You'll be amazed at how many little pockets of time you can fill with educational fun!
Reason 4: It's A Blast! 
IDEA Weslaco Pike scholar Clarissa Rodriguez said it best, "You are rewarded every second that you are reading.  Sometimes a book can be a companion when no one else is.  When you're bored, you can open a good book, snuggle up in the covers, and transfer yourself into another world.  You feel like you're right there with the main characters."
The same goes for mathematics.  Who needs video games when you have interactive math software games to play?
iLearning Hotspot
1st -5th Grade (Dreambox software):  Become a Math Master by completing 200 lessons
6th-7th grade (ST Math):  Become a Math Master by completing 80% or 50% of assigned pathway
Software Login Information
The Renaissance AR & myON software are available to students once they log into Clever.