As school districts across the nation face unprecedented closures in light of the COVID-19, IDEA Public Schools remains committed to continuing to serve our families with a quality college-bound education and the resources they need to remain safe, healthy and successful.
As student instruction continues online via distance learning for all students in grades Pre-K through 12 across the district, cafeteria workers and Child Nutrition Program (CNP) staff are working hard to prepare nutritious breakfast and lunch options for curbside pickup across the district.
"I encouraged my staff and tell them getting up each day and providing meals for families is bigger than what we may see in our daily routine," says Lester Jones, Cafeteria Manager at IDEA Bridge in Southern Louisiana. "This is really an opportunity for us to serve our community and offer a bit of help and comfort during a very uncertain time, and that is significant."
Like many across the district, Jones says his staff arrives on campus early each day and begins to prepare breakfast and lunch—all while practicing social distancing at least 6 feet apart—for curbside pickup.
In addition to providing meals roughly 150-250 meals a day for IDEA scholars and their siblings, Jones and his staff have also been offering food to a nearby daycare as well.
"It is very satisfying to be able to give our fellow community members one less thing to worry about," says Jones holding back emotion. "When I see the smiles on those children's faces…it's just a wonderful feeling."
In New Orleans, the U.S. city with the most COVID-19 cases in the nation, staff at IDEA Oscar Dunn are taking extra precautions while continuing to serve the community. Staff at IDEA Oscar Dunn recently reported serving 1,900 meals to families in a single day
"We are a community-based school serving the families of New Orleans," says Christopher Joyce, Principal at IDEA Oscar Dunn in New Orleans. "In a situation like this where there is already a food desert in East New Orleans, it is important that all families have access to meals for their children."
Fernando Aguilar, Managing Director of IDEA's Child Nutrition Program says he is proud of the many staff members across the district who are giving their all to help support their communities.
"This work really echoes our core value of Team & Family," says Aguilar. "And not just IDEA students, but to all families. We are blessed to have a committed workforce with men and women waking up at 4:00 a.m. to fire up the ovens in an effort to provide fresh meals every day and serve the community."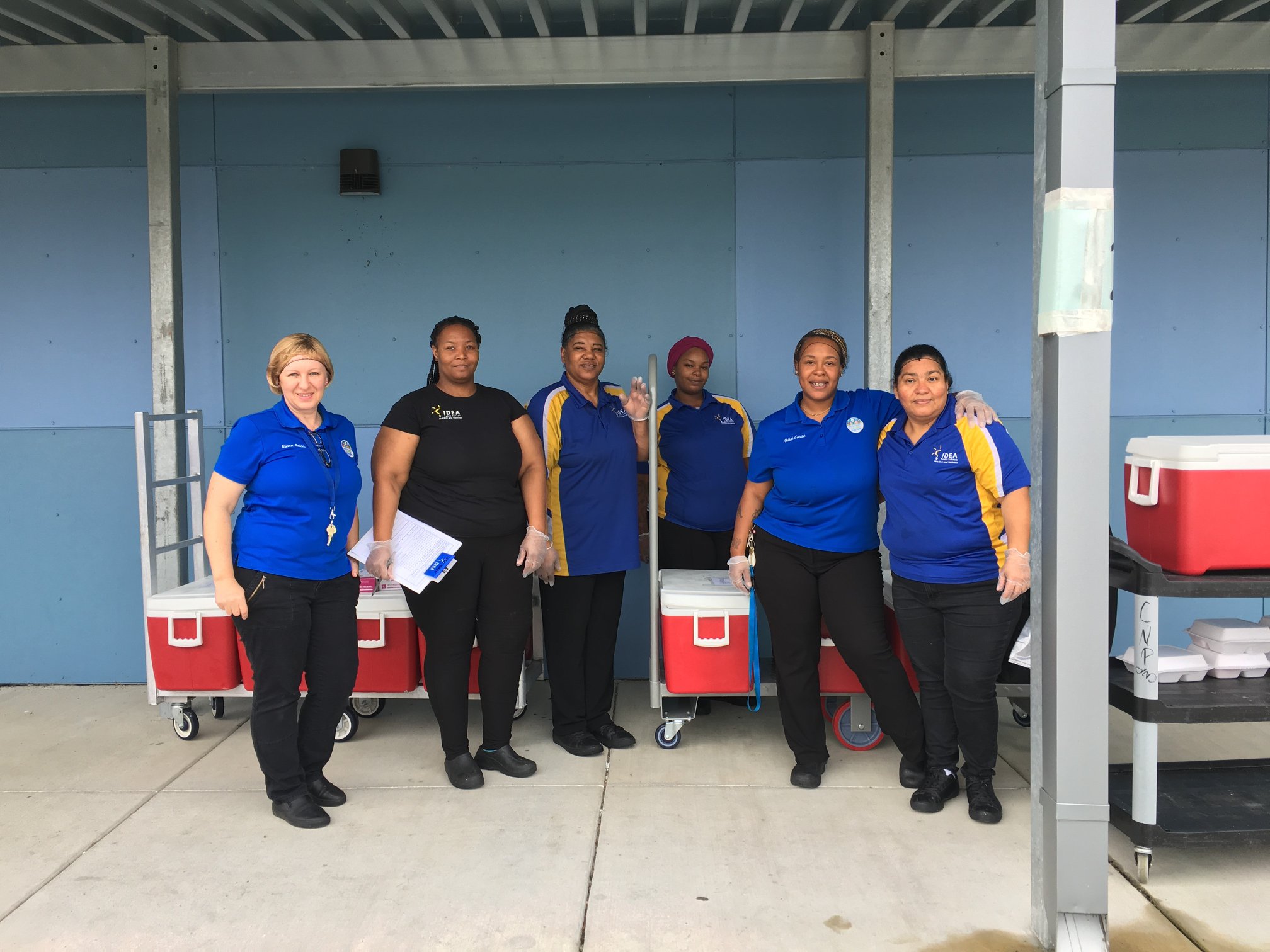 "As long as supply lines remain open and our workforce remains strong, we are not going anywhere. We will do whatever it takes to deliver on our promise to families," continues Aguilar.
As of March 26, IDEA has served over 158,000 meals to families across the district since school closures were announced.
Families may visit any IDEA campus for meal service from Mondays – Fridays for pickup from:
7:00 am to 10:00 am – RGV, Austin, San Antonio, Tarrant County and El Paso
9 am – 12 pm – New Orleans
10 am – 1 pm – Baton Rouge
In addition to picking up meals at any campus location, families in the Rio Grande Valley may also visit any of the meal service distribution centers below:
| | | | |
| --- | --- | --- | --- |
| City | Stop Location | Address | Distance From Campus (round trip) |
| Penitas | Katarina Park | Mile 7 Rd & Sago Palm Dr. Penitas, TX 78576 | 28 Miles   (44min) |
| Pharr | Garcia Park | 413 E Clark Ave, Pharr, TX 78577 | 14 Miles  (24min) |
| Hidalgo | Autozone | 1101 S Bridge St, Hidalgo, TX 78557 | 16 Miles (36min) |
| Donna | Parque Aurora Valley | Aurora Valley Dr. & Bella Vista St. – Donna, TX 78537 | 20 Miles (44 min) |
| Progreso | Progreso City Park | International Blvd & Malone Dr – Progreso, TX 78596 | 13 Miles  (24 min) |
| Harlingen | Sports Complex | 3139 Wilson Rd, Harlingen, TX 78552 | 16 Miles  (24min) |
| San Benito | El Ranchito Stripes | Stripes, 24523 US-281, San Benito, TX 78586 | 25 Miles(40min) |
| Brownsville South | Tony Gonzalez Park | 34 Tony Gonzalez Dr., Brownsville, TX 78521 | 8 Miles (18min) |
| Brownsville North | Oliveira Park | 104 El Paso Rd, Brownsville, TX 78520 | 8 Miles (24min) |
| Rio Grande City | Iglesia Maranata | Elliot St & E Juarez St, Las Lomas TX 78582 | 16 Miles (40 min) |