The celebration of Black History Month is honored across IDEA's Team & Family in different ways. Latoya Mcghee, founding principal at IDEA Victory Academy in Tampa Bay, sees this important time as an opportunity for her scholars to "go above and beyond" the year-round celebration and exploration of Black culture and Black individuals who shaped—and continue to shape—our society. Read on to learn more about Latoya's educational philosophy, her personal family history, and her pivotal role as a founding member of IDEA's newest region in Tampa Bay, Florida.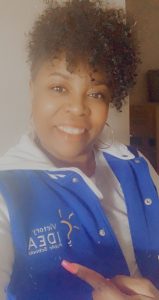 Latoya Mcghee, Founding Principal at IDEA Victory Academy
What does Black History Month mean to you? 
I value Black History Month, but the reality is, I am black every day, all day, 365 days a year and so are the majority of the families that we will serve at IDEA in Tampa Bay. I want my students to know that we embrace them for who they are and that they should always be proud of the great things and the great Black leaders, civil-rights activists, and individuals who have made a difference in our country. Black History Month is a designated time for the world to celebrate our heritage. It's our responsibility to go above and beyond for our scholars to do more research about Black History, learn about their own heritage to unlock the greatness inside of them, and share it with each other. We will do this each and every day, not just for 28 days in February! 
How important is it for Black students to learn about and see Black leaders in the community and at school?  
Extremely important. When you come to school, regardless of your home environment, you should be able to see someone who looks like you in a professional position, professionally dressed, so that you know: I can grow up and be this, too. I can grow up and accomplish anything I set my mind to. I'm seeing and learning about positive role models who are Black women and positive Black men.  
Speaking of role models: who is one of yours? 
It would have to be my grandfather. He was a farmer in a small town from South Carolina. He was very hard working. Everything he did, he did with 110% of him. He was passionate about his work. He loved the fact that he was a farmer because it allowed him to do what he what he loved for a living. For me, that is something that I take with me now—to find your passion. Being an educator, I found my passion. It took me a while to find it, but once I did, that was it. I truly feel at home as an educator. 
What was your journey to becoming an educator like? 
It was complex. When I was pregnant with my son, I worked several dead-end jobs and struggled to make ends meet. I had enrolled in three different colleges and quit three different times. I prayed for an answer, or even just to have options, and one day, my co-worker mentioned becoming an educator. I thought: an educator, that's a good idea. I tried again to go to college, and soon enough, I realized that education was my true path of service for both children and my community. My mom and I actually attended college at the same time (speaking of other role models).  
I graduated, became a teacher, obtained my master's degree, later became an Assistant Principal, and now I am leading a school as the Founding Principal of IDEA Victory Academy. And my mom? She is currently a Founding Teacher Fellow at IDEA in the Rio Grande Valley. Next year, when IDEA Tampa Bay opens, she will be a founding teacher here in the community. 
How does it make you feel to be working in education with your mother? 
I am ecstatic that my mom will be a part of this legacy alongside myself and the other teachers and leaders in Tampa Bay. My mom, like my grandfather, was always hard-working. Throughout my upbringing, I just had so many examples of hard workers. My mom just wants what is best for kids, and she just wants to help in any way that she can. She is forming a great bond with her teacher advisor, and she is super excited to come back to Tampa Bay to launch strong in the fall of 2021. Working at IDEA with her makes me feel a strong sense of pride and belonging. 
We are so happy and proud to have Latoya and her mother, Samantha, as part of our IDEA Team & Family!