The 4-H participants at IDEA Palmview College Preparatory are seeing the fruits (and vegetables) of their labor.
Sixth graders at the home of the Aggies recently participated in the Rio Grande Valley Citrus & Vegetable Show and placed in several events. In fact, Martin Tamayo earned 2nd place with his very own, homegrown Mexican limes!
Additionally, Ruby Benavides, Ezequiel Lopez, and Jacob Montoya were all named Intermediate Division Poster Champions for their work "Eureka Lemons," and Jaime Zavala, Angel Nava, and Aiden Garza took home the Intermediate Division Reserve Champion Poster for "Avocado." Elva Martinez, Angel Reyes, Edgar Mendoza, and Osmar Arredondo also competed as an Agricultural Product Team in the intermediate division and earned 5th place!
IDEA Palmview fared well as a campus, too, scoring stellar results for the following produce:
1st place Carrots (fresh red)
2nd place Carrots (fresh red)
3rd place Carrots (fresh red)
1st place Kale (red)
2nd place Kale (red)
3rd place Kale (red)
1st place Kohlrabi
The vegetables listed above were harvested on a field trip to community partner Little Bear Produce.
"Having partners in the community is incredibly important to 4-H clubs like ours," said Sidney Lee, science teacher and 4-H sponsor at IDEA Palmview. "Little Bear Produce allowed our members to go out and harvest from their fields. Students were taught how to select, pick, clean, bundle and present vegetables, some of which they had never seen before. Being able to provide hands-on learning experiences is vitally important in agriculture education and education in general."
The agricultural success just keeps coming for IDEA Palmview. At the recently held G5 Barn Burner virtual show, Ernesto Garza and his Yorkshire pig, Willy, competed and placed 5th overall in the Yorkshire division! The picture here is Ernesto and Willy competing at the Jolly Rodger Invitational at the RGVLS fairgrounds last month.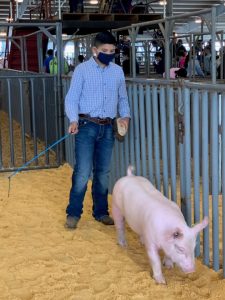 As if this program could not get any more incredible, did we mention IDEA Palmview also has a rabbit show team?
Mrs. Sidney Lee is so proud of all her IDEA scholars who participate in 4-H. "Our students face new challenges at school this year," said Sidney. "I'm most proud of their dedication and that they are excited about agriculture. I anticipate even more participation in other events this spring semester as we begin agriculture education in school."