October is National Farm to School Month, a time to celebrate the connections happening all over the country between children and local food! To celebrate, IDEA campuses are hosting fall festivals featuring locally grown veggies from our campus farms. 
IDEA farmers and students have been working hard all summer to make sure that our fall crops are ready to harvest. Pumpkin is just one of the fall crops grown on our local IDEA campus farms. They're a great source of vitamins, minerals, antioxidants, and fall spirit! Other crops harvested will include cucumbers, zucchini, tomatoes and more. All produce will be shared with school cafeterias for extra healthy and hearty dishes this month.  
With nine farms throughout the Rio Grande Valley, San Antonio and El Paso, IDEA employs nine farmers who each farm approximately 2,900 pounds of produce for cafeterias (26,000 pounds total will go directly to the plates of students across the network this year) while teaching 4th to 8th grade students about plant physiology, nutrition, soil science, and food systems. Since the COVID-19 pandemic began, our farms have also provided 145,977 total meals. That's a lot of fresh produce!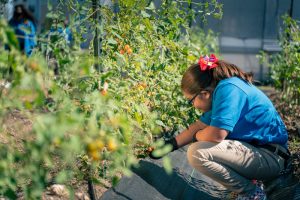 Campus farm programs work to improve children's health by providing education on healthy eating, getting scholars to try new and nutritious foods, and making sure that our cafeterias are getting the freshest veggies possible. Bringing farming closer to our schools is just one way we're working to improve health across the district.  
Hernan Colmenero, director of farms at IDEA Public Schools, says campus farms are a great way for students to learn about food, sustainability and nutrition. 
"We are trying to change food culture in our campuses and communities," he says. "We teach students about science and agriculture in the short-term, but we also want them to think twice about where their food comes from, how it is grown, and why proper nutrition is essential to staying healthy for life. We want our farm programs to have lasting effects in the community." 
Hernan Colmenero, Director of Farms
Schools with Farm to School programs participate in activities such as featuring farm-fresh foods on their menus, incorporating a curriculum that integrates agriculture, food systems, and socio-emotional development, and providing students experiential learning opportunities through campus farms, taste-tests, composting and more.  
IDEA's Farm to School Month activities will engage students, parents, and the community in a range of activities from campus farmer's markets to beautification projects and planting new trees and crops. More information on the IDEA Farm Program can be found at ideapublicschools.org/farm!