Voices of IDEA provides an opportunity to highlight and amplify diverse voices among IDEA's Team & Family. From students, to staff, family and partners, Voices of IDEA profiles the impact, experience and perspectives of individuals who shape our mission and support scholars on the road to and through college.
In this Voices of IDEA feature, we're excited to honor the contributions of our Team & Family through the voice and perspective of Anthony Sanchez, Special Education Teacher at IDEA Southeast Academy, as he shares his inspiration to become a teacher, the life skills he learned through his military background and experience in teaching special education that he passes on to his students and Team & Family!  IDEA and the country observe Veterans Day on November 11 in celebration of Team & Family like Anthony and the men and women who selflessly protect and serve our country.  
---
"My favorite thing about my job besides actually working with the students, is instilling in them a 'can do' mindset." – Anthony Sanchez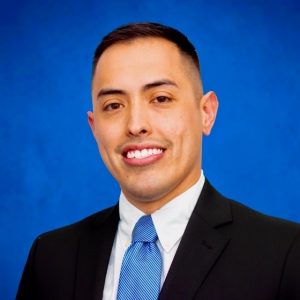 Anthony Sanchez, Special Education Teacher at IDEA Southeast Academy, U.S. Army Reserve Sergeant
Anthony Sanchez understood the mission.  His target was to be the first person in his family to graduate from college.  Using the leadership tactics he learned through his secret weapon — the military, he achieves the ultimate victory daily. He serves his country twofold – as a sergeant in the U.S. Army Reserve and preparing future leaders at IDEA Southeast Academy in Fort Worth, Texas.
"I was studying to become a graphic designer, but I was interested in learning more about leadership," he says, recounting his inspiration to take a two-year break from his undergraduate studies. "Thinking of the future, I wanted to learn how to lead others, and I thought what better place to look than the military."  
Anthony, a special education teacher, hopes by modeling those very skills he can pass them down to his students and be the mentor and positive representation he sought in his college years.  
"A lot of students need that figure to look towards," he says.  
If there's one thing Anthony learned, it's that an effective leader not only understands the mission at hand, but also understands the needs of the team carrying out said mission.  So whether it's the Team & Family he leads as the Special Education and English Language (EL) Coordinator at IDEA Southeast Academy or his classroom students, Anthony understands the right approach is half the educational battle.   
"It really hit me when I was working with students with autism," he says as he reflects on his experience as a Critical Student Intervention (CSI) teacher at IDEA Mays in San Antonio, Texas. "My students just needed the lessons presented in a different way." 
A CSI teacher plays a key role in assisting students who are experiencing difficulties in the classroom. An intervention teacher provides expertise and intentional support to students who demonstrate behavioral, social and educational challenges. 
During his three years at IDEA Mays, Anthony leaned on his graphic design skills to create visuals to teach his students. In using his talent to bridge their learning gap, Anthony not only successfully engaged his students by meeting their needs and making the lessons fun, but the real feat was building up his students' confidence so they could realize their own potential.    
​​"My favorite thing about my job besides actually working with the students, is instilling in them a 'can do' mindset," he says. "To show them that they're able to do it."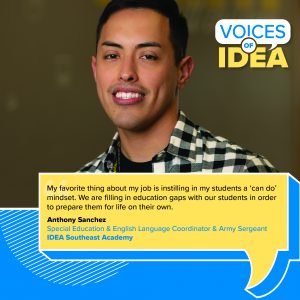 Like a true leader, Anthony does not stop there.   
Anthony was up for the new challenge of helping launch the IDEA Southeast Academy campus, a campus he is proud to say welcomes and accommodates a high number of special education students who learn in a classroom or setting with a lower teacher to student ratio. He also helped launch the campus' RISE Program, which stands for Reaching Independence through Support and Instruction.
"I want to embrace the culture of all our students," he says.  
Anthony leads the charge by taking all that he has learned from eight years of hands-on experiences and shares his wealth of knowledge with his IDEA Southeast Academy Team & Family to ensure they are geared up to set high expectations for every student and go the extra mile to make sure every student realizes their own potential.   
"Mrs. Molina and Ms. Lightfoot (IDEA co-teachers) and I are pushing our students to reach their highest potential," he says.  "We are filling in education gaps with our students in order to prepare them for life on their own." 
Anthony is inspired each day by the work of his Team & Family and students at IDEA Southeast Academy. His mission has remained the same: To bridge educational gaps. But, the mission is far from complete. Anthony aspires to fulfill his duty to self and to his country, and he hopes to continue to serve this population in the future at the regional and/or national level.