Voices of IDEA provides an opportunity to highlight and amplify diverse voices among IDEA's Team & Family. From students, to staff, family and partners, Voices of IDEA profiles the impact, experience and perspectives of individuals who shape our mission and support students on the road to and through college.   
In this Voices of IDEA feature, we're excited to honor the contributions and impact of Hispanic Americans through the voice and perspective of Ernesto Farias, who teaches at IDEA Weslaco Pike College Prep, as he shares his inspiration to become a teacher and the importance of representation in the classroom. National Hispanic Heritage Month is honored September 15 – October 15 each year. We celebrate Hispanic Heritage Month to recognize the achievements, contributions and influence of Hispanic American champions who have impacted the history, culture, and achievements of the United States.   
---
Growing up, Ernesto Farias' family stressed the importance of receiving a high-quality education. His family heavily invested in getting him all of the tools necessary for his success and supported his academic endeavors. Now, as he kicks off his third year as a member of the IDEA Public Schools Team & Family, Ernesto reinvests his passion for education into teaching the students in his 8th-grade class, enticing them to look far beyond history's surface with each lesson.    
"My family told me my only inheritance was going to be my education," said Ernesto Farias, a social studies teacher at IDEA Weslaco Pike College Prep.  "I will always have education at the forefront of what I do." 
Ernesto understands the value of knowing one's background and history. The Rio Grande Valley native takes every opportunity to enlighten his class beyond the curriculum.  All year long, but especially during Hispanic Heritage Month, he pays special attention to highlight hidden champions — Mexican-American figures — who have shaped the trajectory of the United States, historically and culturally.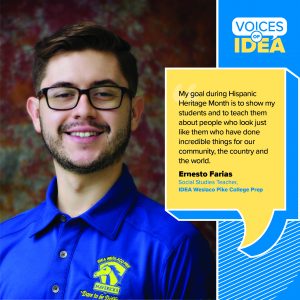 "My goal during Hispanic Heritage Month is to show my students and to teach them about people who look just like them who have done incredible things for our community, the country and the world even," he said.  
For Ernesto, "representation" is the most important lesson he can teach his students.  In his eyes, being an example that representation matters is a major key to the success of his students.    
"Through my experience with education, I learned the importance of Black and Brown students having teachers and role models who look like them in order to influence within the student a sense of purpose and identity as they move to college," he said. 
Representation helps strengthen communities and improve student outcomes in elementary, middle, and high school. Representation means that teachers, principals, and other leaders reflect the demographics of the student body in the schools they serve. 
Ernesto joined IDEA with the goal to be the "representation" for his students that his role model and professor, Dr. Christopher Carmona, afforded him while studying Political Science and Mexican-American Studies at The University of Texas, Rio Grande Valley.
"Dr. Carmona gave me a shocking book by Gloria Anzaldua named Borderlands/La Frontera: The New Mestiza, that she wrote and is most known for," he said.  "I had never read something that described my upbringing and what our culture was like until that book." 
In 8th grade social studies, the curriculum covers everything from Colonization to Reconstruction and post-Civil War, Ernesto explains.  After Reconstruction, students learn about Jim Crow Law and segregated schools, he continues. 
But, to help his students look a little deeper, Ernesto assigns his students an impactful project–the task of interviewing a family member to learn about their personal experiences and past.  The overall goal of the assignment is for students to explore the history within the walls of their homes.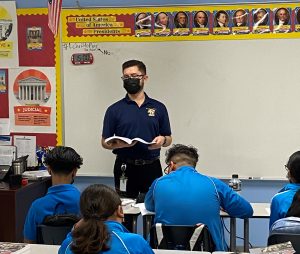 Through that project and others like it, students are able to connect what they learn in Ernesto's social studies class to their family history. 
More than just a teacher, Ernesto considers himself an advocate for his students' success and appreciates doing his life's work with IDEA Public Schools.  To say he is invested in his students would be an understatement, but what sweetens the deal for Ernesto is working with a network like IDEA Public Schools that supports his efforts by spearheading inclusivity initiatives through its focus on DEI (diversity, equity and inclusion). 
For Ernesto, working at IDEA Weslaco Pike College Prep brings everything full circle.  He serves his community by teaching students about more than just history and culture, but challenges them to explore and connect the dots of their lessons to their family's experiences and impacts.  
But he doesn't stop there. Ernesto, who is the core leader for his subject this year, leads IDEA's Latino Affinity Group meetings. The safe space, as he calls it, meets monthly and provides the opportunity for Latino members of IDEA's Team & Family to build community. During the meeting attendees can share the things that are happening in their everyday lives and how it connects to the workplace.
"I truly appreciate our leadership and how many opportunities we have to grow in general," he said. "I really have learned a lot from my co-workers in the Latino Affinity Group and their experiences with IDEA in their own regions. So, it's going really well, and we would really like to have more people join us." 
Through the affinity group, and the impactful projects and lessons he teaches in his classroom, Ernesto is committed to ensuring that his students and colleagues have opportunities to explore their culture, history and family beyond months or weeks dedicated to affinity groups and celebrations. He wants culture and heritage to be a part of learning every day.