"I am proud to be Hispanic when I reflect on the Cesar Chavez movement, when I think about Rita Moreno's talent, Sandra Cisneros' narrator's ability or Sonia Sotomayor's dedication.  I am proud to be Hispanic, for everything we represent, for all that we have contributed; we have a beautiful culture and it's just the beginning!" – Felipe Butanda, IDEA Carver Assistant Principal of Instruction
If you would have told Felipe Butanda's college self that he would become not just a teacher, but IDEA Carver's first master teacher and boast accomplished titles like Teacher of the Year and Regional Teacher of the Year, he would have enjoyed a polite, hearty laugh at the obvious joke. 
Afterall, he was currently enrolled in remedial classes, and he would spend two additional years in college catching up with his peers. But as fate and the powers to be would have it, the joke is on him.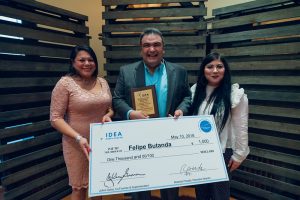 *Photo taken prior to COVID-19
Butanda's story rides that fine line between personal experience and inspiration – motivation even.  Positioning students for success in college and in life has become Butanda's rewarding, life's work as first, an Advanced Placement (AP) Spanish teacher, at IDEA Carver and now, the assistant principal of instruction.
"One of the reasons I wanted to become an educator was because of my own experience as a student in Brownsville, Texas," Butanda says. "I moved to the United States when I was 15 years old and didn't speak a word of English. I graduated from high school without knowing English."  
As IDEA, and the country, recognizes Hispanic Heritage Month, the Mexico City native humbly reflects on how his own obstacle-ridden educational walk as a first-generation American led to his successful sprint in the education field. For Butanda, a veteran educator, it's a daily race he runs with passion in order to pass the baton of success to the next generation of students, most of whom look like him, in his AP course. 
"I spent thousands of dollars for two years on courses that didn't count toward my degree, and I thought, 'how could this happen?'" he says. "How could no one have caught this while I was still in school?"  
IDEA's rigorous AP for All initiative affords Butanda the opportunity to be a resource and the solution to his students on their journey to and through college that he was not privy to as a non-English speaking adolescent matriculating through his educational career. 
"We all come from different places and different backgrounds and for us to have equal access to opportunities, some of us will need more help and resources," he says. "We must not only provide equality but equity."  
A key driver to IDEA's 15-year record of 100% college acceptance across its growing network is its ambitious AP for All initiative. Advanced Placement courses give students the chance to tackle college-level work while still in high school and earn college credit.  
Since requiring AP courses for all IDEA college preparatory students, IDEA's graduates are more prepared for the demands of college, more attractive applicants to Tier I and Tier II schools and likely to complete their degree in four years. In addition, taking a single AP course, and passing the corresponding exam, makes a student over six times more likely to earn their diploma and save money in college.  
Before Butanda, like a builder, could master the skills of laying lesson by lesson, the blocks of knowledge to build a solid foundation in young minds, he had to work tirelessly to fix the problem areas in his own base.   
After flirting with a few different majors, Butanda reintroduced himself to Spanish while in college and fell in love with his native language. He quickly learned that his Hispanic heritage did not absolve him of the challenges of the coursework.  
"Speaking two different languages is not only changing words from one language to another," he says. "It implies changing your entire communication system from Romance to Frankish, and I realized I didn't know as much as I thought."  
After earning a bachelor's degree in Spanish and double master's degrees in Spanish and Translation and Interpretation, Butanda spent several years teaching, including as an instructor at the Police Academy in Brownsville and an adjunct professor at the university. It was here that he encountered freshmen college students who, like himself, were registering for remedial courses because they were unprepared for college.  
"I saw this year after year, and unfortunately, most of these students ended up dropping out of college within one to three semesters," he explains. 
With his own unfortunate experiences – only graduating from high school because his teachers had low expectations based on his Hispanic background – fueling his passion, Butanda walked through the doors at IDEA with more than plans to celebrate and share his love for his Hispanic heritage through language. He wanted to ensure that every student he was privileged to teach was adequately prepared to succeed in college.   
IDEA's tried and true teaching model could not have been better suited for him. The goal is to challenge every IDEA student and hold them accountable to the highest standards. 
Whether teaching middle or High School AP Spanish, Butanda's methods for success remain the same. And the proof reflects in the competitive AP test results of his students.   
"We need to challenge students and hold high expectations because that is the key to success," he says. "It is what they will encounter in college, in their careers, in everything."  
Over the past few years Butanda's students have received nearly perfect test scores, but the real success story lies within Butanda's life and cultural lessons he passes along to his students.   
"It is important for my students to understand their roots, their language, and their culture," he says. "If we don't know where we come from, we don't know who we are." 
He often reminds his students, "This is your time and your place.  You must reach your full potential to honor the sacrifices your parents have made to provide a better life for you.  Education is the way for us to fully impact our communities and control the narrative. It is now!" 
Watching his students progress in learning his first language keeps Butanda grounded and gives him even more of a sense of pride and a greater appreciation for his heritage and upbringing, especially during Hispanic Heritage Month.  
"Celebrating Hispanic Heritage Month is an opportunity for us to celebrate our contributions to society; to showcase the value of our hard work and dedication and reflect on the responsibility that lies ahead for the new generations," he said. "We must continue fighting for future Latinos and Latinas to not be limited by their roots but to be inspired by them."