Welcome back, Team & Family! Over the next two weeks, IDEA Public Schools will welcome over 77,000 students for their first day of school across nine regions and three states, including our newest regions, IDEA Tampa Bay and IDEA Permian Basin's IDEA Yukon in Odessa, Texas.  
First Day of School Schedule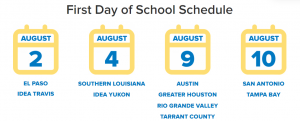 IDEA is incredibly proud of the hard work our Team & Family has accomplished over the past school year, and we are excited to be back in school in person, safely learning together for 2021-22! 
"We are so proud of the hard work that our Team and Family has accomplished during an unprecedented year," says Al Lopez, Chair of the IDEA Board of Directors and Acting Superintendent and Chief Executive Officer. "As we prepare for a new year of success and achievements back in the classroom, IDEA's keen focus will remain on the health and safety of students and staff, rigorous and joyful academics, and high expectations for student learning. We will continue to challenge our students to raise the bar on achievement as they work to and through college."  
Our schools' experience over the last year demonstrates that students learn best in person and that schools can operate safely with responsible precautions in place. IDEA believes that each of our campuses provide an environment that allows us to deliver on our promise of a safe and excellent education for every student.
Here are just a few of our incredible accomplishments from the 2020-21 school year: 
100% of students were accepted to college — our 15th consecutive year! 

 

61% of the Class of 2021 were accepted into Tier One and Tier Two colleges or universities.

 

We had more Master teacher designations than ever before (317 total).

Fifteen of IDEA's high schools made the

U.S. News and World Report

list of America's best high schools.

IDEA Public Schools was honored to distribute more than

 

7,000 first doses of the Pfizer COVID-19 vaccine to staff, eligible students, families and community members across Texas.

More than 3,000 students earned the Royal Reader designation for the 2020-21 school year.

Twenty-one IDEA schools were recognized this past academic year as 2019-2020 Texas Honor Roll Schools—our largest group of schools ever! These schools were recognized and individually distinguished for their academic achievement

,

closing achievement gaps and improving student outcomes.

Fifty-nine IDEA schools were recognized on the 2020 list of "America's Healthiest Schools" for their commitment to promoting quality nutrition, regular physical activity, and strong wellness policies. IDEA had more school winners than any other school district, making IDEA the 

healthiest school district in the nation

!

 
All this, and so much more! As we begin this new chapter, we remain deeply committed to upholding our mission, growing student achievement, enriching our curriculum, deepening our commitment to diversity, equity and inclusion, developing and empowering our staff and sending more students to college than ever before. This school year is going to be our best year yet! 
Here's to a wonderful first day of school and a safe and successful new school year, Team & Family! 
For more information and resources, please visit our Back-to-School website at ideapublicschools.org/back2school2021.