More than 2,300 runners registered to participate at the Annual IDEA Public Schools' 5K and Healthy Living Expo which this year took place across the state. IDEA's Healthy Kids Here program hosted three different races in the span of 30 days — San Antonio on January 25, Austin on February 8, and Rio Grande Valley (Weslaco) on February 22.
"I am excited that despite the chilly days and early mornings our IDEA Team and Families showed up big," said Eva Rodriguez, Healthy Kids Here Program Manager. "We had excellent participation and lots of fun and a lot of fitness.  We shared our community love for IDEA on early Saturday mornings across the state."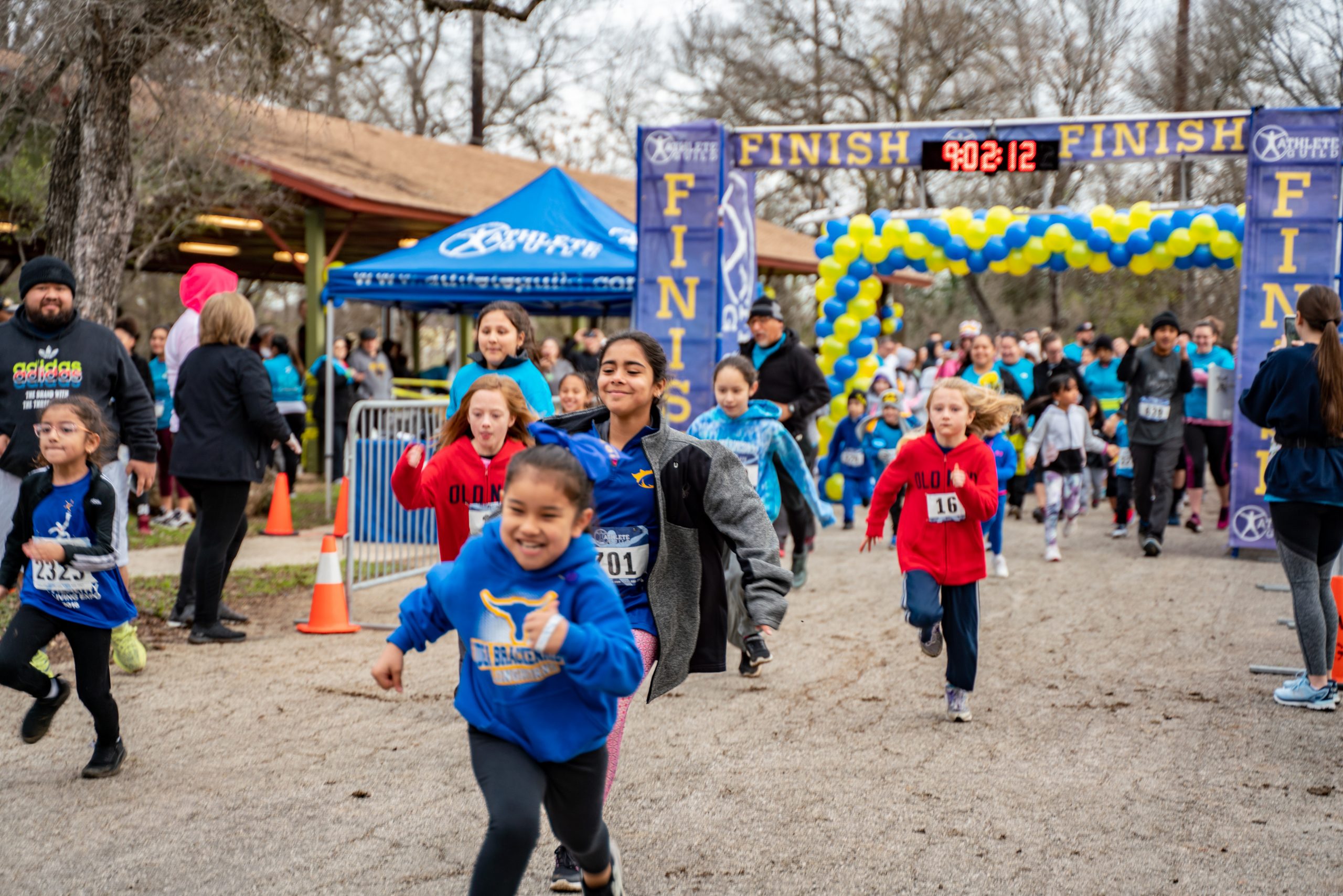 IDEA's Healthy Kids Here Program recognizes that the roots of academic success for our students run far deeper than classroom learning alone. As part of our mission of becoming the Healthiest District in America, IDEA hosts an annual 5K Run/Walk and Healthy Living Expo in our large regions to engage our students, families, and the community in a fun, educational opportunity to be active. Our hope is that families, schools, and communities will train for the 5Ks together and develop a habit of being active together. And also have an opportunity to meet and connect with local health and wellness professionals.
The Healthy Living Expo included booths from many vendors throughout South and Central Texas: It's Time Texas– all 3 races,  IDEA Farm Program, Smoothie Bike from IDEA's Child Nutrition Program, Austin Public Health Department, Driscoll Health Plan in RGV, Christus Santa Rosa in San Antonio, Hidalgo County Health and Human Services, and Nuestra Clinica Del Valle in RGV.
"Special shout out to our Healthy Living Expo vendors who came to give our community members their time and information about important health services in their area," said Rodriguez. "It's one of the goals of Healthy Kids Here to make these services more accessible to our Team & Family."
We all won in our quest to get healthier, but we want to highlight some of the outstanding individuals and campuses that helped make our races a success this year:
Highest San Antonio Campus Participation: IDEA Monterrey Park
San Antonio Fastest Female Runners:
Angela Mysliwiec (21:47)
Melina Saldana (24:19), IDEA Monterrey Park College Prep student
Catrina Petcavage (24:36) IDEA Carver College Prep student
San Antonio Fastest Male Runners:
Jose Saucedo (18:29), IDEA South Flores College Prep student
David Edcalente (18:30)
Eduardo Contreras (21:41)
Highest Austin Campus Participation: IDEA Parmer Park Campus
Austin Fastest Female Runners:
Cindy Hernandez (20:28), IDEA Bluff Springs College Prep student
Alyssa Carpenter (23:16)
Katia Rangel (24:07), IDEA Bluff Springs College Prep student
Austin Fastest Male Runners:
Joel Rosinbum (19:37)
Ben Schulz (20:28)
Marioj Sanchez (20:35)
Highest Rio Grande Valley Campus Participation: IDEA San Juan
Rio Grande Valley Fastest Female Runners:
Sandra Torres (22:41)
Eli Cruz (23:09), IDEA San Juan College Prep student
Megan McDonough (24:24)
Rio Grande Valley Fastest Male Runners:
Alberto Garza (18:24), IDEA McAllen College Prep student
Jesus Escamilla (18:38)
Hugo Chavarria (18:51), IDEA Edinburg College Prep student