Marcos Cadenas is laser-focused on seeing other IDEA alumni succeed. As a 2018 IDEA Mission alumnus and current Alumni Funding Fellow, Marcos encourages other alumni to go as far and work as hard as they possibly can to reach their goals. 
As a first-generation college student himself, Marcos recalls all the help he received from IDEA in his journey toward college and hopes to pay that back in any way he can. He said he owes everything to IDEA and would not be here today without the support he received.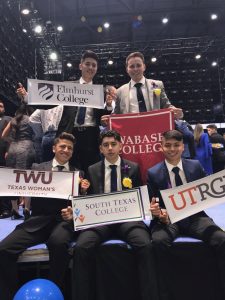 "I have been on the other side of the conversation where I was having that uncertainty of not knowing what you want to do," Marcos said. "But just getting that extra little push through someone that believes in you, it really goes a long way. It literally changed my life and where I wanted it to be. If I can do that for someone else – pay it forward – that would be mean everything to me." 
Marcos is currently a junior at Wabash College in Indiana, majoring in economics with a minor in religion. He recalls his move from Mexico to the United States with his family in middle school and how that decision for their family truly reflected and reinforced the values his parents held and taught to their children.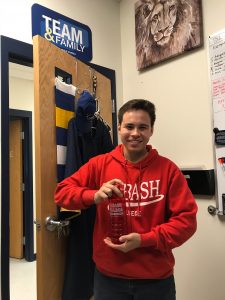 "Coming from Mexico to the U.S. is what kept me and my family going," Marcos recalls. "I have a very loving and supportive family. My parents always made sure that my sisters and I had opportunities to grow." 
Marcos' two sisters went to college as well, and it was always expected for him to become a first-generation college student. When he was a sophomore at IDEA, he got a letter in the mail from Wabash College, stating, "What kind of man do you want to be?" 
That stuck with him. He immediately told his college counselor about the letter and how it resonated deeply with him. He had asked himself that question so many times before. His counselor encouraged him to learn more and helped set up a campus visit. After visiting the campus, he knew immediately it was the place for him. 
"That support and motivation at that time was key," he said. "I was a sophomore, and I wasn't thinking about going to see a college. To have that mentor guiding me to sign up helped me through it. It was an eye-opening experience because IDEA was really pushing me."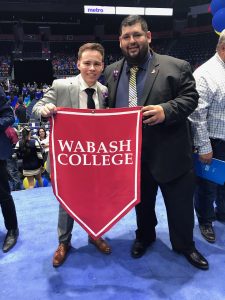 Marcos with his College Counselor Mr. Gonzalez
When the COVID-19 pandemic began, Marcos felt the struggles of online learning like so many other college students. In addition to adjusting to this new reality, his parents had decided to sell their house and move back to Mexico, amid the political climate in the U.S. around immigration.  
Though he has not been able to see his parents in over a year, he remains positive and hopeful. His Wabash College family has become his surrogate family, and they are working through their personal obstacles together. Marcos says it really reminds him of his IDEA family. 
"You have to come to the campus to experience it for yourself," he said. "It's hard to explain it. It seems like a strong community and pretty much everybody knows each other because of the smaller student population. It feels like a family, honestly, and like I am becoming the best version of myself. That sense of community, that brotherhood and that mission that's shared, that's why I fell in love with the college."