"To our students: I see you, I hear you, and I want to talk to you. If you don't think there's anyone else out there, I'm here. We love you, we care about you, and I hope you can always be your authentic self, no matter what space you are in." – Disha Jain, Vice President of Talent Development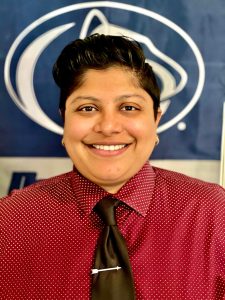 Disha Jain, vice president of talent development, is a proud lesbian, Indian-American woman. The journey to find this inner confidence and strong identity was not always a clear one. Her family immigrated from Delhi to Virginia, and she spent her childhood in Prince George's County Maryland where she began learning English in elementary school. Growing up, nothing else seemed to matter in Disha's household except going to school and becoming a doctor. Being Indian, but also trying to assimilate into American culture, became a big identity struggle for her. 
"We didn't talk about anything else – current events, different identities – we didn't talk about anything," Disha said. "We talked about being Indian and getting an education. That's all I would remember." 
Dating and relationships were also not things discussed in the Indian community. For Disha, even just attending prom was a big deal. Dating was not a thing she ever thought about because her life was all about accomplishing goals. Dating was definitely not on that list. 
"I was in a space where I wasn't exploring other parts of my identity and that wasn't a focus," Disha said. "Everything in my head was like, 'You're going to get an arranged marriage, your parents are going to set you up because you're Indian, and this is just how it happens, right?"" 
Education was always an important value in Disha's family – her father was a high school drop-out and her mother did not finish college in India. However, working hard and ensuring a better life for their family was always the goal, coming to the United States to have an opportunity at the American dream. 
When Disha and her brother were in middle school, Prince George's County was the poorest county in Maryland, which equated to low-performing schools. Luckily, Disha's 7th grade science teacher recognized that her family needed some support. She recommended the family speak English together at home, monitor what the kids were accessing at school and move to a new high school. That much-needed advice put Disha on a completely different trajectory. 
Fast forward five years, and Disha was accepted into Pennsylvania State University. However, in her first year, she was very close to getting kicked out of school because of low performance. In addition to not feeling prepared for college, Disha was away from her family for the first time. She felt lost and experienced another "identity crisis." 
"I wasn't sure what I was doing with my life," Disha said. "I just didn't know how to handle myself by myself. All of a sudden, I'm in this community where I'm exposed to so much, and it was like information overload. For the first time, I started asking myself questions like, 'Who am I?'" 
With hard work and the help of advisors, Disha got back on track, graduated with honors and was ready to go to medical school. Growing up, it was nailed into her head that she had to become a doctor. Then, plans changed. Disha decided not to go to medical school, and for the first time, shared that medicine was not her dream – teaching was. 
"My middle school science teacher and my high school advisor made a significant impact on my life, and I'm still in touch with both to this day," Disha said. "I knew I loved science and math, and I thought I could go teach those subjects to students and be the teacher that my teachers were to me when I was in school." 
Disha joined Teach For America and moved to Houston in 2006. It was in Houston that she met a gay person for the first time. She did not know any LGBTQ+ people in Maryland when she was growing up and didn't know any at Penn State. Although, she wasn't ever really thinking about it. 
"I realized I had been ignorant about so many things," Disha said. "My friends said we should go to a gay pride parade, and I'm like, 'What? That's a thing? What is this?' We laugh about it now, but I remember asking why they would be going to a gay pride parade if they are not gay. In that moment, I realized that people of all walks of life are just celebrating together, and my eyes were opened."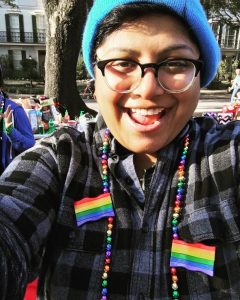 Disha Jain at Pride Parade
Disha learned about the significance of Pride and its commemoration of an important event in history and in people's lives. Pride brought people together to celebrate life, love and being one's most authentic self. Disha started spending more time with her friends who identified in the LGBTQ+ community and became roommates with a man who identified as gay. At this point in her life, however, she still did not have the courage to come out – there was still work to be done on figuring out her identity. Then, came the move to New Orleans. 
"I fell in love with this woman in New Orleans, and it was the first time I thought to myself that I liked girls," Disha said. "I was twenty-five when I had my first girlfriend. I had past relationships with men, but they were always just platonic, nothing romantic. I didn't know I was gay growing up, and now, all of a sudden, I realized who I was – I definitely like women." 
Before she could come out to her parents, Disha's mom passed away suddenly in 2010. She had been out to her friends for four years but was still fearful about what her family would think. She knew she had to talk to her dad. Six months later, Disha and her cousin sat down with her dad to share the news. Her dad's reaction – "What about kids?" A reaction she did not expect.  
"I had just told him I was gay, and the first thing he said was about kids," Disha said. "In that moment, he didn't care if I was going to date women or men, he just wanted to be a grandpa. My dad has been great – he's super supportive, and I couldn't have asked for anything more. He told me he loved me and that I make him proud. I didn't have to hide things from him." 
Disha and Her Father
Disha knows this happy ending with her family makes her one of the fortunate ones. This is why education is so important for her. In her role as vice president of talent development at IDEA, Disha works with teachers and students to create safe spaces. She wants to pass on the love she received from her family to students and staff who need it. 
"It's not easy coming out no matter what community you are from – the Indian community, Black community, a religious community, any community," Disha said. "By being out, I am able to provide those spaces, and it is a privilege." 
Disha explained that never once at IDEA has she felt like she had to hide who she is. Being focused on diversity, equity and inclusion (DEI), IDEA wants to be able to train staff on inclusion practices, making Disha's role of providing trainings in partnership with the DEI team so critical to the IDEA mission. 
"I don't believe you can meet your true potential unless you have fully been able to be your authentic self," Disha said. "When you're hiding parts of who you are, you're not learning to your fullest potential, you're not teaching to your fullest potential. There's a part of you that's not out there, a part people are missing." 
Disha's responsibility is to create conditions in which students and staff can thrive. Period. Being authentic, real and transparent and encouraging that in our IDEA leaders has become so important. From gender identity to sexual orientation to race and more – Disha believes when we create programming for educators and leaders to talk about inclusion, safe spaces, decision-making, judgement and more, our community can truly say we are a Team & Family. One hundred percent of families need to feel safe and supported, and this can start at home. 
"We need to build awareness and have culturally responsive materials in our schools and in our homes," Disha said. "Diverse children's books and other literature with LBGTQ+ characters are a great access point for us to talk to children of different ages. Another resource for middle and high school students is clubs. LGBTQ+ clubs allow students to have a safe space." 
Affinity groups for staff, having diverse flags and posters in classrooms, buildings and homes, going to community events and more are all ways to create access, foster conversations and allow children to ask questions. 
"Kids are curious, and my curiosity was not spiked until I had that experience in Houston when I went to my first gay Pride parade," Disha said. "I think about what if my parents read a book to me like Julian is a Mermaid? What if they had read that to me when I was a kid?  Would I have been able to explore my identity earlier? Exposing our kids and ourselves to the diversity that is out there is the best piece of advice that I can give." 
At the end of the day, IDEA's mission is ensuring that 100% of our students get to and through college. This means knowing the whole student and providing them the resources they need to succeed.  
"You know, we are not in the business of telling people who they are or what they should be," Disha said. "We are in the business of being kind and accepting. We're not going to have equity unless we accept every part of who our students and staff are and give them the opportunity to explore that. We need to be able to love each other for who we are." 
Disha has an important message for any student at IDEA and beyond who is struggling with their identity – be all of you. You are seen. 
"I see you, I hear you, I want to talk to you – please reach out," Disha said. "If you don't think there's anyone else out there, I'm here – find me, Disha Jain. We love you, we care about you, and I want you to be your authentic self, no matter what space you are in."