February 11 is celebrated around the world as the International Day of Women and Girls in Science! In late 2015, the General Assembly of the United Nations established a day each year to recognize the critical role women and girls play in science and technology through Resolution A/RES/70/212. 
The International Day of Women and Girls in Science is implemented by the United Nations Educational, Scientific and Cultural Organization (UNESCO) and UN-Women, in collaboration with partners aiming to promote women and girls in science. This day is a great opportunity to promote full and equal access to and participation in science for women and girls and to support the education of young girls and their ability to make their voices and ideas heard! 
We called on the voices of Dr. Linda Kaney, EdD, 12th grade International Baccalaureate (IB) Biology Teacher at IDEA Frontier College Prep, and her scholar, Stephanie Rincon-Brambila, IDEA Frontier senior, to share their love for science education and why this day is so important to them. 
Dr. Kaney has always been fascinated with the miracle of life. As a child, she was intrigued with science, the different processes of life and insects, plants, marine life, mammals, and eventually, the human body. 
In her early twenties, she pursued a nursing career and worked in the medical field for almost 15 years. Her passion for science and education brought her back to school to eventually obtain her education doctorate in 2018.  
"I love teaching. That is my passion," Dr. Kaney said. "I have been teaching IB Biology for the past four years, and teaching at the high school level has been the most rewarding experience in my professional life. It is exciting to see students develop a sense of responsibility for the environment and a passion for learning about all aspects of life."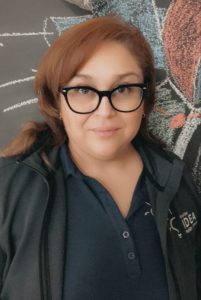 Dr. Linda Kaney, EdD, 12th grade International Baccalaureate (IB) Biology teacher at IDEA Frontier College Prep
Her success, however, did not come without obstacles. She said although times have changed and there are more opportunities today than there were when she was a young woman, women are still not seen as equal counterparts to males. 
"It has been a man's world for a long time," said Dr. Kaney. "In some ways, especially in my Hispanic culture, women have been seen in a more traditional role that can be challenging for young females to break away from. The key to changing this mentality is education, not only for students but in our communities as well." 
Dr. Kaney says it is important for woman to pursue science careers so the voices of women can be heard all over the world. She works to cultivate that love for science in her classroom every day. For example, in the first few minutes of class, Dr. Kaney has a segment called, "TODAY IN SCIENCE!" She talks about important discoveries in science on that day and showcases a scientist, making sure to include female scientists daily and real-world examples of how women in science are changing the world today. 
Stephanie Rincon-Brambila is one of Dr. Kaney's outstanding female students her my classroom, and she stands out because of her dedication to scientific research and writing.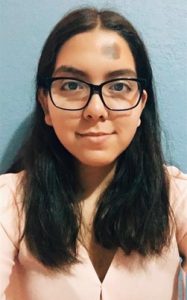 Stephanie Rincon-Brambila, IDEA Frontier senior
 "I admire her dedication to the scientific process," Dr. Kaney said. "Her required paper for my course was one of the best papers I have ever read by a student, including at the college level. I look forward to following her academic career. She will be an important figure in aeronautics someday. I have no doubt of that." 
For Stephanie, a future in space science is exactly what she hopes for. She plans to pursue a college major in aerospace engineering and a minor in computer science. After completing her degree, she plans to work for a space-focused company, such as NASA or SpaceX. 
"Science education is important to me because, since elementary school, I was intrigued by STEM careers," Stephanie said. "Growing up, I always heard statistics on there being significantly less women in STEM. I plan to pursue a STEM career to show other young females it is possible to pursue a career in what is often classified as a male–dominated field." 
Dr. Kaney explains that a woman's perspective needs to be involved in scientific studies and fields. But, how do we get more women and young girls interested and involved in science careers? Her recommendation: We need to showcase more females that represent the field of science and provide more opportunities for scholarships and internships in STEM programs that are directed toward women. 
"Knowing there are women around the world who don't have the opportunity or are excluded from participating in science makes me very bothered," said Stephanie. "Women should be allowed to pursue a career in any field they desire. That woman or girl who was excluded from participating in science could have potentially been the next Einstein. Instead of limiting them, we should encourage them." 
Dr. Kaney ended her interview with the words of her favorite female in science, Marie Curie. Curie discovered the elements of polonium and radium and was the first woman to win a Nobel Prize. 
"Nothing in life is to be feared, it is only to be understood. Now is the time to understand more, so that we may fear less".  
Dr. Kaney wants women and girls all over the world to be fearless! Her advice to all young women has always been, "If you want to do it, do it! Nothing can stop you from doing anything you want!" 
Don't just smell the flowers, study the flowers. Don't just look up at the stars, explore the stars. Don't just go to ocean, clean the ocean. Be curious. Take things apart. Put them back together, and take them apart again. Play in the dirt! If girls are curious, then they should explore. The unknown only opens the doors to discovery and that leads to knowledge. Knowledge leads to change, and change can make a difference.