We sat down with Nathan Jacobs, regional director of operations for IDEA Tarrant County, who plays a pivotal role in making sure IDEA schools in the Dallas and Fort Worth area are safe and joyful and students and families are having a great experience at IDEA. Nathan discussed his professional growth, how the role of operations impacts communities and the importance of Asian American & Pacific Islander (AAPI) Heritage Month. 
Tell us about your background. How did you get into education and your current role at IDEA? 
Growing up as a Korean adoptee in Dallas, Texas, I cultivated a desire and curiosity to learn and understand different countries and their cultures. I spent most of my high school years and twenties either traveling to other countries or living in them. My first job after I finished my undergraduate program was teaching middle-school math.  Oddly enough, at the time, I did not think working in education was what I wanted to do, which led me to a transition into retail management. During this period in my career, I found great success and quickly moved from managing my own store to being asked to lead the company's international expansion into Asia. This was a huge shift in my perspective and self-identification as not only being Asian but being Korean. While I was living in Asia, I came to realize that I wanted to change industries and focus on non-profit work that had more impact on others. It was then that I found a job as an operations leader for a local charter school in the Dallas-Fort Worth area. I spent six years working and learning about operations. Even though operations is not physically teaching in a classroom, it still has a huge impact on the lives of students in my community. In the fall of 2020, I was given the amazing opportunity at IDEA Public Schools to continue to work in operations but on a larger scale as the regional director of operations for IDEA Tarrant County.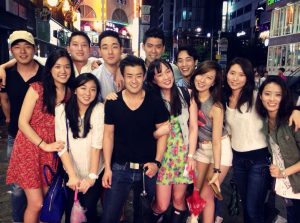 Nathan with his former company's team in South Korea.
What is your favorite thing about your role? 
The ability to coach and influence campus leadership and help others reach both their professional and personal goals. I also love to solve problems and figure out best practices that can make everyone's jobs easier and more efficient.  
What lessons have your learned at IDEA? 
Being at IDEA Tarrant County, I have seen some of the most diverse student bodies in education. It has really helped me see that CHOICE in education is a need for all and that we can bring families from all different backgrounds into our schools. It is truly amazing to see it live in action at our schools here in Fort Worth. I have also learned so much from my executive director, Ana Shropshire. She has been one of the greatest coaches and supervisors I have ever had. Through her, I have learned so much on data analysis and how to use these trends to coach my campuses towards reaching their goals. 
How has your heritage shaped the person you are today? 
I was adopted when I was four months old. My adopted parents, who were from Minnesota and Oklahoma, raised me to constantly be looking for ways I can serve and help others.   
What does Asian American & Pacific Islander Heritage Month mean to you? 
To me, it is important that AAPI communities utilize this time to bring awareness and attention to how the diverse culture that is AAPI has influenced all facets of cultures across the world.    
Is there anything you wish more people understood about your background or the Asian American-Pacific Islander community as a whole? 
I am proud of being born in South Korea. I am equally proud of being American. What hurts in being the latter, is when I receive racially charged statements or microaggressions from complete strangers or sometimes even from those who are close to me. Please do not define those around you by their skin color. Get to know us and learn about our various cultures.    
What message or words of encouragement would you provide to our Asian American-Pacific Islander students and staff who might be feeling anxious or fearful after current national events? 
To all my fellow AAPI, be proud of who you are. Learn to educate before you criticize those around you who may not know what it means to you to be AAPI. When we confront anger with anger, we only intensify the situation and cause those involved to be shut off to learning.