Early voting for the 2020 primary election has begun in Texas, Louisiana, and Florida! Many counties in Texas have already seen record-breaking numbers with early voting turnout and many of our IDEA Team & Family members have already cast their votes. Two of those include first-time voters Veronica Gonzalez and Teresa Gomez.  
Veronica Gonzalez, 1st grade Co-Teacher at IDEA Monterrey Park, has always been registered to vote but voted for the first time during early voting in Bexar County this past week.
"I was just scared to," Gonzalez says. "I did not know what exactly to do, so I just didn't do it. In the end, I felt like I was just one small person and that my voice didn't count."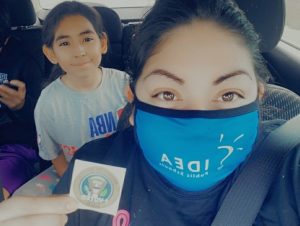 Veronica Gonzalez, 1

st

 Grade Co-Teacher at IDEA Monterrey Park 

 
Ultimately, it was Ms. Gonzalez's scholars who inspired her to use her voice and vote.
"I walk into my classroom and tell my scholars that each one of them can make a difference. But why wasn't I taking my own advice? I know I need to model to my scholars and my kids that their voice does matter. So, I skipped a well needed nap, and did it!"  
Teresa Gomez has been a custodian at IDEA Donna for 13 years, and after becoming a citizen this year, she was able to cast her vote for the first time by mailing in her ballot.
"The process was fantastic and easy," Ms. Gomez said about voting by mail. "Voting is important because it's when our voice is truly heard."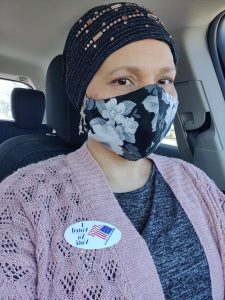 Teresa Gomez, Custodian at IDEA Donna
Ms. Gomez had some advice for other registered voters.
"Vote! Your vote really does make a difference! If we want to change something, we must vote. For the future of our children we must raise the voices. I am very proud to now be able to vote."  
Ms. Veronica Gonalez shared similar advice about being a voice for the future and wants voters to reach out for help if they need it.
"Don't be scared, ask questions if you need to. Because once you submit your ballot you'll feel like you did your part in creating a brighter future." 
Early voting in Texas runs from Tuesday, October 13 to Friday, October 30. In Louisiana, the dates are Thursday, October 16 to Tuesday, October 27, and in Florida, from Monday October 19 to Saturday October 31. Election Day is on Tuesday, November 3. To confirm your voter registration, find a map with your closest polling location and time, and make your voting plan, go to whenweallvote.org/IDEA and click on the Voter Resources Hub.  
Questions or want to get involved with IDEA Votes, our non-partisan voter participation initiative? Please contact Annemarie Donnelly, Assistant Director of Advocacy, at annemarie.donnelly@ideapublicschools.org.   
As a public charter school district and 501(c)(3), IDEA Public Schools is non-partisan and does not support or endorse any candidate, political party, or ballot measure.