The IDEA San Antonio Facilities Team will use funds earned through the Demand Response program and funds donated by BLCCS to award seniors a total of $30,000 in scholarships 
IDEA Public Schools has partnered with CPS Energy to participate in its Energy Reduction Program to save energy and costs on various IDEA San Antonio campuses. With the help of BLCCS (Building Life Coach and Control Solutions), funding was rounded to $30,000 and will be used to support three senior graduates for college. The award ceremony to announce the winners was held Saturday, March 26, 2022.
To support IDEA scholarships, funds were raised by the IDEA partnership with CPS Energy's Commercial Demand Response program, an energy management system, and conservation plan that helps reduce the amount of electricity being used during the summer months. When participants, like IDEA San Antonio campuses, voluntarily reduce the amount of electricity used during a conservation event, they benefit from lower energy costs and receive a rebate from CPS Energy based on conservation efforts. IDEA will use that rebate incentive to support senior graduates. 
Through the program, IDEA earned $29,372.63 this year and with the generous contribution from BLCCS for additional funds, the total was rounded up to $30,000 for scholarships. Three IDEA seniors from the class of 2022 in San Antonio will be awarded a $10,000 scholarship each.  
"This partnership has been a great deal to not just our schools, but to our community," said Angie Arismendi, Executive Director of IDEA San Antonio. "Through this program and our wonderful partner, CPS Energy, our staff and students were able to see firsthand how much energy we are able to save just by turning off our power at certain times during the day. What better way to use these funds than by giving back to our scholars to help aid their college funds."  
The three seniors selected to be awarded the scholarship funds submitted applications that included video submissions, education scores, letters of recommendations, and more. One senior from each IDEA San Antonio campus was nominated by their Director of College Counseling. The 10-person scholarship panel, including members from IDEA's facilities and operations team, narrowed down finalists with a rubric and ranking system to the top 3 recipients. Congratulations to the three IDEA San Antonio scholars that were selected as finalists for the $10,000 scholarship!
Andrew Garza of IDEA South Flores hopes to use his art skills and learn business to pursue a career in the fashion industry. "This will go towards my passion of being an artist and entrepreneur. I have my own brand that I started with a friend and we're ready to take our local business into an international company." Bryan's clothing brand, Twin Flame, was founded with another IDEA South Flores scholar, Ruben Tey.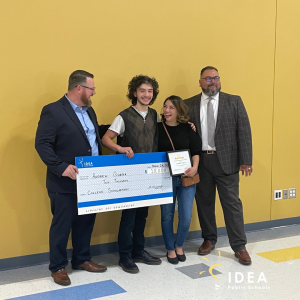 Bryan Guzman of IDEA Monterrey Park plans to attend Southwestern University and major in biology. Andrew plans to pursue a career in medicine and work as a pediatrician. "All the dreams [my family] sacrificed for me will be fulfilled when I walk across the stage at graduation," says Bryan.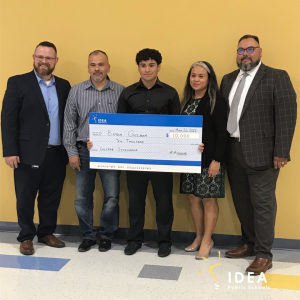 Ruben Thompson of IDEA Walzem says, "When I was in the tenth grade I took my first computer science course and I discovered a passion for STEM I did not know I had." Ruben plans to attend Abilene Christian University and study computer science with goals of learning as many computer languages as possible. Ruben hopes to develop his own code that could be used in life-saving research one day.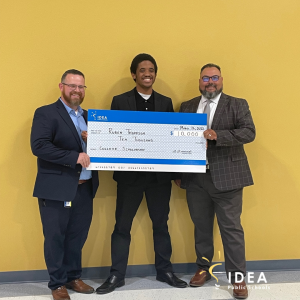 Congratulations to the three IDEA San Antonio seniors awarded the CPS Energy Scholarship! Thanks to our partners CPS Energy and BLCCS (Building Life Coach and Control Solutions)  and the IDEA San Antonio facilities team!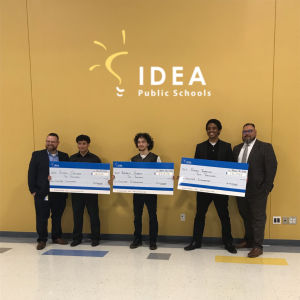 Participating IDEA San Antonio campuses include IDEA South Flores College Preparatory, IDEA Walzem College Preparatory, IDEA Carver College Preparatory, IDEA Eastside College Preparatory, and IDEA Monterrey Park College Preparatory. 
Learn about setting up electricity or natural gas service with Save On Energy's Step-By-Step Guide: https://www.saveonenergy.com/resources/set-up-electricity-or-gas-service/