If there is anyone who knows what public charter schools mean to their communities, it's our IDEA teachers and leaders. In recognition of National Charter Schools Week this year, celebrated from May 9 – May 15, IDEA Public Schools is proud to feature three of our amazing teachers: Brailin Paulino, Pre-AP English I teacher at IDEA Mission College Prep, Brandon De Leon, 9th grade Road To and Through College (RTTC) I teacher at IDEA Weslaco Pike College Prep, and David Irizarry, physical education teacher and athletics coordinator at IDEA North Mission College Prep.
We asked these incredible teachers what they've learned while teaching at a public charter school and what they want others to know about public charter schools like IDEA. Overall, public charter schools and their teachers are here to serve all students and families in new and creative ways.
As a public charter school, IDEA Public Schools is a district of tuition-free, open-enrollment public schools that have the flexibility to adapt to the educational needs of individual students while being held to strict state academic and financial accountability standards. Mr. De Leon shared that he's spoken with parents directly who were surprised to hear that all scholars are accepted to and excel at IDEA.
"Some parents shared that they thought their child was not smart enough or well-behaved enough for IDEA," Mr. De Leon said. "But when we got their student enrolled, they immediately saw how engaged their teachers were with them. Through the hard work of the scholar and the teacher, we showed the families that all students are welcome and can succeed."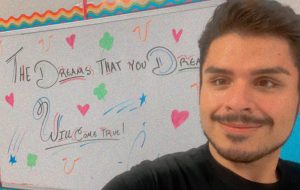 Brandon De Leon, IDEA Weslaco Pike College Prep
Coach David Irizarry recognized that because of IDEA's amazing academic results, people might be surprised to learn that IDEA also focuses on educating the whole child through extra-curricular activities and athletics.
"We do have athletics and our coaches are doing amazing things on their campuses," Irizarry said.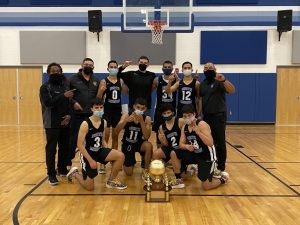 Coach David Irizarry and IDEA North Mission Basketball Team
Mr. Paulino, who coaches track and field in addition to teaching Pre-AP English, shared that the athletics program was one of the surprises he encountered when he started his journey at IDEA.
"I was originally against IDEA because I thought there wasn't an athletic program, and I knew I wanted to be a coach because athletics is what motivated me to go to school when I was young," Mr. Paulino said. "But once I started at IDEA Mission three years ago, I was able to help start the track and field program, and now, I can help students feel that same motivation that I felt when I was young."
Even as a public charter school, IDEA's teachers share the same worries and hopes that all their communities did during this past year of COVID-19 and distance learning. "It's been tough," Mr. Paulino said. "Especially for those of us who thrive off of creating relationships and trust with students."
Coach Irizarry shared he was ready to get back to in-person learning once IDEA opened its doors. "I was really excited to start working toward goals with my students in-person and to continue to offer families a high-quality public education."
As Mr. De Leon puts it, our teachers will continue to focus on the mental and emotional well-being of our students. "Ultimately, all I want students to feel is safe and protected, especially after the year we've had."
During National Charter Schools Week and beyond, we want to send a special thank you to our entire IDEA Team & Family for your hard work and dedication to student success! Join us in celebrating the unique and amazing things our schools are doing. Learn more about the IDEA approach to getting students to and through college today! You can also get involved by visiting the National Alliance for Public Charter Schools website or use this link to tweet out why you're proud to celebrate your public charter school using #IDEAProud.