"Black History Month has always been very important to me because it is the one time of the year where I get to learn new facts about people who look like me." 
In 6th grade, Brijona Mosley, senior at IDEA Walzem College Prep, found one of the biggest struggles she faced as a Black student was bullying. She felt being "that girl with the afro and the darker skin" made her a target for hateful comments and judgement, so she would try to portray an image of herself that was deemed acceptable to others. 
Fast-forward to today – those trials have made Brijona stronger and more confident than ever. 
"I know who I am now," she said. "I have overcome these problems by learning to love my curls and melanated skin and by learning to ignore the judgement people pass on me."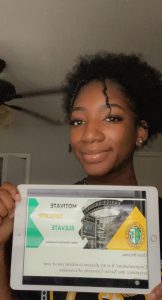 Brijona Mosley, senior at IDEA Walzem College Prep
In addition to confidence, hard work, determination and will power have gotten Brijona to where she is today – accepted into five Historically Black Colleges and Universities (HBCUs) and preparing to graduate with IDEA Walzem's first senior class in May! Her first choice college is Xavier University of Louisiana in New Orleans, America's only Historically Black and Catholic University. 
"I chose an HBCU because living in San Antonio, the culture I have been exposed to is predominantly Hispanic. Growing up, I never really got to learn about or experience my culture," Brijona said. "Going to an HBCU is important to me because it will give me the chance to learn about my culture and connect with people who are from the same background as me."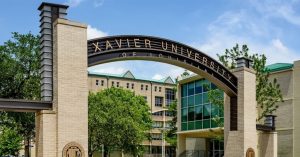 *Photo Credit: Xavier University of Louisiana
After graduation, Brijona plans to study biology or history. She chose Xavier University of Louisiana because of its focus on the sciences and its 3rd place ranking in the 2021 Best Colleges Rankings for Historically Black Colleges and Universities by U.S. News & World Report. 
"What drew me to the school was actually a field lesson I took there in 9th grade," she said. "I fell in love with the culture in the city of New Orleans, and when I found out Xavier was not only an HBCU but also science-oriented, I knew that it was the perfect school for me." 
In addition to IDEA field lessons to HBCUs, Brijona was able to learn more about Black history and culture during the College Summer Away Program, where she took a course called African-American Studies. In this course, she learned about many new and interesting Black historical figures and events that one might not learn about in a traditional history class. These are stories, she said, that should be talked about all year long. 
"Black History Month gives me the chance to not only learn about my ancestors but to celebrate them with the people around me," she said. "The only downside to Black History Month is that once it is over, Black history isn't really celebrated anymore, and it's placed in the background and forgotten." 
As she looks forward to her incredible future ahead, Brijona says that a great way to celebrate Black History Month, or any cultural celebration, is to work together to teach children while they are young to love themselves and to respect and embrace the cultures of others. Like the Black leader who most inspires her, Dr. Mae Jemison, said: 
"Never limit yourself because of others' limited imagination; never limit others because of your own limited imagination." 
*Blog Header Photo Credit: Xavier University of Louisiana