Vickie Walls served as a founding teacher at IDEA Bridge College Preparatory in Baton Rouge, Louisiana when the school opened in 2018. A former social studies course leader, humanities teacher, and sponsor of Student Government Association and National Beta Club, Vickie recently transferred to become the college counselor at IDEA Bridge College Preparatory. Vickie wears many hats in her new role, and her priorities include teaching the "Road To and Through College" course, meeting with students and parents to ensure college readiness, and organizing and attending college field lessons across the country with her IDEA scholars, parents, and staff. Since joining IDEA, Vickie has always taken the initiative to celebrate Black History Month, along with other important affinity months.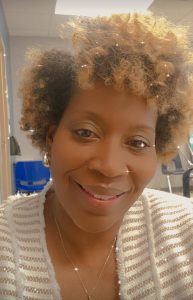 We sat down with Vickie last week to discuss the importance of Black History Month, the rewarding work of college counseling and more! 
Q: What's your favorite part about working at IDEA Public Schools? 
A: As a counselor, I love working with students. It brings me back to my high school memories. My counselor did not work with African American students, and I was never really given the opportunity to see places where I could thrive outside of where I grew up in Louisiana. Despite a lack of guidance at school, I graduated with honors. Now, I want to make sure that my students are given opportunities to thrive and succeed inside or outside of Louisiana. 
Q: I really appreciate that emphasis on making sure all students—no matter their race, ethnicity, gender identity, sexual orientation, language, socioeconomic background, physical and cognitive ability, religion, or political affiliations—have ample opportunities and guidance available to them at school. Speaking of opportunities and guidance, can you tell me more about your transition from teacher to counselor? How is that going?   
A: The transition was easier than I thought, mainly because I have a rapport with many of the students I work with. It's a unique, special position. Just as my students are learning, so am I. I meet with East Baton Rouge parish and their counseling department to ensure we are adhering to their guidelines. I teach a class called "Road To and Through College," and I also assist with organizing college field lessons for our students. We're looking at going to the University of Arkansas, Arkansas Pine Bluff, and the University of Missouri in the spring with our 9th graders.  
Q: I'm trying to do the math. Those 9th graders will graduate from high school in…? 
A: Our first high school graduating class will be in 2025. 
Q: Wow. Just three more years! That is so exciting. In discussing topics like college preparedness and opportunity, do you feel that Black History Month is connected to your work? 
A: Definitely. We take the time to celebrate all our students' backgrounds, but in February, we focus on Black History. One thing that I tell my students is to be proud of who you are. Don't think that because you are African American that you are limited on what you can do. Our ancestors helped make this world. Many of the inventions were made by our people. Work hard and continue to make our ancestors and yourself proud of how far we have come and where we are going.  
For Black History Month the last couple of years, we were limited because of health and safety precautions with COVID, but we did do door decorating and other small research projects and celebrations. Prior to COVID, we held an event of music and performance for our entire campus. I went to the grade team leaders and asked what they would want to do and how they would want to celebrate. Our choir sang a variety of inspirational songs, "Man in the Mirror" and "Wade in the Water," to name two. Our 6th grade ELA teacher, Ms. Patrick, sang a solo. Also, students and staff performed skits about various topics centered around many different aspects of Black history.  
Q: It really sounds like a communal celebration.  
A: It really was. Plus, the great news is that we're currently planning a Black History Month program for our campus for this year, with health and safety precautions in place. It will have all the great things we used to have, such as music and performance.   
Q: How exciting! I'm sure it's going to be a great event. Thank you so much, Vickie. We really appreciate you taking the time to talk about Black history and your work. Is there anything else you'd like to add? 
A: You're welcome. If there is one thing I'd like to add, it's that I often tell my students: if you embrace the struggle, you'll always come out better on the other end of it. And that, to me, is what a lot of this work is about.  
— 
IDEA Public Schools was founded on the radical belief in the unlimited potential of all students and has a long history of democratizing excellent education. To learn more about diversity, equity, and inclusion at IDEA, click here.  
Join our Team & Family by submitting an application here.