We're celebrating National School Breakfast Week (NSBW) from March 22 – March 26 with a week of celebratory activities and delicious breakfast options!  
This year's NSBW celebration's theme is "Blast Off with a Healthy School Breakfast" and will include a carefully selected menu aimed at increasing breakfast participation and giving heightened visibility to our school breakfast program. Each day, school cafeterias will celebrate with fun ways to promote eating a healthy breakfast in a creative way.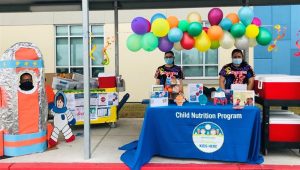 National School Breakfast Week (NSBW) was launched in 1989 to raise awareness of the availability of the School Breakfast Program to all children. This week-long national observance of events and activities was designed to promote the benefits of the National School Breakfast Program (NSBP).   
The event recognizes the importance of a healthy school breakfast in a child's life, and the impact it has inside and outside of the classroom.   
School nutrition programs play a critical role in ensuring all students receive nutritious meals that follow strict federal nutrition standards, regardless of income level. In the U.S., over 30 million students are served healthy lunches at school each day—that's 5 billion annually!  
IDEA regularly partners with communities to improve the health and well-being of whole families. Through our Healthy Kids Here program, we are committed to offering well-balanced, farm fresh and nutritious meals to every student and encouraging a healthy and active lifestyle for our Team & Family. The program provides educational information on health, wellness and nutrition, increasing access to healthy food, and hosts 5Ks in each IDEA region (virtually in 2021) to get the whole family involved in healthy activities, while also raising money for college scholarships.    
Currently, IDEA has nine school farms and two Leafy Green Machine hydroponic units that provide more than 20,000 pounds of fresh vegetables to our cafeterias and communities each year. 
Happy National School Breakfast Week, IDEA! 
*Blog Cover Photo Credit: Texas Department of Agriculture
This institution is an equal opportunity provider.