IDEA's first day of school is just around the corner and we have put together a comprehensive uniform guide as families prepare. 
IDEA continuously strives to create a positive school culture so that our students can focus on learning. This means paying attention to every detail, big and small, to ensure that our students succeed academically.  
Uniforms are an important part of IDEA's culture. We believe that school uniforms have a beneficial impact on students' self-esteem, attendance, graduation rates, and discipline. In addition to fostering a sense of pride and community, uniforms eliminate unnecessary distractions (such as who has the coolest tennis shoes) and ensure every student's focus remains on academic success.  
All scholars are required to wear an IDEA polo shirt, even while engaged in virtual learning.  
IDEA scholars who are engaged in distance learning and attending school online must wear a branded IDEA polo shirt Monday through Thursday. On Fridays, scholars may wear a t-shirt with the college of their choice.  
The color of a scholar's polo shirt varies by grade level. Blue polos are for grades K-5 and 8; red polos for grades 6 and 10; orange polos for grades 7 and 11; green polos for grade 9; and black polos for grade 12.   
While attending school on-campus, students wear shirts tucked in with black or khaki pants and a black belt. All shoes and footwear must be solid black. 
Approved IDEA Uniform Vendors 
All IDEA uniforms can be purchased online at ideashirts.net. In addition, the following approved vendors sell IDEA uniforms in their respective regions.   
It is highly recommended to call stores ahead of time as inventory levels may vary by region. Additional inventory will arrive at stores starting August 24th.  If you are unable to purchase a shirt for this school year, students may still wear last year's uniform shirt in the virtual setting.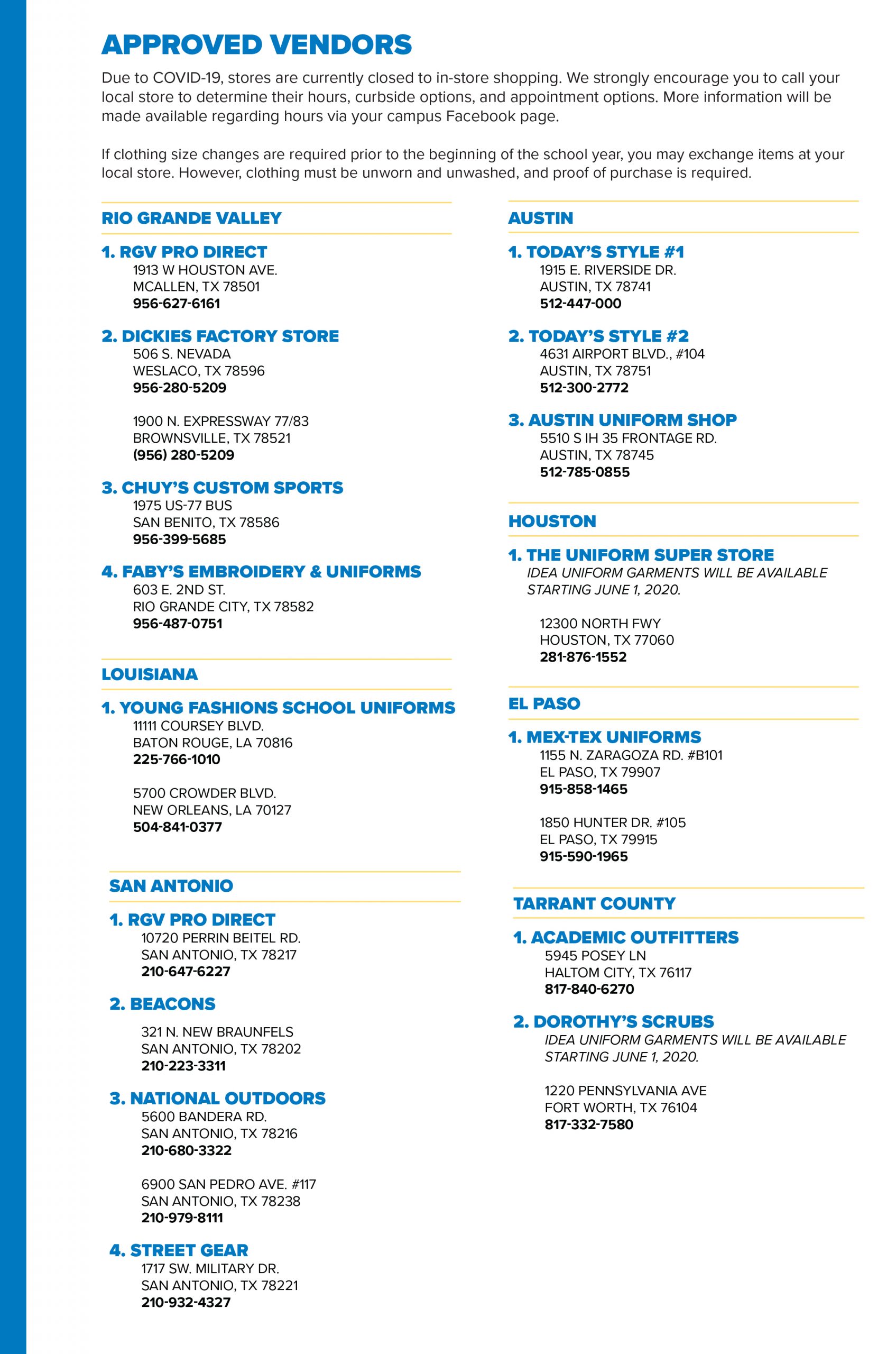 For more information on IDEA uniforms, visit https://ideapublicschools.org/back2school2020/academic-information/.