The cornerstone of IDEA's high school program is an ambitious AP for All strategy aimed at ensuring that students are prepared to go to and through college. Advanced Placement courses not only provide opportunities for our students to earn valuable college credit, but they provide students to tackle college-level work that is both challenging and accessible to our students.  Students who take these courses are more prepared for the demands of college, are more attractive applicants to Tier I and II institutions and are more likely to earn their degree. Taking a single AP course and passing ONE exam makes a student over six times more likely to earn their diploma. We love those odds!
What does AP For All look like for Students?
 This rigorous AP pathway begins for all students in the 9th grade with AP Human Geography. Our sequence of courses are listed below in this table.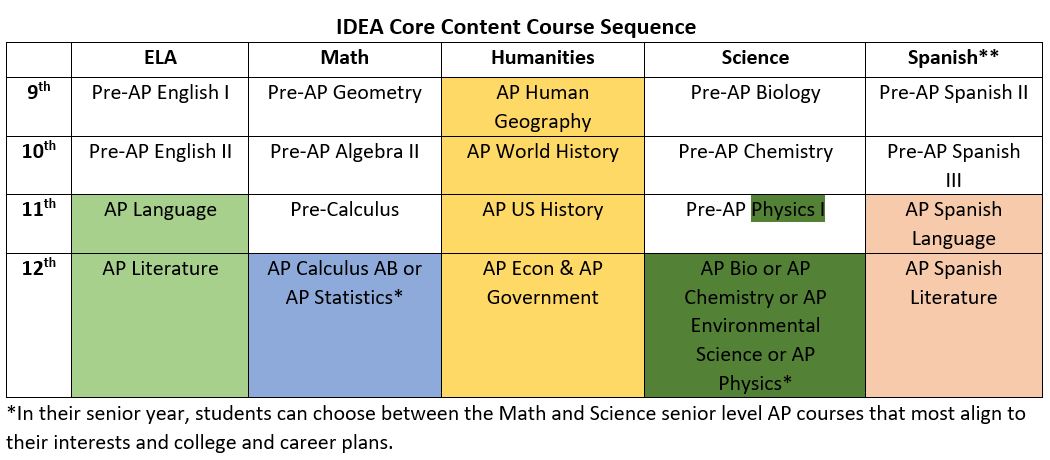 By graduation, IDEA students will take up to eleven AP courses depending on their elective choices and the offerings on their campus. For our students exploring elective courses like AP Physics or AP Computer Science, that number could be even higher. Imagine just how prepared IDEA students will be for college after four years of AP for All coursework.
Why AP For ALL?
We are often asked why we do not offer differentiated tracks for students, like honors or general courses in addition to AP courses. At IDEA, our mission is to prepare ALL students for success to and through college. This means that ALL students deserve access to rigorous, college preparatory experiences that will prepare them to succeed when they get to college. AP is a central strategy to ensuring our students are academically prepared for the rigors of college. Therefore, all IDEA students deserve the same level of intensive college preparation.
Partnership with NMSI
Successfully executing this ambitious plan requires a significant investment in AP specific resources and training for our teachers, students and administrators. Since the launch of the AP for All initiative, we have partnered with the National Math and Science Initiative (NMSI) – a non-profit organization that supports teacher success in AP courses.  NMSI specializes in supporting AP teachers in math, science, and ELA (Don't let the math/science name fool you – NMSI has an abundance of ELA experts). IDEA and NMSI are supporting our teachers to help our students reach their AP goals with annual trainings, mentorship programs, and NMSI-sponsored "study sessions" before the AP exams.
We are proud of the hard work of our partners, teachers and – most of all—students that make our AP for All strategy a key driver to our 14-year record of 100% College Acceptance across our growing network of IDEA schools.