Meet Annemarie Donnelly, proud Mexican American and director of advocacy at IDEA Public Schools! In her role, Annemarie has the honor of making sure our families, teachers, and staff have their voices heard at every level of government and in policy-making decisions. She also participates in IDEA's monthly affinity groups – celebrating identity and creating opportunities to learn about others.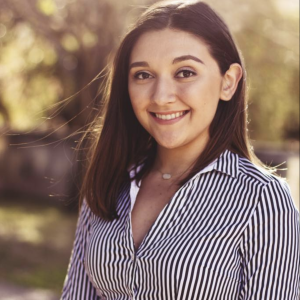 Annemarie Donnelly, Director of Advocacy at IDEA Public Schools
"I feel very lucky to be at an organization that recognizes the strengths within my Latina identity and the areas of growth where there are opportunities for me to learn about others," Annemarie said. 
Read more about Annemarie's background, her passions for advocacy and equity and what Hispanic Heritage Month means to her. 
What does celebrating Hispanic Heritage Month mean to you or in your family? 
To me, Hispanic Heritage month means taking a moment to celebrate the people, traditions, and community that has made me who I am today. As a Mexican Latina from El Paso, and this month always shows me that there is not one way to be Hispanic or Latine, and all of our stories are worth celebrating! We've contributed and endured so much as a community, and it's important to take a moment to recognize that. 
As a member of the Hispanic community, were there any cultural or educational challenges that you overcame to get to where you are today? 
I grew up in El Paso, TX, and I graduated from a high school that had a student population that looked a lot like me. When I got to the University of Texas at Austin, I immediately noticed how different the population was. I was no longer around a predominately Hispanic population, and it was hard to find a community where I fit in. While in college, I was able to find a community of friends and peers who both came from El Paso and identified differently than I did. It was this experience that helped me grow as a person and a student. 
How does your work in advocacy also tie into your heritage and your work in IDEA's communities? 
It's hard to believe, but Latinos still only make up 1% of all local and federal elected officials! When I show up to a meeting with a lawmaker or remind our communities about the importance of voting, I am always aware of how important it is that underrepresented communities in these spaces have their stories heard because there are still so few of us. I have the honor of making sure our families, teachers, and staff have their voices heard at every level of government and in policy-making decisions.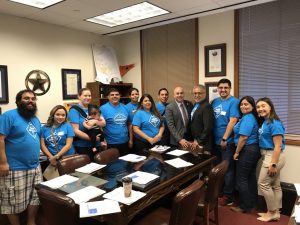 IDEA Advocacy Action Team meets with TX State Rep. Alex Dominguez in 2019
IDEA predominantly serves Hispanic students and communities. To those students, what words of wisdom or advice do you have to empower them to reach their goals? 
I want our students to know that their voices and experiences matter and are worth sharing! The beautiful thing about being Latinx is that even within our community, we are all so diverse, and there's not one way to be Latinx. This is why we need to speak up and speak out – we all have something unique to bring to the table. Your voice is your power! 
Why do you believe it's important to have equity in the classroom and in government? 
Our democracy is only as strong as the people it helps and serves. That's why it's so important that we have Latinx representation in our government and that we all participate in democracy, whether it's through voting, completing the Census, or staying informed. If there's a problem within a certain community, the people experiencing the problem need to be closest to the solution. 
Who is your favorite Hispanic/Latinx figure in history? 
One Latina who has always inspired me is Supreme Court Justice Sonia Sotomayor. Her personal journey to become the first Latina Supreme Court Justice and her focus on high-quality public education have been a source of inspiration for me as I work within political advocacy. She has a quote that I remind myself of every day, "Remember that no one succeeds alone." It's true that when I succeed, I bring with me – my family, my teachers, and the Latinx community who have made me who I am.  
What makes you proud to be Hispanic? 
I'm so proud of the resilience and joy of our community! There has been so much that we have endured and so many untrue narratives spread about us, but still, we find ways to celebrate life. I'm also proud of the diversity of our community and how it brings us together rather than drives us apart. I know that no matter where I go, I have a community in front of me and behind me! 
*Blog cover photo taken prior to COVID-19.