We're rounding out Women's History Month at IDEA by highlighting the women of IDEA Edinburg College Prep's Powerlifting team. Juniors Mia Rincones and Amaris Garza are making history at IDEA Public Schools with their record-breaking lifts in Texas High School Women's Powerlifting. These IDEA scholars are making regional and state history, respectively, as back-to-back state women's powerlifting champions. As a young woman in a male-dominated sport, we asked Mia how powerlifting has changed her perspective on women in sports. "I was kind of always the quiet one in class. I wouldn't really speak out much, but I kind of thought that maybe this would get me out of my comfort zone so it really brought a new perspective in how maybe a guy would feel working out. So I really thought that mentality that I could be strong too and I didn't have to be a guy or be something else. I didn't have to fit into the stereotypical cheerleading or volleyball or any other sport and that I could do this sport."
Listen to Mia below: 
At the Texas High School Women's Powerlifting Region V Division III competition on February 28, 2022, Rincones broke the regional bench press record with a lift of 250 pounds on her second attempt. Her performance at the Region V meet earned her the awards of Outstanding Bench Press (heavy platform), Outstanding Deadlift (heavy platform), and Outstanding lifter (heavy platform). Her teammate, Amaris Garza, claimed first place in the 123-pound weight class. Amaris bench pressed 235 pounds and received the Outstanding Bench Press Award (light platform).
The team of two from IDEA Edinburg advanced to the 2022 Texas High School Womens Powerlifting state competition where they returned to defend their state title earned in 2021. At the state competition in Corpus Christi, Texas, Garza broke the bench press state record with a lift of 225 pounds and earned the Outstanding Deadlift and Outstanding Lifter awards. Rincones, broke her own bench press record with a lift of 265 pounds earning her the Outstanding Bench Press and Outstanding Lifter Awards. Their two first place performances earned the IDEA Edinburg Womens team a runner-up finish. We asked Amaris what it means to be named the best in the state and how it has helped her perform in the classroom. "Being named best in the state has allowed me to realize that I was able to do something that not a lot of people would expect from a teenage girl and that I was able to break through those stereotypes that are placed on women. In the end, all the hard work you put into your goals will work out for you."
Listen to Amaris:
The success of Rincones and Amaris wouldn't have been possible without the coaching and support from the all-female powerlifting coaches at IDEA Edinburg. After another remarkable season, the team led by head coach Aida Gonzalez is no stranger to making history. In high school, Gonzalez earned her own powerlifting state title in 2009. Her love for the sport inspired her to establish a powerlifting team at IDEA Edinburg in 2016. Her coaching staff (and former students) earned state titles for powerlifting in 2018 and 2021.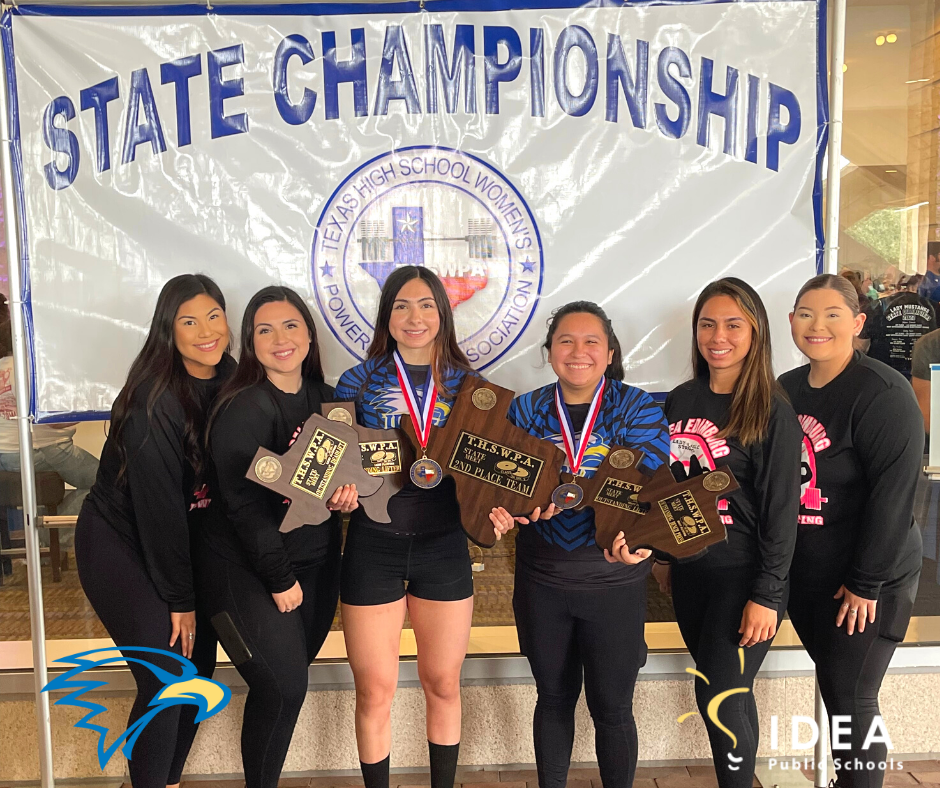 "When we come across challenges, we learn how to overcome them and navigate them," says Gonzalez. "And it does happen to be in the weight room. We have off days. We fix and get back to it the next day and we are able to hit that goal that we set at the beginning. We have long days of practice and a lot of hard work goes into it."
In addition to powerlifting, athletes Mia and Amaris have a lot to balance as juniors at IDEA. The girls must learn how to balance their athletic training with homework, after-school activities, and family. "Through this process, I realized I want to go into the medical field because I enjoy helping others. When I joined powerlifting, there were team members that I looked up to and helped me. Now that I'm a junior, I offer to help my teammates, fix their form, and give them tips. I became outspoken and learned how to take care of the team."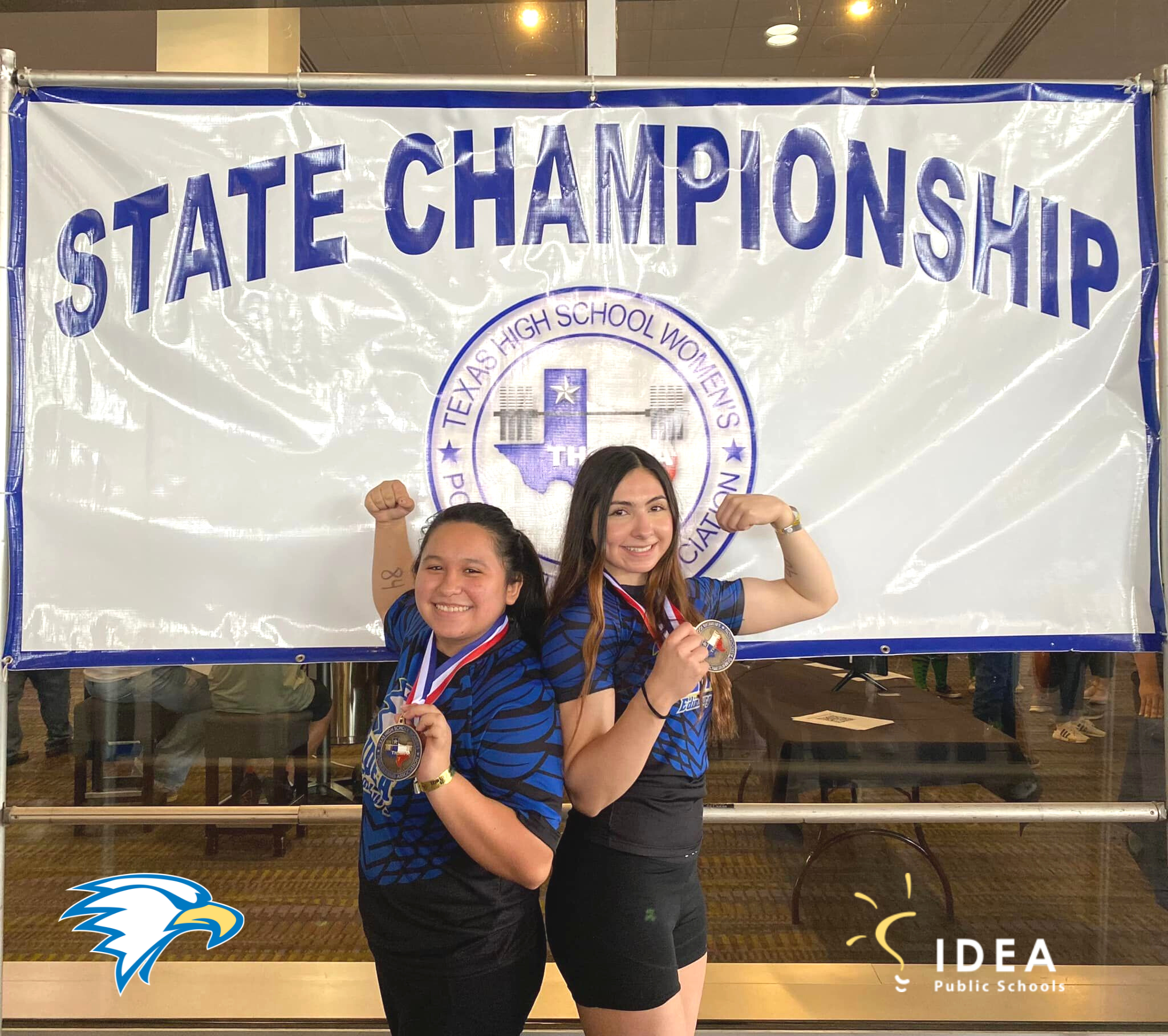 Throughout her powerlifting journey, Mia says she has learned to be more determined and that she can achieve anything she sets her mind to with the power of a great support system. "I can overcome a bad day and hit the next weight. My coaches really helped me out as well as my parents. When I'm in the weight room or on the platform, all of my worries go away."
The strength and determination of the powerhouse women of IDEA Edinburg's Eagle Powerlifting team resonates with the boys' team too. At this weekend's Texas High School Powerlifting Association's state championship in Abilene, Texas on March 25-26, 2022, the all-female coaching team led freshmen Fabian Solis to first place and junior Oscar Garza to fifth place at the state meet.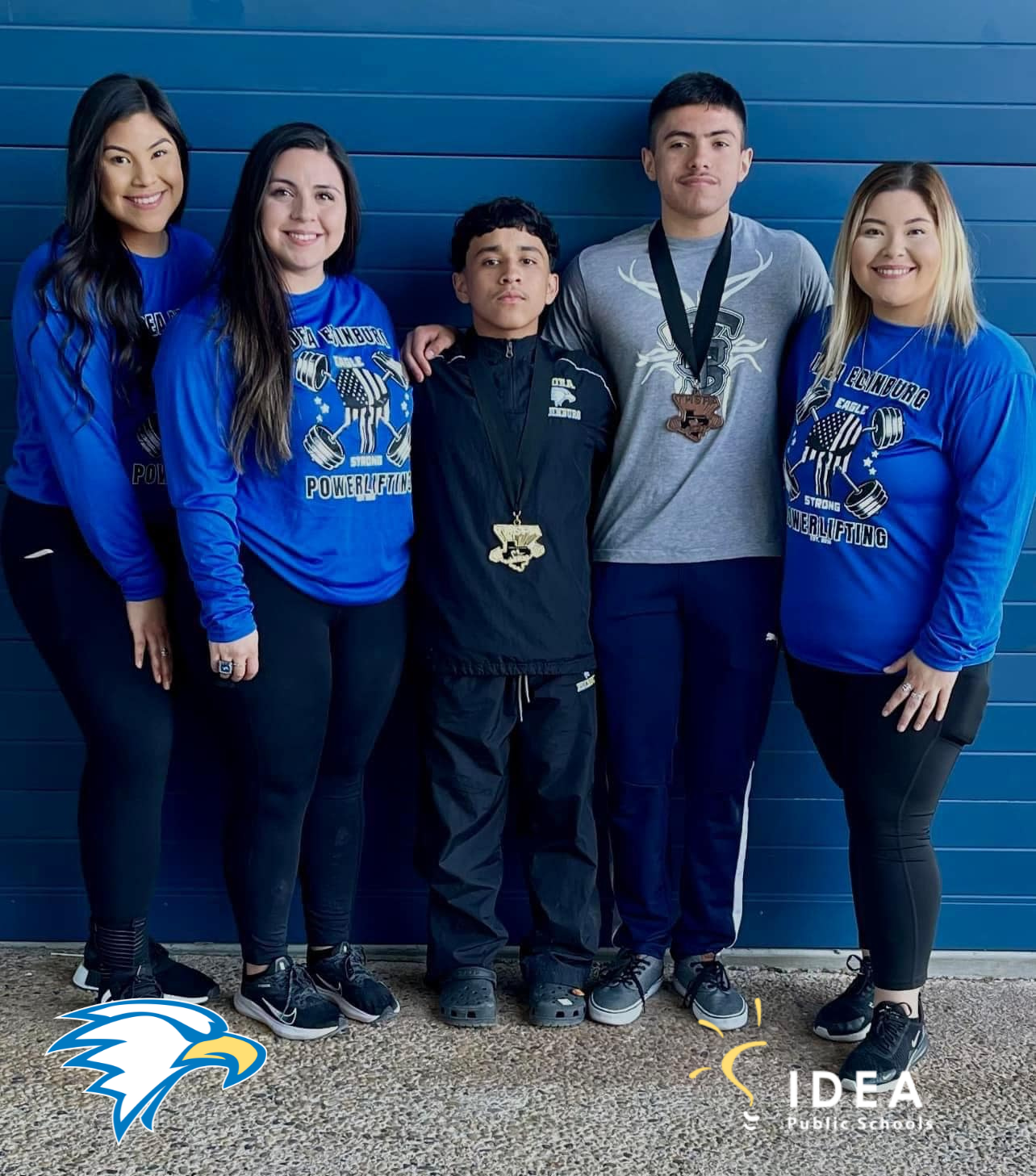 IDEA Public Schools congratulates this remarkable women-led team and powerlifters Mia, Amaris, Fabian, Oscar and their coaches Aida Gonzalez, Priscilla Garza, Monika Morales, and Melanie Morales, on their record-breaking success! We're excited to follow your journey as IDEA scholars and athletes!