March is National Nutrition Month, an annual Academy of Nutrition and Dietetics initiative inviting you to learn more about making informed food choices and developing healthy eating and physical activity habits. 
To celebrate this great initiative, our Child Nutrition Program (CNP) and Healthy Kids Here staff have curated their five favorite recipes for you to try at home from the new Healthy Kids Here Cookbook! Check out these great recipes and nutrition information below. Happy healthy cooking! 
Breakfast: Springtime Frittata 
Recipe by Megan Heron, Director of Health & Wellness and Cody Grindle, Senior Vice President of Information Systems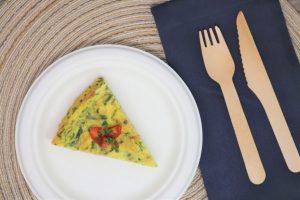 Servings: 4  
Prep time: 5 mins  
Cook time: 18 mins  
Ingredients:  
6 eggs, lightly beaten  
2 tablespoons milk of choice  
1 teaspoon snipped fresh chives  
⅛ teaspoon black pepper  
¼ cup finely shredded Parmesan cheese  
2 teaspoons olive oil  
½ cup kale  
¼ cup sliced green onions  
½ cup coarsely chopped spinach leaves  
1 clove garlic, minced  
1 small Roma tomato, chopped  
Instructions:  
Preheat broiler.   
In a small bowl combine the eggs, milk, chives and pepper: stir in 2 tablespoons of the cheese. Set aside.  
In an 8-inch, nonstick, broiler-safe skillet heat oil over medium heat. Add kale and green onions; cook and stir 2 minutes. Add spinach and garlic; cook 30 seconds or just until spinach is wilted.  
Pour egg mixture into skillet; reduce heat to low. Cook, covered, 10 to 12 minutes or until nearly set. Sprinkle with remaining 2 tablespoons cheese.  
Place skillet under broiler 4 to 5 inches from heat. Broil 1 minute or just until top is set and cheese is melted. Top with chopped tomato.  
Tip: Frittata's are a great way to use leftover veggies! Make your egg base and add chopped bell pepper, red onion and jalapeno for a Southwestern kick!

Side Dish: Quinoa Florentine 
Recipe by Casandra Mendiola, CNP Culinary Supervisor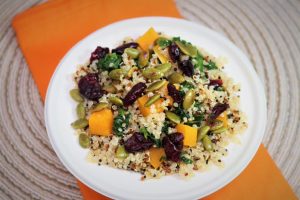 Servings: 5-6  
Prep Time: 15 mins 
Cook Time: 45 mins  
Ingredients:  
One (2-pound) butternut squash, peeled, seeded, and cut into chunks (about 3 cups)  
5 tablespoons extra-virgin olive oil  
2 teaspoons fresh thyme leaves, roughly chopped  
1 teaspoon cinnamon   
½ cup pistachios, without shells  
1½ cups quinoa  
4 cups vegetable broth or water  
¼ cup dried cranberries (2 tablespoons for garnish)  
1 tablespoon white wine vinegar  
3 cups baby spinach  
¼ cup roasted pepitas or roasted pumpkin seeds  
Kosher salt and freshly ground black pepper  
Instructions:  
Position an oven rack in the center of the oven and preheat to 400°F. Line a rimmed baking sheet with foil and set aside.  
Place the squash in a medium bowl and add 3 tablespoons of olive oil, the thyme, 2 teaspoons of salt, cinnamon, and season with pepper to taste. Mix until the squash is well coated.   
Transfer the squash to the prepared baking sheet and spread out into a single layer. Place in oven, stirring about halfway through cooking time, about 15 minutes. Roast until a knife can easily slide through the squash, about 30 minutes total.  
Put the pistachios on a small baking sheet and toast until fragrant, about 5 minutes. Let cool.  
While the squash is in the oven-  rinse the quinoa in cold water using fine-mesh strainer. Bring the broth/water to a boil and stir in the quinoa. Simmer, uncovered, until a small white spiral becomes visible in each grain, about 9 minutes.   
Drain the quinoa and transfer it to a medium bowl. Add the remaining 2 tablespoons olive oil, the roasted pistachios, cranberries, vinegar, ½  teaspoon salt and pepper to taste.  
Place the spinach in a large mixing bowl and toss with the hot squash until slightly wilted. Add the quinoa mixture and toss again. Serve warm or at room temperature. Garnish with pepitas and extra cranberries, if desired.  
Did you know? Quinoa has almost twice the amount of protein that is normally found in oats? It is considered a complete protein and is a good source of potassium, antioxidants and heart-healthy fats! Plus, its gluten free! 

Entrée: Crispy, Baked Chicken Nuggets 
Recipe by Eva Rodriguez, Healthy Kids Here Program Manager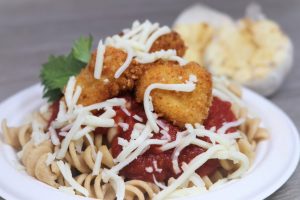 Servings: 4  
Prep Time: 10 mins  
Cook Time: 30 mins  
Ingredients:   
2 large skinless boneless chicken breasts, cut into even bite sized pieces  
2 teaspoons olive oil  
6 tablespoons whole wheat Italian seasoned breadcrumbs  
2 tablespoons panko  
2 tablespoons grated parmesan cheese  
1/2 teaspoon kosher salt and black pepper (to taste)  
olive oil spray  
Instructions:  
Preheat the oven to 425°F. Spray a baking sheet with olive oil spray.  
Add breadcrumbs, panko, and parmesan cheese in a bowl; mix thoroughly; set aside.  
Put cut chicken pieces in a bowl, season with salt and pepper. Then pour olive oil on and toss/stir to coat evenly.  
Put a few pieces of chicken at a time in the breadcrumb bowl to coat, then place coated nuggets on the baking sheet.  
Lightly spray the tops of the nuggets with olive oil spray, bake 8-10 minutes. Flip nuggets over, cook for 5 more minutes. Enjoy! 

Entrée: Pasta & Marinara Sauce 
Recipe by Daniela Villarreal, CNP Executive Chef  
<No Photo Available>
Servings: 6  
Prep time: 5 mins 
Cook time: 25 mins 
Ingredients:  
1 ½ tablespoon olive oil  
½ cup onion, chopped  
½ zucchini, chopped  
4 cups crushed tomatoes  
¼ cup tomato paste  
½ cup canned pumpkin puree  
3 ½ cup water  
1 tablespoon garlic powder  
1 tablespoon chopped Garlic  
1 tablespoon Italian seasoning  
½ teaspoon salt  
1 pound of whole wheat pasta of choice  
Instructions:  
Heat stockpot over medium-high heat, add olive oil.  
Add chopped onions and zucchini and cook until translucent and tender.  
Add crushed tomato, tomato paste, pumpkin puree, water, and seasonings to the pot and stir until smooth.  
Reduce heat to low and cover with a lid, stir occasionally.  
Meanwhile, cook pasta according to package directions. Drain.  
Add pasta to sauce and toss well to coat.  
Serve hot.  
Fun Fact! Sauces are a great way to sneak in extra veggies! Chop veggies finely or blend into a puree to combine with sauces such as marinara for a hearty pasta dish. This homemade marinara sauce features pumpkin and zucchini but goes great with any veggie of your choice. Pair this dish with Crispy Baked Nuggets (Above) and top with some mozzarella cheese for a kid-friendly chicken parmesan dish. 

Dessert: Pineapple Smoothie 
Recipe by Casandra Mendiola, CNP Culinary Supervisor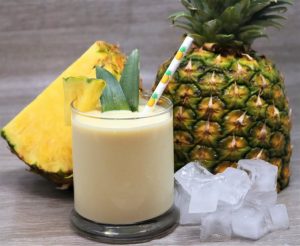 Servings: 2 (1 cup per serving)  
Prep time: 5 mins  
Blend time: 3 mins  
Ingredients:  
1 cup cubed fresh or drained canned pineapple  
¼ cup frozen pineapple-orange-juice concentrate  
½ cup nonfat/low fat vanilla yogurt  
¼ cup water  
1 cup ice cubes, crushed  
Instructions:  
Combine pineapple, pineapple-orange-juice concentrate, yogurt, water and ice cubes in a blender  
Blend until smooth. Serve immediately.